Pumpkin Blondies
Gooey Pumpkin Blondies loaded with butterscotch chips, white chocolate and fall spices.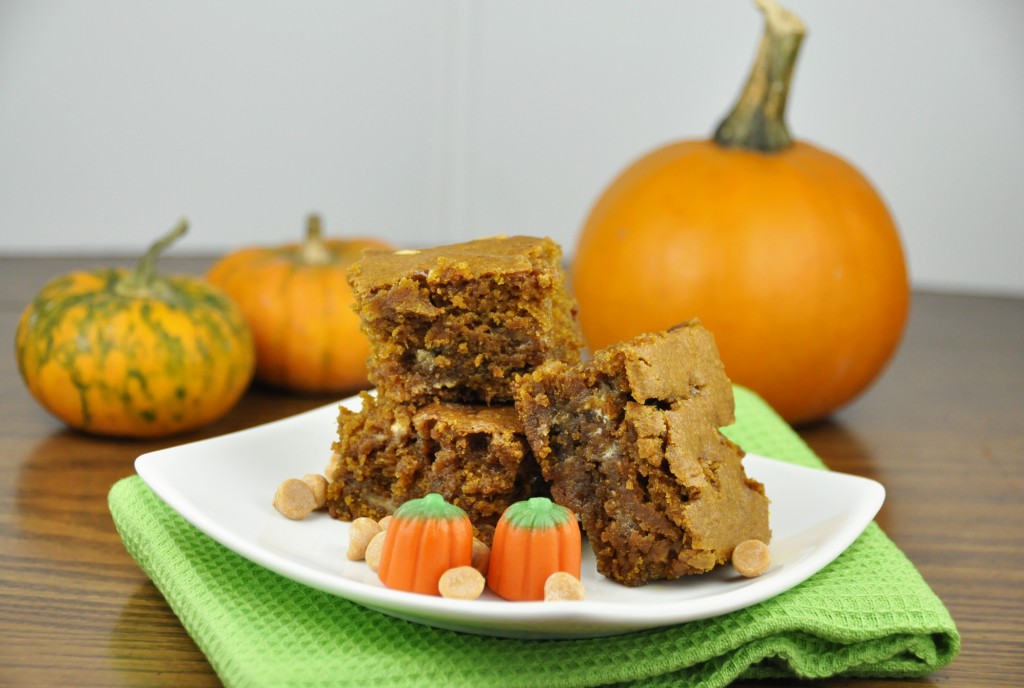 So, I'm falling apart lately.  I have had an injured collar bone for over two weeks now from lifting something (or someone) heavy.  It's kind of a long story.  Now to add to that, I have a sore throat that compares to the nastiness of the sore throat I had back in my mono days 10 years ago.  I have barely been able to use my left arm for weeks now and just when it finally started to feel better and I was on the mend, this stabbing throat pain hit me like a ton of bricks.   Looks like chicken noodle soup will be in my near future this week.  Now you can all proceed to feel sorry for me.  Thanks for listening to me whine.
Moving on…
I love blondies, and I'm kinda obsessed with pumpkin desserts this year- so mixing the two just made sense.  Blondies have always held a special place in my heart because I prefer them to chocolate brownies (gasp!) and would choose them any day over the regular ol' fudgy brownies.  I have just never been a real big chocolate person.  You knew I was weird – don't act surprised now.  I also have a thing for pumpkin and butterscotch together, they just make the perfect couple – like in these favorite cookies of mine.
I added a couple teaspoons of baking soda to mine because there was a mistake in the original recipe I followed.  So, my blondies came out more cake-like than fudge-like, but still very dense and chewy…and still soo delicious!  I included the baking soda in the ingredients list, but if you want to you can leave it out so that your blondies will be more like "blondies" than a fluffy cake.  It's all a matter of preference!  Personally, I was happy with the fluffy blondies.
I loooove this combo – it couldn't be more perfect!  I think these need to make it on to your Thanksgiving table this year 🙂
Pumpkin Blondies
Prep time:
Cook time:
Total time:
Gooey Pumpkin Blondies loaded with butterscotch chips, white chocolate and fall spices.
Ingredients
2½ cups all-purpose flour
2½ teaspoons ground cinnamon
¾ teaspoon ground ginger
½ teaspoon ground allspice
½ teaspoon ground nutmeg
2 teaspoons baking soda
½ teaspoon salt
1 cup unsalted butter, melted and cooled to room temperature
1 cup dark brown sugar
½ cup granulated sugar
1 egg
1 tablespoon vanilla extract
1 (15-ounce) can pure pumpkin puree (about 2 cups)
1 cup butterscotch chips
1 cup white chocolate chips
Instructions
Preheat oven to 350 degrees F. Grease a 9x13-inch baking pan and line with parchment paper, with enough to hang over the sides; set aside.
In a medium bowl, whisk together the flour, baking soda, cinnamon, ginger, allspice, nutmeg and salt; set aside.
In a large bowl, whisk together the melted butter and both sugars until completely smooth and no lumps remain. Add the egg and vanilla and whisk to incorporate, making sure the egg has been completely mixed in. Add the pumpkin and again whisk to fully incorporate. Add the flour mixture to the batter and, using a rubber spatula, fold the mixture until combined and no pockets of flour remain. Fold in the butterscotch chips and white chocolate chips. Pour the batter into the prepared pan and smooth into an even layer.
Bake until a thin knife inserted into the center comes out clean, 35 to 40 minutes. Set the pan on a wire rack to cool completely, then use the parchment handles to lift the bars out of the pan and cut into squares. Store in an airtight container at room temperature for up to 5 days.
Recipe source: adapted from browneyedbaker.com