Pumpkin Blondies
Gooey Pumpkin Blondies loaded with butterscotch chips, white chocolate and fall spices. A wonderful fall dessert recipe for the family!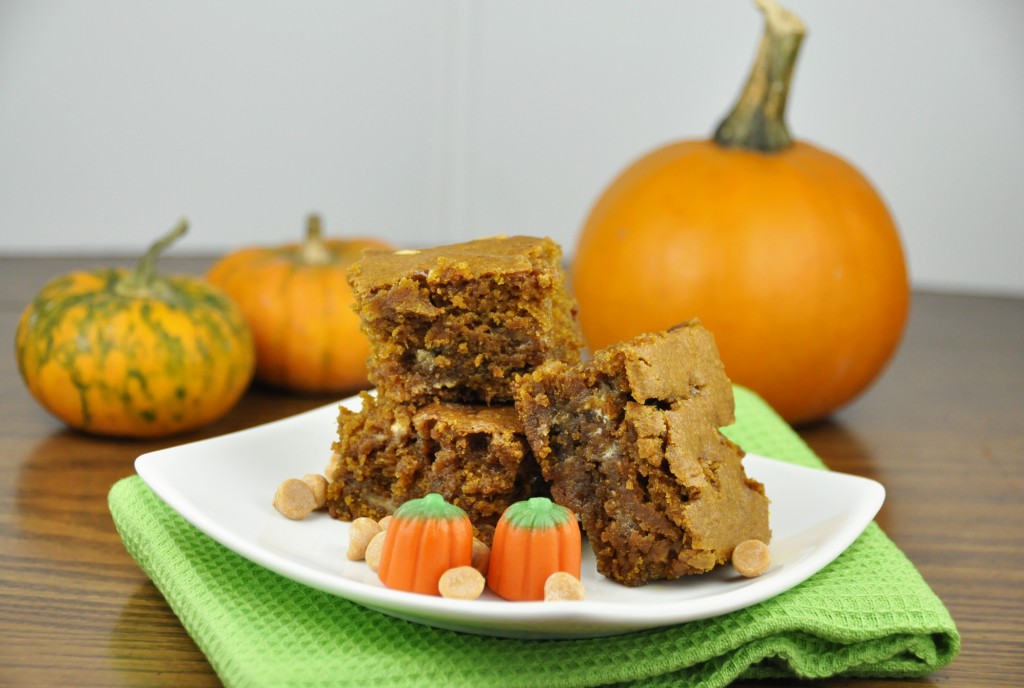 So, I have been crazy busy lately and made myself these pumpkin blondies to forget about life for a while. I've had tons of foodie work events and things going on. September always gets so crazy!
Eliza has also been sick. She has croup but it on the mend. I noticed a few nights ago that her breathing sounded funny and the croup sounds are pretty distinctive. It's viral so there was not much we could do about it besides ride it out and clear out her nose as much as we could. If she would let me anywhere near her nose, that would help things!
Cold and flu season has begun. Praying Eliza and the rest of us stay healthy the rest of the season! This is only her 3rd sickness in almost 16 months so I can't complain.
Moving on…
I love blondies, and I'm kind of obsessed with pumpkin desserts this year- so mixing the two just made sense.  Blondies have always held a special place in my heart because I prefer them to chocolate brownies (gasp!) and would choose them any day over the regular ol' fudgy brownies.  I have just never been a real big chocolate person.
You knew I was weird – don't act surprised now.  I also have a thing for pumpkin and butterscotch together, they just make the perfect couple – like in these favorite cookies of mine.
I added a couple teaspoons of baking soda to mine because there was a mistake in the original recipe I followed.  So, my blondies came out more cake-like than fudge-like, but still very dense and chewy…and still soo delicious!
I included the baking soda in the ingredients list, but if you want to you can leave it out so that your blondies will be more like "blondies" than a fluffy cake.  It's all a matter of preference!  Personally, I was happy with the fluffy blondies.
I love this combo and it couldn't be more perfect!  I think these need to make it on to your Thanksgiving table this year.
I gathered up my favorite blondie recipes that you will love!
Cookie Butter White Chocolate Blondies
White Chocolate, Peanut Butter M&M Blondies
Pumpkin Blondies
Prep time:
Cook time:
Total time:
Gooey Pumpkin Blondies loaded with butterscotch chips, white chocolate and fall spices.
Ingredients
2½ cups all-purpose flour
2½ teaspoons ground cinnamon
¾ teaspoon ground ginger
½ teaspoon ground allspice
½ teaspoon ground nutmeg
2 teaspoons baking soda
½ teaspoon salt
1 cup unsalted butter, melted and cooled to room temperature
1 cup dark brown sugar
½ cup granulated sugar
1 egg
1 tablespoon vanilla extract
1 (15-ounce) can pure pumpkin puree (about 2 cups)
1 cup butterscotch chips
1 cup white chocolate chips
Instructions
Preheat oven to 350 degrees F. Grease a 9x13-inch baking pan and line with parchment paper, with enough to hang over the sides; set aside.
In a medium bowl, whisk together the flour, baking soda, cinnamon, ginger, allspice, nutmeg and salt; set aside.
In a large bowl, whisk together the melted butter and both sugars until completely smooth and no lumps remain. Add the egg and vanilla and whisk to incorporate, making sure the egg has been completely mixed in. Add the pumpkin and again whisk to fully incorporate. Add the flour mixture to the batter and, using a rubber spatula, fold the mixture until combined and no pockets of flour remain. Fold in the butterscotch chips and white chocolate chips. Pour the batter into the prepared pan and smooth into an even layer.
Bake until a thin knife inserted into the center comes out clean, 35 to 40 minutes. Set the pan on a wire rack to cool completely, then use the parchment handles to lift the bars out of the pan and cut into squares. Store in an airtight container at room temperature for up to 5 days.