Cookie Butter White Chocolate Blondies
The best and easiest recipe for chewy Biscoff White Chocolate Blondies. These are a dreamy dessert full of cookie butter and white chocolate chips that everyone will love!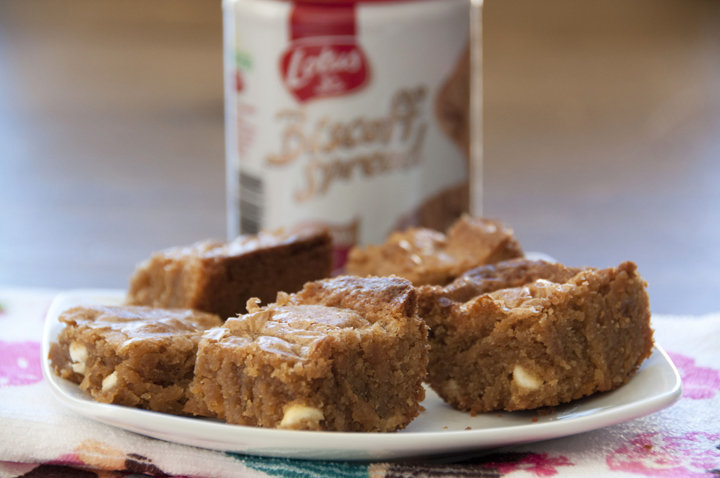 Welcome to these delicious Biscoff white chocolate blondies. You are sure in for a treat if you loved my Butterscotch Blondies.
If you are living under a rock and still have not heard of Biscoff cookies or spread before, it is a spread similar to the consistency of peanut butter. The difference between the two is that Biscoff doesn't contain any peanuts or other nuts. And you all know I love my blondies! I love my Snickerdoodle Blondies.
Alternatively, it is made with ground up Biscoff cookies (those famous Airline cookies), sugar and oil, and tastes a lot like graham crackers, but WAY better.
The Biscoff cookie name is derived from the combination of biscuit and coffee.  It is basically a cookie butter! No coffee in the recipe- it means have a biscuit with your coffee!
When you have a blondie that is made from this spread which made out of Biscoff cookies (still following?), then how could you go wrong?  I can still remember the first time I tried my beloved Biscoff cookies and of course, it was on a flight. I don't remember where I was going but that is irrelevant anyway.
All I remember and all I need to remember is those delicious, Belgium-made, brown sugar, lightly cinnamon-flavored cookies. Whoever got the idea to turn those cookies into a spread is nothing short of a genius!
Up until the last few years you could only get these cookies in Europe.  Now they are available all over.  Unfortunately, I've had to ban Biscoff spread from my house because it's super addictive.  It's just that good!  Biscoff Cookie Spread can be found near the peanut butter in many grocery stores.  Get your hands on some and enjoy your weekend!
Oh, and here are some of my other favorite Biscoff recipes for your enjoyment:
Biscoff-Glazed Soft Oatmeal Cookies
White Chocolate Biscoff Pretzel Bites
White Chocolate Biscoff Blondies
Prep time:
Cook time:
Total time:
The best and easiest recipe for chewy Biscoff White Chocolate Blondies. These are a dreamy dessert that everyone will love!
Ingredients
¼ cup (1/2 stick) unsalted butter
¾ cup white chocolate chips
1 cup all purpose flour
½ cup granulated sugar
½ cup white chocolate chips (in addition to the ¾ cup above)
½ teaspoon cinnamon
½ teaspoon baking powder
½ teaspoon salt
2 large eggs
½ cup Biscoff Spread
Instructions
Preheat oven to 350 degrees F.and line an 8×8 inch baking dish with tin foil sprayed with non-stick cooking spray.
Place butter into a microwave safe bowl and microwave for 30-45 seconds until butter is melted and hot.
Add ¾ cup white chocolate chips and let sit for 1 minute.
Stir until smooth and if needed place back in microwave for an additional 15-30 seconds to melt all the way through. Set aside.
Place flour, sugar, cinnamon, baking powder and salt into another large mixing bowl. Stir until just combined.
Stir in the ½ cup white chocolate chips then add the eggs and Biscoff. Stir until well combined. Add in the white chocolate and butter mixture and stir it all together until combined.
Transfer the batter to prepared baking dish, spreading evenly so that it will bake evenly. Bake for 30-35 minutes, until cooked through. Let cool completely then cut into squares. Enjoy!
 Recipe source: adapted from picky-palate.com