Pumpkin Blondies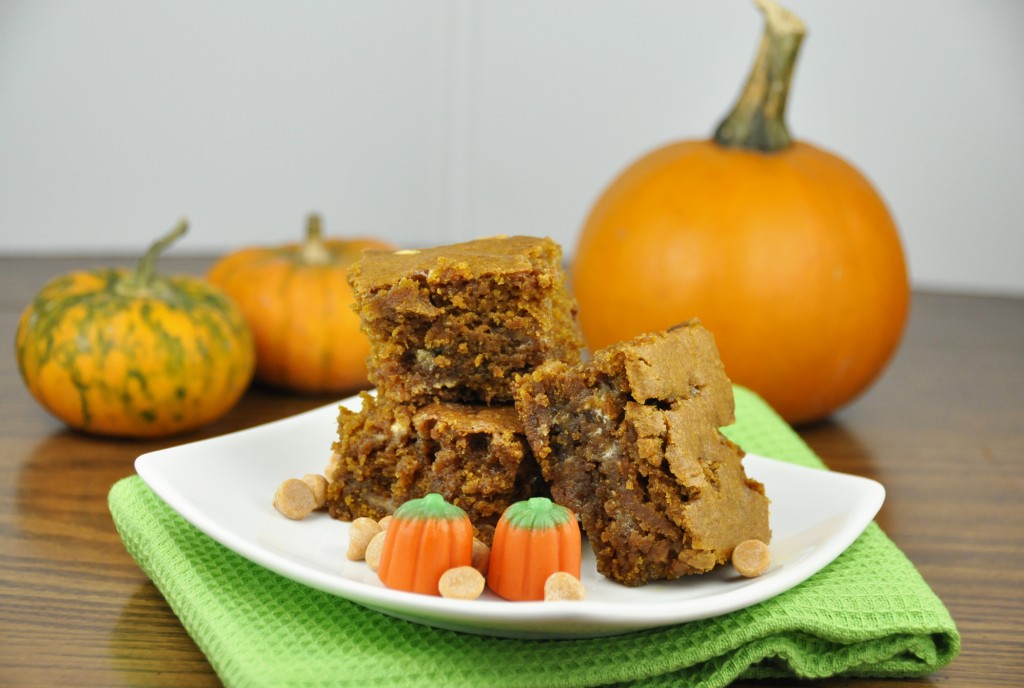 2½ cups all-purpose flour
2½ teaspoons ground cinnamon
¾ teaspoon ground ginger
½ teaspoon ground allspice
½ teaspoon ground nutmeg
2 teaspoons baking soda
½ teaspoon salt
1 cup unsalted butter, melted and cooled to room temperature
1 cup dark brown sugar
½ cup granulated sugar
1 egg
1 tablespoon vanilla extract
1 (15-ounce) can pure pumpkin puree (about 2 cups)
1 cup butterscotch chips
1 cup white chocolate chips
Preheat oven to 350 degrees F. Grease a 9x13-inch baking pan and line with parchment paper, with enough to hang over the sides; set aside.
In a medium bowl, whisk together the flour, baking soda, cinnamon, ginger, allspice, nutmeg and salt; set aside.
In a large bowl, whisk together the melted butter and both sugars until completely smooth and no lumps remain. Add the egg and vanilla and whisk to incorporate, making sure the egg has been completely mixed in. Add the pumpkin and again whisk to fully incorporate. Add the flour mixture to the batter and, using a rubber spatula, fold the mixture until combined and no pockets of flour remain. Fold in the butterscotch chips and white chocolate chips. Pour the batter into the prepared pan and smooth into an even layer.
Bake until a thin knife inserted into the center comes out clean, 35 to 40 minutes. Set the pan on a wire rack to cool completely, then use the parchment handles to lift the bars out of the pan and cut into squares. Store in an airtight container at room temperature for up to 5 days.