Reese's Pieces Blondies
This is a recipe that I've been holding on to for a while now.  Yes, I've been holding out on you, I have to admit it!  Please don't hate me too much.   You will love me again once you try these blondies.  This recipe is one I have had written down in my book of recipes for years and years and I have no idea where it originally came from but it has been my "go to" dessert for a while now.  Anywhere I take these bad boys I get compliments galore and everyone raves about them.  So…….it's time.  It's time for me to spread the deliciousness to all of my faithful Wishes and Dishes readers.
The original recipe says to add chocolate chips but I added Reese's Pieces one time and have never looked back.  They are best this way, in my opinion!  You can add any kind of baking chips in these, as well.  That's what I love about them – how versatile they are.  I've made them with milk chocolate chips, white chocolate chips, peanut butter chips, butterscotch chips, and a mixture of those, as well.  You name it – I've made them that way.
Being more of a fan of "vanilla" over chocolate (gasp!), I prefer these immensely to the chocolate version of brownies.  I love blondies in any way, shape or form, but these are my all-time favorite.  They can be mixed up in a jiffy, taste awesome, and are perfect for occasions when company drops by unexpectedly and you need to whip something up in a hurry.  I know you will love them as much as I do!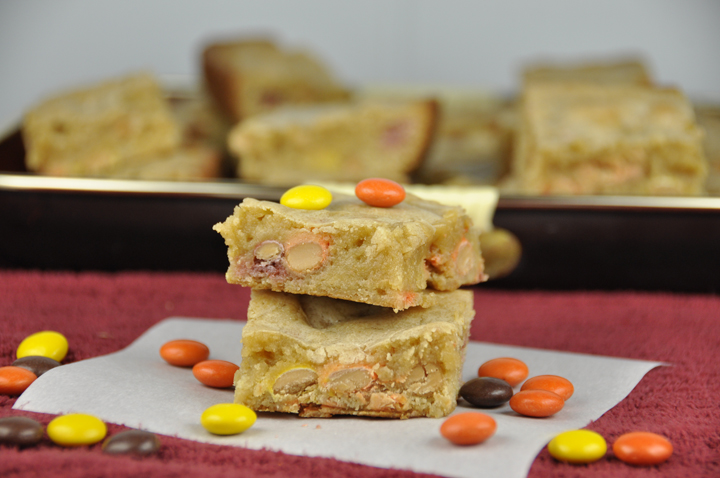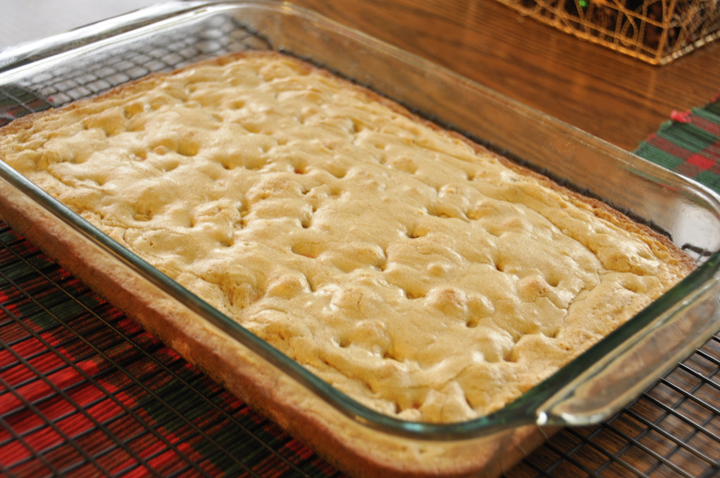 INGREDIENTS:
1 cup (2 sticks) of butter
2 and 1/4 cups light brown sugar, packed
2 and 1/2 cups flour
2 and 1/2 teaspoon baking powder
1 teaspoon salt
1 teaspoon vanilla
4 large eggs
1 and 1/4 cups Reese's Pieces (more or less depending on how much you prefer)
DIRECTIONS:
Mix flour, baking powder, and salt together in a bowl.  Set aside.
Melt butter in a medium-sized saucepan.  Add in brown sugar and vanilla, mix together to blend well.  Take off heat and let cool for 10 minutes.
Mix in eggs (you can do this all in that same saucepan) with the melted butter and brown sugar, one at a time.  Beat well after adding each egg (I use just a wooden spoon, sometimes a whisk).
Slowly add in dry ingredients, mixing as you add.  Stir in Reese's Pieces. Batter may seem thick, but that's OK.
Spread batter in a WELL GREASED (so that the Reese's don't stick) 13 x 9 glass pan.  Bake at 350 degrees for about 25 minutes.  Check for doneness by sticking a knife or toothpick into the middle to see if it comes out clean.  Do not let them get overdone as they will lose their softness.  (Some ovens may take longer than 25 minutes, some shorter.  So just keep an eye on them. I like mine a little gooey on the inside.)
Store in an airtight container and they will stay fresh for a couple of days.