Cinnamon Sugar Mini Pumpkin Donut Muffins
Cinnamon Sugar Mini pumpkin donut muffins recipe which are baked and then coated in a cinnamon-sugar mixture. They taste just like a pumpkin doughnut!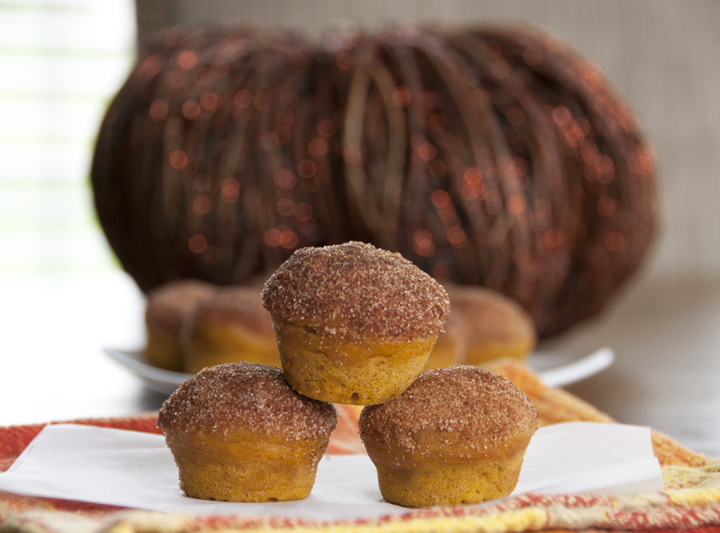 So, I set out to make homemade baked donuts and ended up with cinnamon sugar mini pumpkin donut MUFFINS.  It is a long story, but it turns out you can't make donut holes in a mini muffin pan because they just don't hold their circular shape.
What a "DUH!" moment that was.  Hey, you live and you learn!  I guess next time if I really want donuts I will have to fry them so they keep their circular shape, which I was trying to avoid. I have a major deep-frying phobia.
However, I was ecstatic that I was at least able to salvage them by turning them into these mini "donut" muffins and not a single crumb had to go to waste. I love it when our mistakes turn into something really amazing and you end up thanking yourself for screwing up.
Then I really couldn't decide if they were more like a donut hole or a mini muffin, so I'm calling them donut muffins.  I hope I didn't confuse you too much. Everyone seems to love dessert mash-ups and this donut muffin recipe is exactly that. They are the best of both worlds in every way possible!
These mini pumpkin donut muffins that taste like cinnamon sugar donuts look delicious enough to fulfill my childhood love for all things dangerous and fried. What I love most is that they are done in a much healthier form.  You really can not beat that. Have you also tried my banana crumb muffins? The brown sugar crumb topping is unreal!
If you can't decide between a donut and a muffin, try these pumpkin donut muffins out. I also am loving these Pumpkin Chocolate Chip Muffins for the fall Happy Monday and happy donut muffin baking!!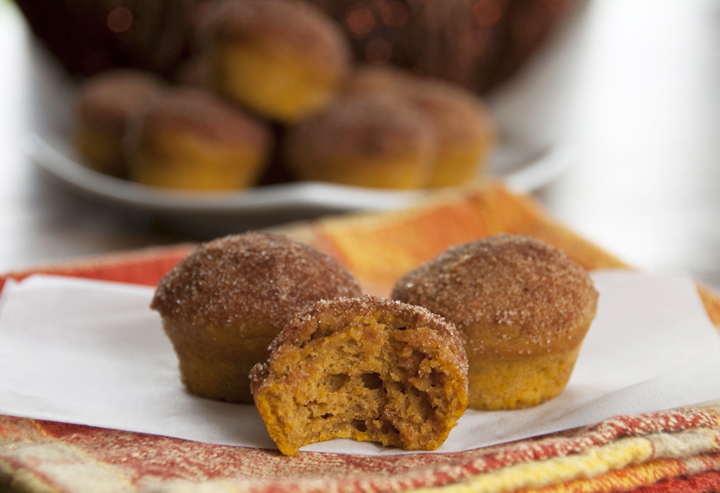 Cinnamon Sugar Mini Pumpkin Donut Muffins
Recipe type:
Breakfast, Dessert
Prep time:
Cook time:
Total time:
Mini pumpkin donut muffins are baked and then coated in a cinnamon-sugar mixture – tastes just like a doughnut!
Ingredients
1¾ Cup all purpose flour
2 Teaspoons baking powder
½ Teaspoon salt
½ Teaspoon cinnamon
½ Teaspoon pumpkin pie spice
⅓ Cup canola oil
½ Cup light brown sugar
1 Large egg
1 Teaspoon vanilla
¾ Cup canned pumpkin (NOT pumpkin pie filling)
½ Cup milk (I used skim)
Coating:
3 Tablespoons unsalted butter, melted
¼ cup granulated sugar
2 teaspoons ground cinnamon
Instructions
In a bowl, whisk together the flour, baking powder, salt, cinnamon and pumpkin pie spice. In a separate bowl, whisk together the oil, brown sugar, egg, vanilla, pumpkin puree and milk until smooth. Add the dry ingredients and mix just until combined.
Spray a 24 cup mini muffin tin with non-stick spray and scoop 1 oz. of batter into each cup. I used a 1 oz. scoop for even distribution. Bake in a preheated 350 degree oven for approximately 12 minutes or until a cake tester comes out clean.
While the donuts are baking, prepare one bowl with the melted butter and an additional bowl with the sugar and cinnamon combination. Remove the donuts from the oven and allow to cool just enough to handle. Dip the TOP of each donut quickly into the melted butter (so as not to let it get too soggy) and then roll the TOP also in the cinnamon sugar to coat. Enjoy!