Glazed Chicken Sausage Pineapple Bites
Glazed Chicken Sausage Pineapple Bites are an easy sweet & savory recipe to throw together at the last minute and make for a great party, holiday or game day appetizer!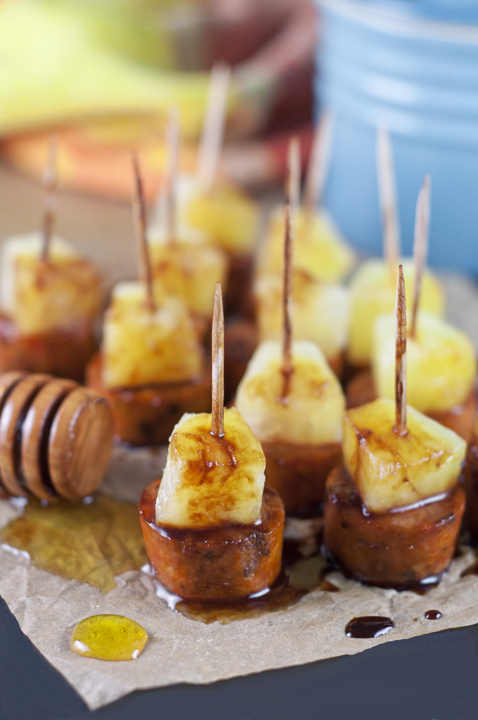 Can we stop for a second and someone please tell me where summer went to? Why does it have to be the fastest moving season of all? If winter went by this fast in upstate New York I would be one happy camper.  So I'm stuck somewhere in between summer and fall right now.  The warm sun-shining weather is still screaming "summer" but everything I'm seeing on TV and social media….back-to-school, football season approaching….is totally saying "fall".  Somehow I managed to combine two seasons into one with these Glazed Chicken Sausage Pineapple Bites.  They have a happy summer fruit combined the sausage to make the perfect fall appetizer for your football parties.
I'm so glad you're here! Follow along on

Pinterest

for more inspiration! 
This recipe I'm sharing today is made with my beloved Zweigle's chicken sausage!  No, I'm not biased just because I live in Rochester, NY where Zweigle's is based out of.  They actually ARE the best chicken sausage, Italian sausage, hot dogs on the entire planet, people.  Creating recipes using their sausage has to be the best task in the world because the possibilities are endless.  Have a sausage recipe you want to lighten up a bit and make healthier?  Swap it out for Zweigle's chicken sausage in any flavor you want (Spinach & Feta, Chorizo, Italian, Buffalo Style, Lime Chipotle) and there you have it.  Zweigle's uses the highest quality ingredients and their chicken sausage is gluten free and all-natural 100% boneless, skinless chicken meat.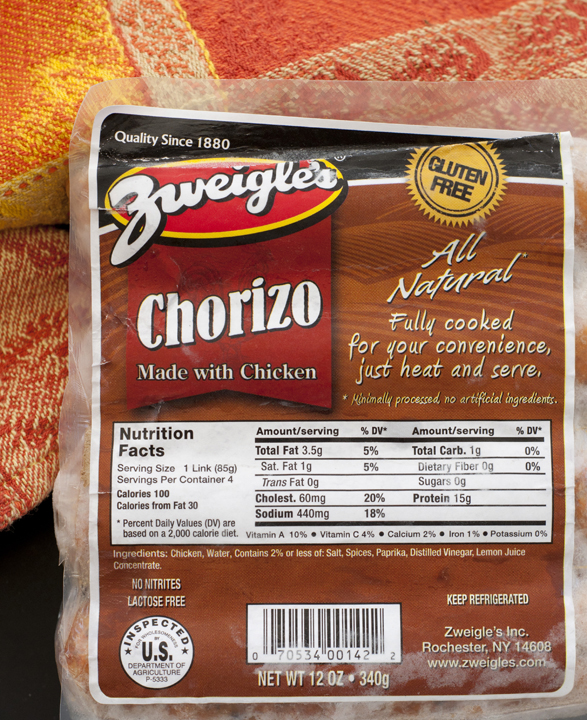 These Glazed Chicken Sausage Pineapple Bites are the perfect sweet and savory little appetizer or snack!  They are excellent for when you're in a hurry and need something quick.  Make them for a party or holiday and watch how fast they disappear…just be sure to double or triple the recipe for a crowd.  I heated them up in the oven but feel free to keep them warm in a crock pot if you're serving these at a party.  They are just as good at room temperature so you don't really even have to worry about keeping them hot.
You can even make them ahead of time – just assemble them, then prepare the glaze and keep it in a small container in the refrigerator until you are ready to brush on the glaze.  These babies will be requested at each and every party you throw!  Right before serving, I brushed on extra glaze.  You can never have too much!  I loved the salty component from the teriyaki sauce and the added sweetness from the honey.  They balanced each other out perfectly.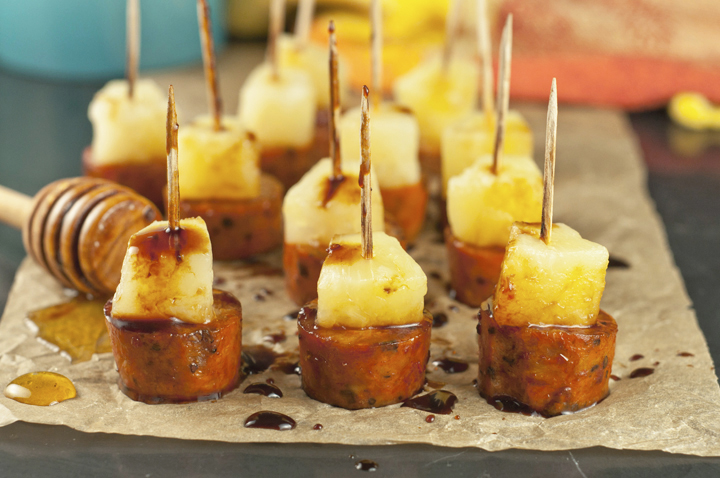 You can head on over to Zweigle's website to purchase their products online if you can't find them at your local grocery store.  They also have great recipes on their website that you will love.  One more cool thing: Zweigle's now has an app you can download on your phone to start earning free Zweigle's product, so be sure to check that out!  Simply scan can the QR code on your purchased product to earn points towards free stuff.
For even more great recipe ideas make sure you take a look at the previous recipes I created using Zweigle's chicken sausage.  You will find whatever you need in this collection: summer grilling, side dishes, one-pot meals, comfort food, and more.  My
personal
favorite was the Chicken Club Pasta Salad, but I have been getting great feedback on the Hawaiian Chicken Kabobs!
Hawaiian Chicken Sausage Kabobs
Cheesy Chicken Sausage Pasta Skillet
One-Pot Creamy Green Orzo with Chicken Sausage
Buffalo Chicken Sausage Mac & Cheese
Crock Pot Cheesy Chicken Sausage Hash Brown Casserole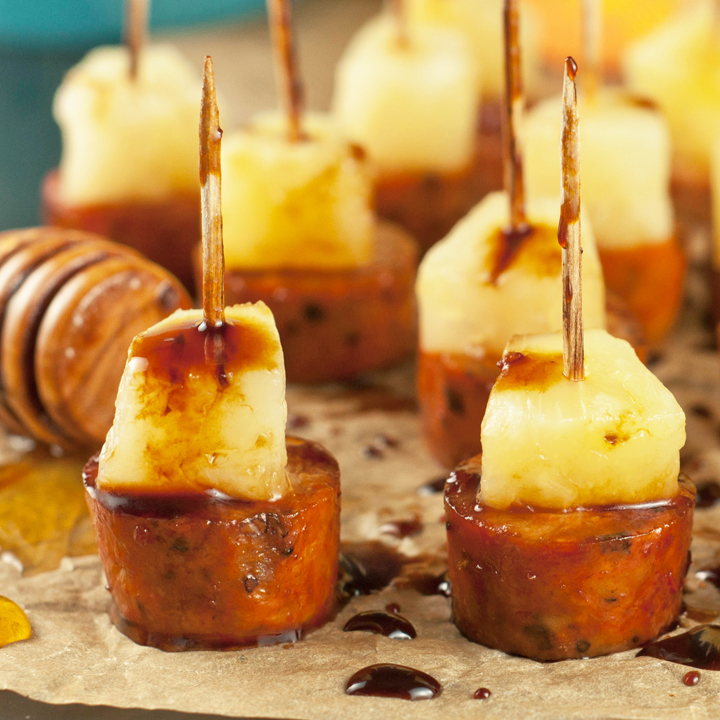 Glazed Chicken Sausage Pineapple Bites
Prep time:
Cook time:
Total time:
Glazed Chicken Sausage Pineapple Bites are an easy sweet & savory recipe to throw together at the last minute and make for a great party, holiday or game day appetizer!
Ingredients
12 oz Zweigle's Chorizo chicken sausage, fully cooked, sliced into ½ inch pieces (any type of sausage will work for this recipe)
1 20 oz can pineapple chunks, reserve juice
2 T teriyaki sauce
1 T chili sauce
2 T honey
1 T pineapple juice (that you reserved from can)
Instructions
Soak your toothpicks in water for 20 minutes before baking so they don't char in the oven. This won't leave a flavor residue. Be sure to use non-colored toothpicks as the colored toothpicks will bleed and discolor the food!
Preheat oven to 425 degrees F.
Line a baking sheet with foil (and spray with non-stick cooking spray), parchment paper, or a silicone baking mat.
Place a chunk of pineapple on top of a slice of chicken sausage and stick one toothpick into each of them. Place on the prepared pan.
In a small mixing bowl, combine remaining four ingredients to make the glaze.
Brush glaze over tops and sides of sausage/pineapple bites. Try not to get a ton of glaze on the toothpick as it will burn when in the oven.
Cook in the oven for 15 minutes or just until hot, keeping an eye on them so they don't burn.
Remove from oven, let cool slightly, and serve warm. Enjoy!
Disclaimer:  Thank you, Zweigles, for sponsoring this conversation.  All opinions remain 100% my own, as always.
Recipe source:  heavily adapted from realhousemoms.com