Chicken Club Pasta Salad
Chicken Club Sausage Pasta Salad recipe has all the flavors of the classic club sandwich in this easy side dish that is ready in a flash for any dinner or picnic!  It is a cross between a pasta salad and a macaroni salad.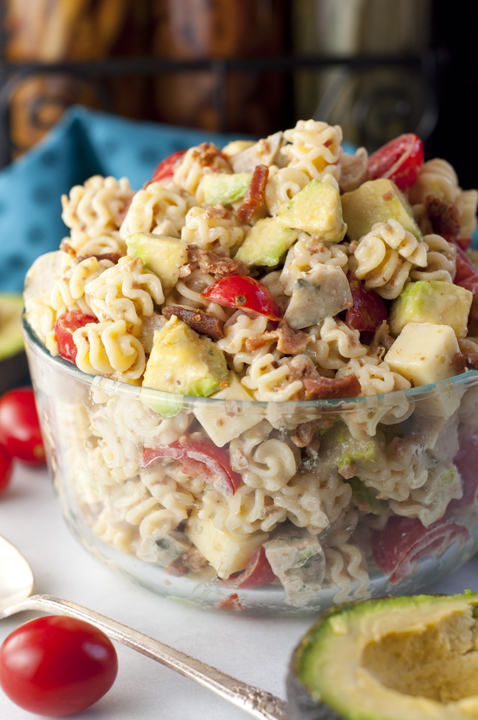 I can seriously live solely on pasta salads, potato salads and macaroni salads in the summer. I must say that I very much prefer any salad that has pasta included in it….because….HELLO…..I'm Italian and love, adore, and worship pasta, especially this club sausage pasta salad!
Most meals just feel incomplete without some sort of pasta dish.  In the colder months, I do Sunday Sauce just about every weekend.  I come home from church, start my sauce and do other things around the house as it cooks all day long.
In the summer I feel like it's a waste of a day to spend it inside and there's other things I would much rather be doing.  Also, hot pasta and sauce don't really appeal to me as much when the weather is warm.  Comfort food cravings start in the fall sometime for me.
I'm so glad you're here! Follow along on

Pinterest

for more inspiration! 
We are having the most spectacularly perfect summer here in Rochester this year.  I realize the "perfect summer" is all in the eye of the beholder, but perfect to ME is extremely warm, basically zero rain, and lots of sunshine.  Mother nature is my best friend right now and she needs to keep on delivering like this in the future.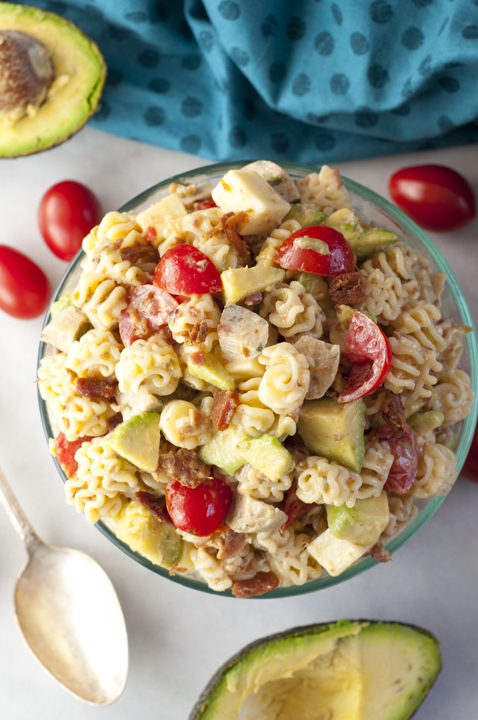 So, a chicken club pasta salad is what I decided to try out this week. I got to brainstorming as to what I could do to turn my favorite diner club sandwich into a side dish pasta salad.  This Chicken Club Sausage Pasta Salad is an absolute winner packed with 3 different kinds of meat that create the perfect match.
It is full of flavor: creamy, tangy, and salty – the perfect combination of flavors! I always have a stock of Zweigle's chicken sausage in my freezer put aside for "a rainy day".  I love it because it's already cooked which means I can keep it on hand for last minute meals that need meat added – just defrost the sausage and BAM – add it to any dish to complete the meal.
Zweigle's is pretty much awesome because they not only have the best tasting chicken sausage around, but they have different flavors to choose from: Spinach & Feta, Chorizo, Italian, Buffalo Style, Lime Chipotle.  Bonus?
They are a Rochester, NY company and you all know how I love "supporting local"!  They use the highest quality ingredients and their chicken sausage is all-natural 100% boneless, skinless chicken meat (gluten-free, also).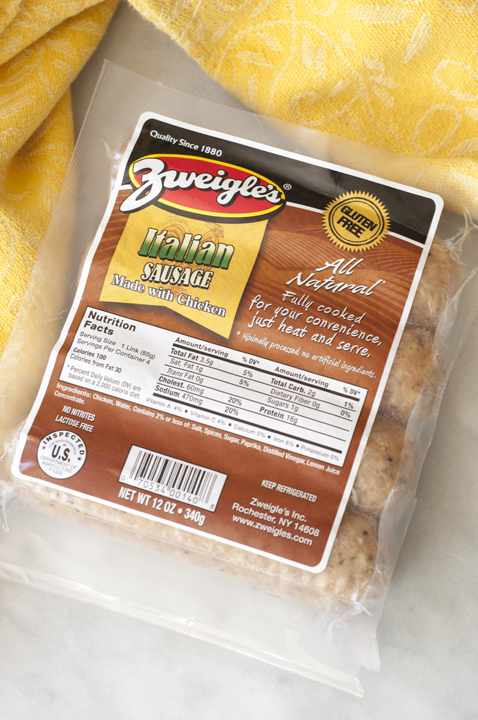 Definitely try this Chicken Club Sausage Pasta Salad for your next picnic, BBQ, dinner party, everyday dinner – whatever the occasion may be!
If you need some more recipe inspiration be sure to check out more recipes I created using Zweigle's chicken sausage – you will find whatever you need (summer grilling, comfort food, etc.) based on the season:

Hawaiian Chicken Sausage Kabobs
Cheesy Chicken Sausage Pasta Skillet
One-Pot Creamy Green Orzo with Chicken Sausage
Buffalo Chicken Sausage Mac & Cheese
Crock Pot Cheesy Chicken Sausage Hash Brown Casserole
You can purchase Zweigle's products online by heading on over to their website (or better yet, look for their products at your local grocery store).  They also have great recipes on their site!
Chicken Club Sausage Pasta Salad
Prep time:
Cook time:
Total time:
Chicken Club Sausage Pasta Salad recipe has all the flavors of the classic club sandwich in this easy side dish that is ready in a flash for any dinner or picnic!
Ingredients
8 ounces short-cut pasta (shells, elbows, rotini, etc.)
¾ cup Italian salad dressing
⅓ cup mayonnaise
1 teaspoon onion powder
1 tbsp fresh parsley, chopped
2 cups chopped, fully-cooked Zweigle's chicken sausage
10 strips crispy cooked bacon, crumbled
½ cup cubed cheddar cheese
8 ounces cherry tomatoes, quartered
1 ripe avocado - peeled, pitted, and chopped
Salt and pepper, to taste
Instructions
Bring a large pot of lightly salted water to a boil.
Cook pasta in the boiling water, stirring occasionally until cooked to al dente according to instructions on package. Drain and rinse under cold water to stop the cooking process.
Whisk together the Italian dressing, onion powder, fresh parsley and mayonnaise in a large mixing bowl. Stir pasta, chicken sausage, bacon, cheese, cherry tomatoes, and avocado into dressing until evenly coated.
Season with salt and pepper.
Let sit in the refrigerator for at least a couple of hours for flavors to come together before serving. If letting sit overnight, you may need some more Italian dressing added before serving because the pasta will soak some of it up. Toss and serve cold or at room temperature. Enjoy!
Disclaimer:  Thank you, Zweigles, for sponsoring this conversation.  All opinions remain 100% my own, as always.