Peanut Butter and Jelly Thumbprint Cookies
Peanut Butter and Jelly Thumbprint Cookies are all of the goodness of a PB&J sandwich in a beloved melt-in-your-mouth, easy Christmas cookie recipe!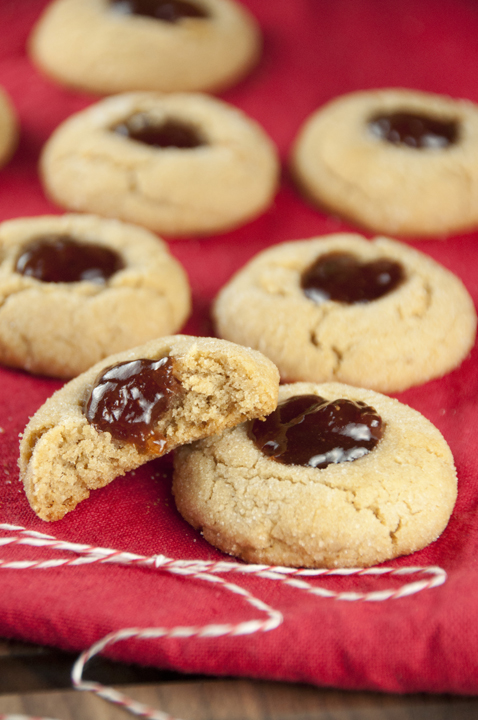 I have super fun Christmas cookies and quite possibly the best giveaway to ever happen on Wishes and Dishes here for you today and just in time for the holidays (145$ value)!  You know you want to win your very own Hamilton Beach stand mixer PLUS a hand mixer all in one shot…who wouldn't?  If you're not into baking, there is SO much you can do with the stand mixer other than Peanut Butter and Jelly Thumbprint Cookies and other baked goods.
These Peanut Butter and Jelly Thumbprint Cookies are a must on the holiday cookie list! They are seriously SO good and such a classic.  Who doesn't want their childhood favorite snack/lunch turned into a cookie?
Everyone who gets the pleasure of tasting these will absolutely adore them.  I can't help but smile when I eat anything PB&J related.  Have you tried my PB&J Cookie Cups yet?  By the way, you can use any jam in place of the strawberry flavor if that's not really your thing.
I know what you're thinking: "shut up and get to the giveaway already".
      Onto the mixers giveaway…
What I loved most about the hand mixer was….pretty much everything.  It's lightweight, but didn't feel cheap at all.  I love the snap-on case – this means I will never misplace my attachments again!  I'm about to admit something that's kind of pathetic, being a food blogger and all.
For the past 8 years I have been using a generic hand mixer that has only worked on the highest speed setting.  Yes, that's right.  If you have tried to mix anything containing flour with a hand mixer on high speed you can see why that is a problem (and probably create a funny visual in your head).  There is not one inch of myself or my kitchen that isn't covered with flour every single time.
A couple more fun features of the 6 Speed Hand Mixer with Pulse and Snap-On Case up for grabs today: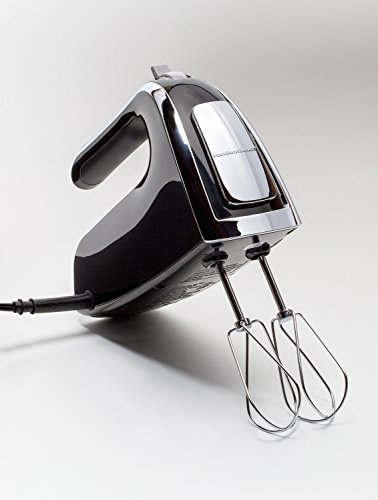 Pulse function — pulses on the slowest speed for added control and less mess (this is life-changing for me)
Burst button
6 attachments that come with it – twisted wire beaters, milkshake mixer, dough hooks, and whisk.  Awesome!
________________________________________________________________________________________
Next, this beast of a stand mixer.  This thing means business.  It has the same mixing action as KitchenAid® stand mixers, but much more affordable ($109.99), and can handle the thickest of cookie doughs.  The mixer comes with three attachments for mixing versatility:  a whisk, dough hook, and flat beater.  A helpful guide printed on the mixer gives you an idea of what speed you should use with each attachment.
More great features of the Stand Mixer: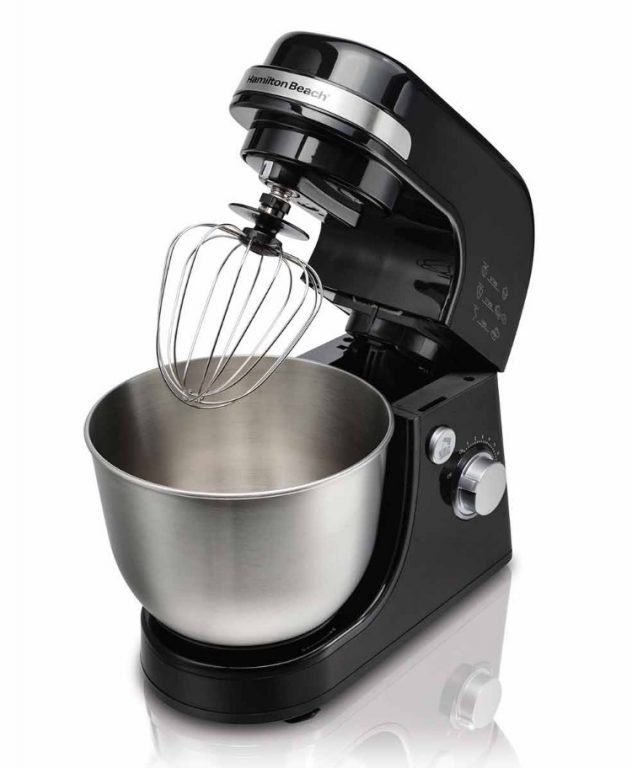 Powerful 300 Watt motor
Stainless steel 4 quart bowl – dishwasher safe
Includes splatter shield – great for the messy baker!
7 speeds for maximum flexibility
Nonslip feet so you never have a mixer try to fly off the counter
Tilt-up head lifts out of the way for easy bowl access (I love this!)
GIVEAWAY DETAILS
Thanks to a very generous person at Hamilton Beach, one lucky Wishes and Dishes reader is going to receive their own stand mixer AND hand mixer!  You will be all covered in the area of kitchen mixers for the rest of your life.
Make these delicious Peanut Butter and Jelly Thumbprint Cookies and also scroll down to the giveaway form for your chance to win!  It's so easy!  If you aren't the lucky winner, this slow cooker is available on their website.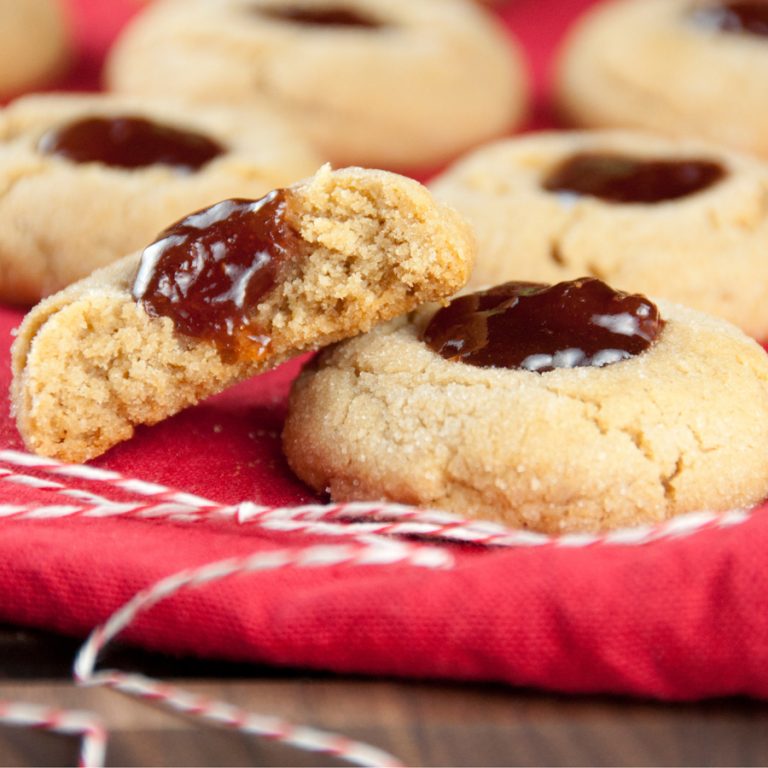 Peanut Butter and Jelly Thumbprint Cookies + GIVEAWAY
Prep time:
Cook time:
Total time:
Peanut Butter and Jelly Thumbprint Cookies are all of the goodness of a PB&J sandwich in a beloved melt-in-your-mouth, easy Christmas cookie recipe!
Ingredients
1¼ cups all-purpose flour
½ teaspoon baking powder
½ teaspoon baking soda
½ teaspoon salt
¾ cup smooth peanut butter
4 ounces (1 stick) unsalted butter, softened to room temperature
⅓ cup packed light brown sugar
⅓ cup granulated sugar, plus more for rolling
1 large egg
1 teaspoon pure vanilla extract
½ cup strawberry jam
Instructions
Preheat oven to 350 degrees. Whisk together flour, baking powder, baking soda, and salt.
In the bowl of a stand mixer or with an electric mixer, beat peanut butter and butter on medium speed until smooth.
Add both sugars and beat until light and fluffy. Add egg and vanilla, and beat until incorporated. Reduce speed to low.
Gradually add dry ingredients to wet ingredients, and mix until fully combined.
Scoop level tablespoons of dough, and form into balls.
Roll each ball in granulated sugar, and transfer to parchment-lined (or line with silicone mat) baking sheets. Space them about 2 inches apart.
Bake until cookies are puffy, about 9-10 minutes. Remove from oven, and make indentations in centers by pressing with the handle end of a wooden spoon or a wine cork.
Return to oven, and bake until edges are golden, 6 to 7 minutes more. Transfer sheets to wire racks, and let cool completely.
Heat up the jam in a small saucepan on the stove, stirring until loosened, about 30 seconds.
Spoon about ½ teaspoon into each cookie indentation.
Cookies can be stored in a single layer for up to 1 week. Enjoy!
Deadline: Friday, December 30th at 11:59 p.m. (EST). I'll announce the winner on Saturday 12/31. Good luck, everyone!
Winner:  Must be a U.S. resident to enter.  The winner will be chosen at random using Random.org and announced in this post. I will email the winner and if he/she does not respond within 48 hours, another winner will be selected.
Disclaimer: Hamilton Beach provided me with the two mixers to facilitate this post and is providing the giveaway products. The words and opinions expressed in this review are strictly 100% my own, as always.
 Recipe source:  adapted from marthastewart.com