One Pot Creamy Greek Orzo with Chicken Sausage
One Pot Creamy Greek Orzo with Chicken Sausage recipe – nothing says comfort food like a big bowl of creamy pasta packed full of veggies.  It has all the Greek flavors you will love!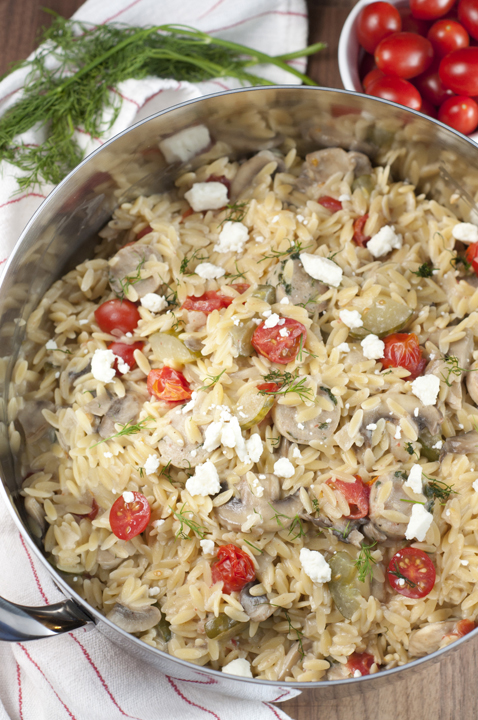 Happy incredibly snowy Tuesday here in Rochester, NY!  Eighteen inches expected from this storm…what?!?!
Let's pretend this isn't happening and just talk about the food at hand.  The taste in this One Pot Creamy Greek Orzo meal was so awesome.  I think because the dish is packed full of veggies, I didn't except it to "wow" my taste buds the way that it did.  With the first bite, I was very pleasantly surprised.  I'm not very good about eating my vegetables, so when I can sneak them in with a dish this tasty, it will be made often. I loved that the starch from the pasta combined with the chicken stock really made the sauce so creamy.  It's nice to get that creamy, comfort food texture without a ton of heavy cream or cheese!
Another reason this meal was so tasty was because I used my all-time favorite chicken sausage: Zweigle's brand!  They are based out of Rochester, so Zweigles is very near and dear to my heart and has been for my entire life. If you're lucky enough to live near a Wegmans grocery store, you can find it there under the Wegman's label.  You can also order their products online!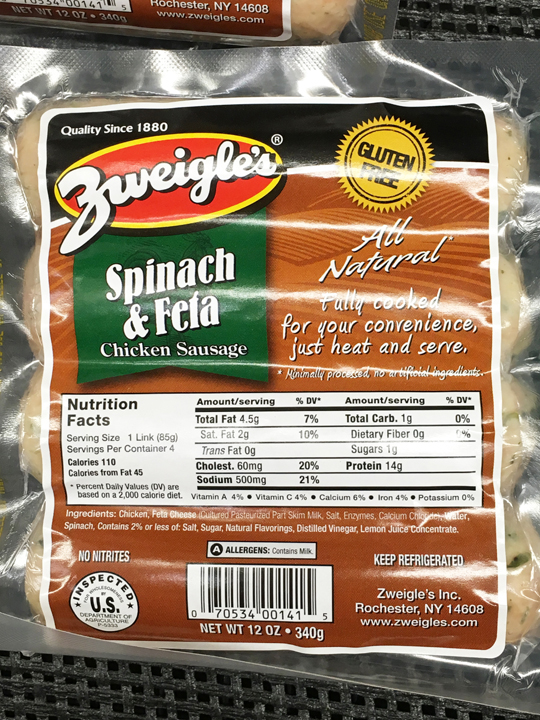 For this particular recipe I used the Spinach and Feta cheese variety because I was going for the whole Greek-themed dish.  I love that they have a flavor of chicken sausage to practically go with any cuisine I decide on for dinner.  Were you able to try the Cheesy Chicken Sausage pasta skillet I posted a few weeks ago?  That dish was a huge hit and I used Zweigle's Italian Chicken Sausage (my personal favorite….because, hey, I'm Italian).  Almost every single meal that has sausage in it can be swapped for this chicken sausage to lighten up the dish.  This is perfect for those of you striving to eat healthier in 2016!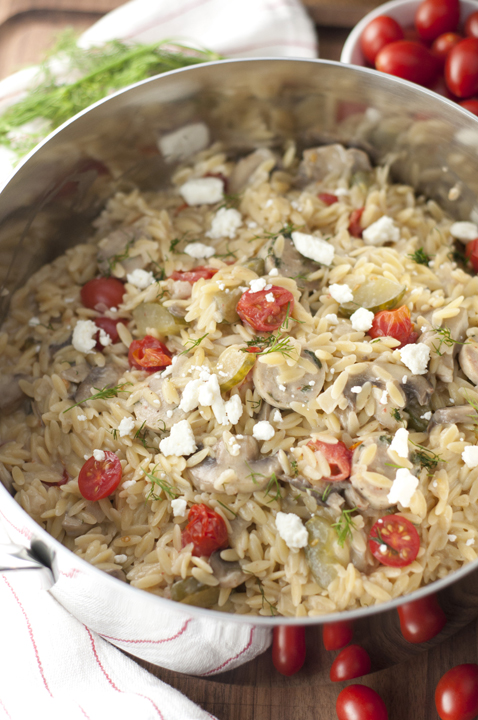 Confession: I am very hesitant when it comes to cooking for other people other than my husband.  I get nervous because I feel the expectations are really high and I don't want to let anyone down with something they might not find overwhelmingly delicious.  When I'm only testing a recipe out on one person (who has to say something polite either way because he loves me) then there really is no risk, right?  Well, I thought you should all know that my first thought when tasting this One Pot Creamy Greek Orzo with Chicken Sausage was that it definitely is worthy to serve to dinner guests.  If you are cooking a meal for family or friends who like something a little bit lighter and healthier, this is your dish right here, guys.
I also have many more chicken sausage recipes here.  Enjoy!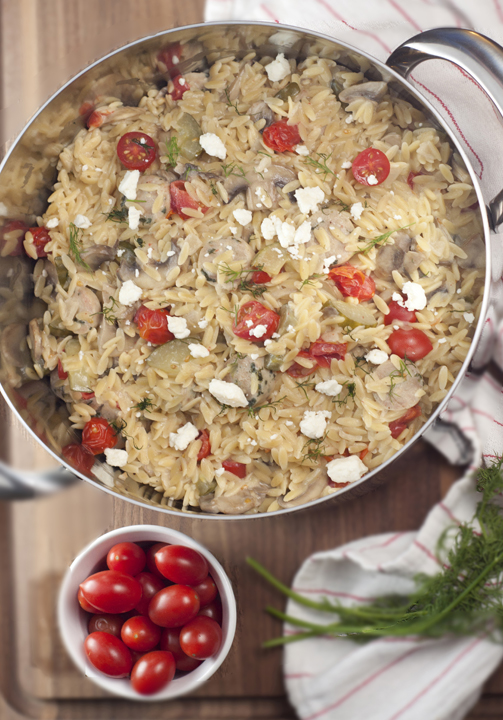 One-Pot Greek Creamy Orzo with Chicken Sausage
Prep time:
Cook time:
Total time:
One-Pot Creamy Greek Orzo with Chicken Sausage recipe - nothing says comfort food like a big bowl of creamy pasta packed full of veggies.
Ingredients
1 tbsp olive oil
½ large zucchini, sliced and quartered
6 oz white button mushrooms, sliced
4 garlic cloves, minced
½ large onion, chopped
3 chicken sausages, sliced (I used Zweigle's Spinach & Feta)
2 cups orzo
2 cups chicken stock
½ cup white wine
8 oz cherry tomatoes, sliced in half
3 tbsp heavy cream or half and half
1 tbsp fresh dill
salt and pepper, to taste
small handful of feta cheese crumbles
Instructions
Heat olive oil in a large heavy-bottomed potover medium-high heat. Add in garlic and stir constantly just until fragrant (about 1 minute). Add the onions and zucchini and cook until tender, stirring occasionally. This should take about 4 minutes.
Add the mushrooms and chicken sausage and cook for a few minutes or until mushrooms have reduced to half their size.
Add orzo to pot to toast, stirring constantly so it doesn't stick to the bottom of the pot.
Add wine and chicken stock, bring to a boil, then reduce heat to low. Cover and cook for approximately 10 minutes or until orzo is tender.
Stir in the cream and the tomatoes.
If mixture is too watery, cover and continue to cook for another five minutes or so (I did this to reduce the liquid).
Add salt and pepper to taste; stir. Removed from heat and add dill and feta cheese crumbles over the top. Serve hot.
Disclaimer:  Thank you Zweigles for sponsoring this conversation.  All opinions remain 100% my own, as always.
 Recipe source:  heavily adapted from tablefortwoblog.com