Sausage and Potato Summer Vegetable Skillet
 Sizzling
Sausage and Potato Summer Vegetable Skillet

full of healthy, delicious in-season goodness.  This is an easy, fresh side dish recipe or gluten-free dinner idea!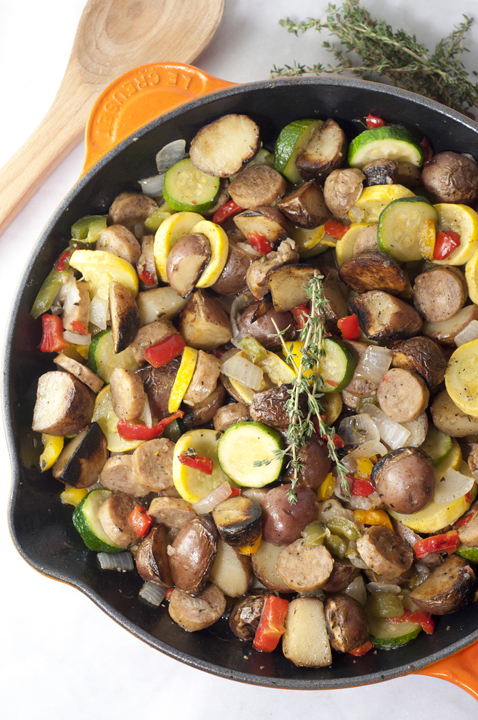 I bring you…summer on a plate.
Hi there, everyone!  It's taken me a few days to come out of holiday weekend mode but I'm back with the recipes and the regularly scheduled program.  I gave you a roundup of
no-bake desserts
earlier this week that I hope you enjoyed, but I'm following the sugar rush up with a nice, healthy recipe today.
So, I'm a creature of habit and when I find a brand I like when it comes to certain foods I cook with, I always tend to stick with it for the long haul. 
Zweigle's chicken sausage
is one of those brands.  I use it almost weekly when I want to add a healthy protein to any dish I'm whipping up.  Any dish that calls for pork or turkey sausage can be swapped out for any variety of Zweigle's delicious chicken sausage.  Bonus: Zweigle's is a local company and their products have been a part of my life since I was a little kid!  Love them….LOVE.  In fact, I just enjoyed one of their white hots on Memorial day.

MY LATEST VIDEOS
Something I don't love?  Summer squash.  Then why did I use it in this recipe, you ask?  Simply for the purdy color and texture.  I will admit that I picked every last piece of summer squash out of my dinner.  Do you ever just have a food you despise no matter how it's cooked or how well-seasoned it is?  When I was little, my mom used to make me eat this horrid vegetable and I would have to sit there at the dinner table being absolutely tortured for however long it took me to finally choke it all down.  It's wonderful being an adult and having the ability to pick and choose what you eat or don't eat, isn't it?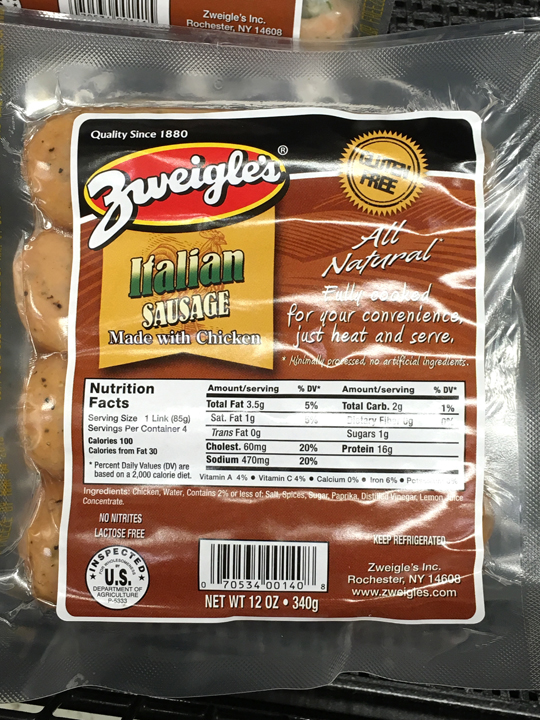 This Sausage and Potato Summer Vegetable Skillet is similar to something I have made several times over the years, but that dish was solely veggies.  For this skillet dinner, I added sliced Zweigle's Italian Style chicken sausage in order to make it a complete meal. It tastes like summer and is made all in one skillet.  Since it's healthy, it leaves me room to consume lots of empty dessert calories afterward.  That, my friends, is a win in my book.
This Sausage and Potato Summer Vegetable Skillet is very customizable so  feel free to modify it according to your favorites.  For a twist, add quarters of fresh tomatoes and serve with crumbled feta on top.  It's a great way to use up any leftover veggies you have sitting around.  You can even add a fried egg on top!  I'm thinking I may add some sliced apples next time I make this.
Here's a little tip for cooking this up: you can also use pork or turkey sausage.  It would also make a great freezer meal! This can stand on it's own as a meal, but feel free to serve a side salad with it.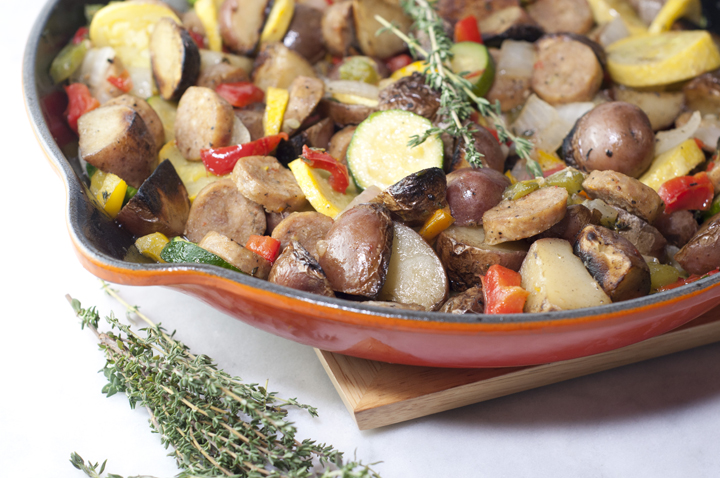 Sausage and Potato Summer Vegetable Skillet
Prep time:
Cook time:
Total time:
Sizzling Sausage and Potato Summer Vegetable Skillet full of healthy, delicious in-season goodness. This is an easy, fresh side dish recipe or gluten-free dinner idea!
Ingredients
1 lb baby red potatoes, quartered
3 tsp olive oil
1 tsp garlic powder
1 tsp salt
fresh cracked pepper, to taste
12 oz Italian chicken sausage, sliced 1-inch thick (I used Zweigle's brand)
1 large onion, diced
6 cloves garlic, minced
1 yellow bell pepper, diced
1 red bell pepper, diced
3 tbsp fresh thyme
1 cup zucchini, ½ inch thick and quartered
1 cup summer squash, ½ inch thick and quartered
Instructions
Place olive oil and potatoes in a large, deep skillet with a lid on high heat; season with garlic powder, salt and pepper.
When the skillet gets hot and starts to sizzle, reduce heat to low, leave the cover on, and cook for about 20-25 minutes. Be sure to shake the pan occasionally to prevent the potatoes from burning to the bottom - especially if not using a non-stick skillet.
Remove from heat and set potatoes aside on a plate, covered with foil.
Add the sliced sausage to the skillet and saute on medium-low for a few minutes, stirring occasionally, just to give them a nice brown color on each side since the sausage already comes fully cooked. This gives the sausage a richer flavor.
Season chopped/sliced vegetables with salt and pepper.
Add onions, peppers, garlic and thyme to the skillet and stir. Continue cooking stirring occasionally until onions and peppers become slightly browned. Add zucchini and summer squash and cook an additional 5 minutes, stirring occasionally until all veggies are cooked through but not mushy.
Return the potatoes back to the skillet and mix until all ingredients are evenly combined. Add more salt and pepper if necessary; cover and cook 5 more minutes. Enjoy!
Disclaimer:  Thank you Zweigles for sponsoring this conversation.  All opinions remain 100% my own, as always.
Recipe source:  adapted from skinnytaste.com