Baked Cheese Fondue
The most flavorful and delicious baked cheese fondue using a cast iron skillet and a broiler that takes less than ten minutes in the oven!  Great football food or party appetizer!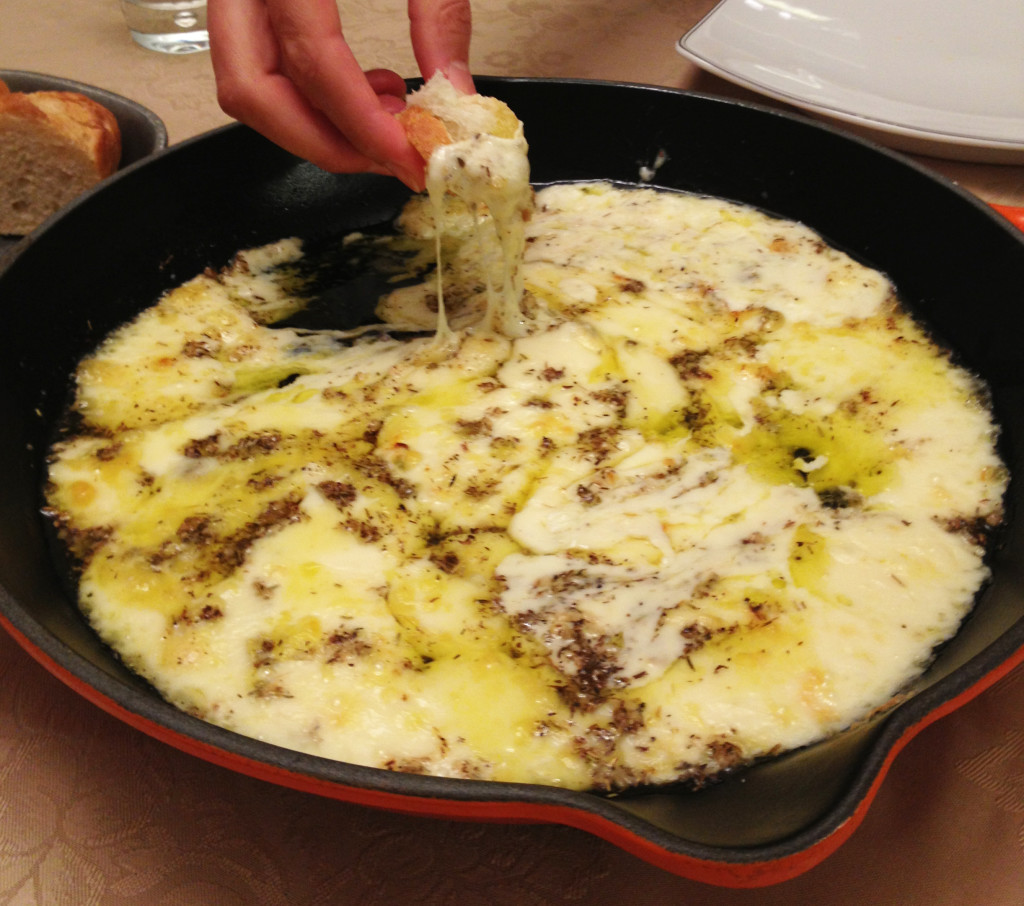 Happy Monday! I hope you all have an excellent start to the week.  This cheesy baked fondue should help get you off on the right foot.
Sorry for the substandard and sloppy photos for this baked fondue recipe, but I made it a while back for a special dinner I cooked for Mr. Wishes.  We were both famished and I was being too lazy to take the time to get out my good camera and snap some pictures of it.  Do you blame me after seeing what this cheese fondue looks like?!  And if it looks this good, just imagine what it tastes like.  There was no way I was waiting even another minute before diving in.  So instead of waiting until the next time I get around to making this recipe that was on a Barefoot Contessa episode called "Cook like a Pro" on the Food Network, I'm being nice and sharing it with you now.
 This baked fondue is the simplest, yet most luxurious appetizer food that will most definitely please any crowd, especially any garlic and cheese lovers in your life.  It is an easy version of fondue but without the fondue pot. It was so fabulous and filling that we almost didn't want to eat the rest of the meal (which was this 
Chicken French
, by the way)!  Once the melted cheese had been devoured, the remaining olive oil in the skillet was very flavorful and perfect for dipping the left over bread in.
The Fontina cheese was a little pricey compared to other cheeses I typically cook with, but it really was worth it.  This baked fondue looks impressive and it smells even better when you remove it from the broiler…cheese that stays warm and "melty" (since the cast iron skillet retains it's heat) and a hint of herbs and toasty garlic.  Cheesy, gooey, and delicious.  Just the way I like it 🙂
Serve this family-style as an appetizer, hot and sizzling in your cast iron pan, and you'll have many happy people around your table.
Tips: 
-A cast iron pan a MUST!
-If you DON'T like extra olive oil, half it or cut it down by just a tad.  You can also cut down on the salt as the cheese has salt already, but we did enjoy this recipe just the way it is written and thought the olive oil was wonderful drizzled on top of the cheese.
-You can do roughly half of the recipe in an 8″ cast iron skillet if you're looking to make a smaller version or don't have a 12″ cast iron skillet.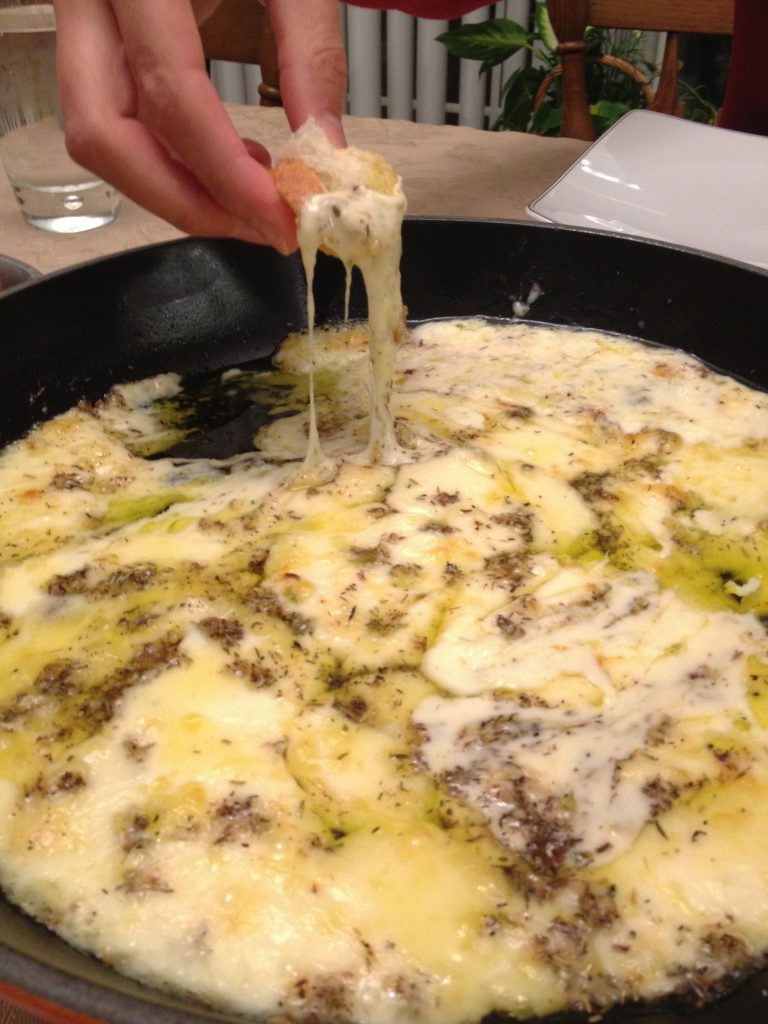 Baked Cheese Fondue
The most flavorful and delicious baked cheese fondue using a cast iron skillet and a broiler that takes less than ten minutes in the oven! Great football food or party appetizer!
Ingredients
1 and ½ pounds Italian Fontina cheese, rind removed and diced in 1 inch cubes (I used Fontina Val d'Aosta)
¼ cup good quality olive oil
6 garlic cloves, thinly sliced
1 tablespoon minced fresh thyme leaves
1 teaspoon minced fresh rosemary leaves
1 teaspoon kosher salt
1 teaspoon freshly ground black pepper
1 crusty French baguette, for dipping (sliced into ¼ inch pieces)
Instructions
*READ MY TIPS ABOVE
Preheat the broiler and position the oven rack 5 inches from the heat.
Distribute the cubes of Fontina cheese evenly in a 12-inch cast-iron skillet or pan. Drizzle on the olive oil. Combine the garlic, thyme, and rosemary and sprinkle it over the cheese and olive oil. Sprinkle with the salt and pepper and place the pan under the broiler for 6 minutes, until the cheese is melted and bubbling and starts to brown a little.
Serve the baked Fontina family-style-right out of the oven in the cast-iron pan with crusty chunks of bread for everyone to dip. Be sure to warn people that the pan will be hot!
Tip: Don't heat the cheese beyond its melting point as cheese tends to ball up at higher temperatures. Also don't let the cheese cool down too much before serving, as it tends to get stringier and tougher as it cools.