Creamy Peanut Butter Mousse
This rich, Creamy Peanut Butter Mousse dessert recipe takes ten minutes to make and will not fail to impress for an every day treat, holidays, or birthdays!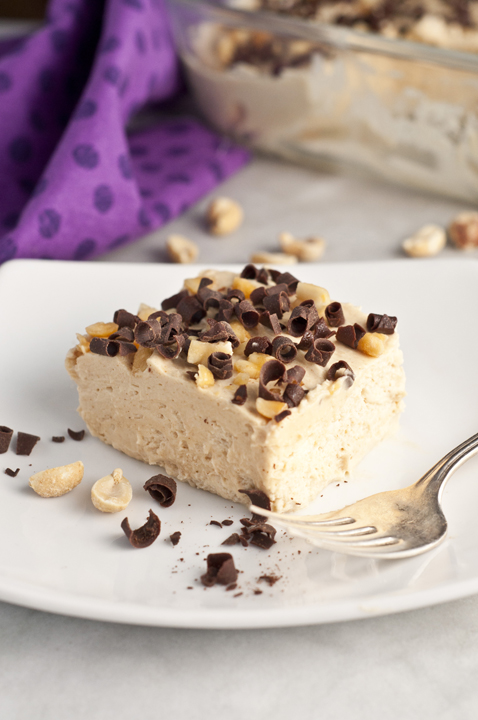 I've raved about the summer we have had here in upstate New York so many times on my blog these last few months that you're probably sick of hearing about it.  Well, guess what? I'm not done yet.  We had another heat wave a couple of weeks back and it just so happened to fall on the week of Mr. Wishes' birthday.
I found the most perfectly perfect dessert to make for him with this creamy peanut butter mousse: something loaded with peanut butter, a slight amount of chocolate to compliment that peanut butter, and no-bake (that part was for me).  Hey, you gotta keep that kitchen cool sometimes, ya know?  You can also make my peanut butter corn flake clusters if you're going for that. Especially considering the fact that he was working on changing our front door knob and had the door wide open most of the afternoon on his birthday. Hello to a zillion new flies as housemates and hours of cooling the outdoors. I totally just sounded like my parents back in the day – "I'm not paying to cool/heat the outdoors!"
 I'm so glad you're here! Follow along on Pinterest for more inspiration! 
Anyway, last year I made Mr. Wishes this Reese's Peanut Butter Layer Cake and I had to deliver again this year…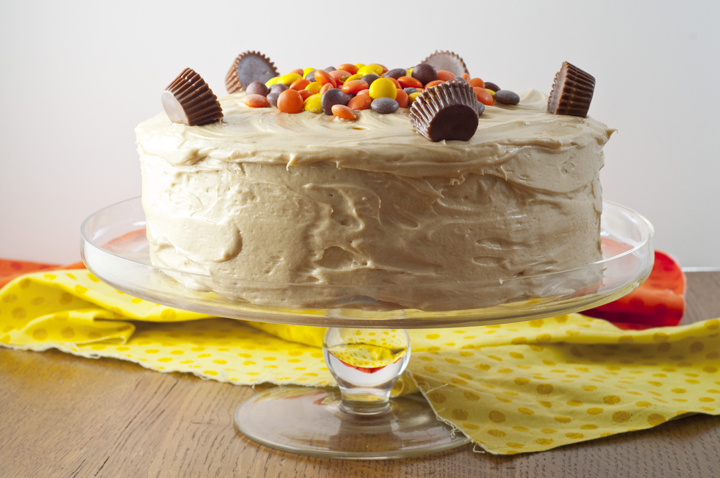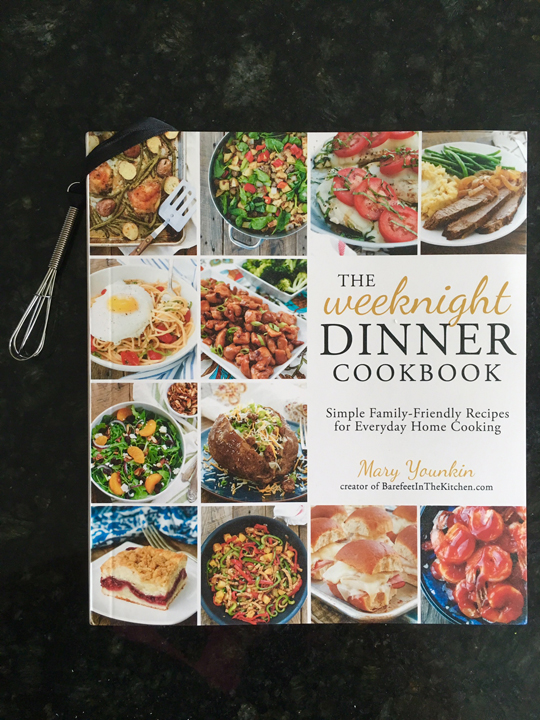 This Creamy Peanut Butter Mousse recipe comes from The Weeknight Dinner Cookbook: Simple Family-Friendly Recipes for Everyday Home Cooking, which was just released and written by my dear friend Mary of the blog Barefeet in the Kitchen. Mary and I had "met" online years ago when I first started blogging.  I had the pleasure of meeting her in person when I went to BlogHer Food Miami back in 2014.  Her smiling face was the first familiar face I saw when I was registering at the conference.  She's a great person and an amazing cook!  Every single recipe I have made of hers always blows my taste buds away.  She's one of those bloggers I can trust that her recipes will never fail me (and I have made several of them).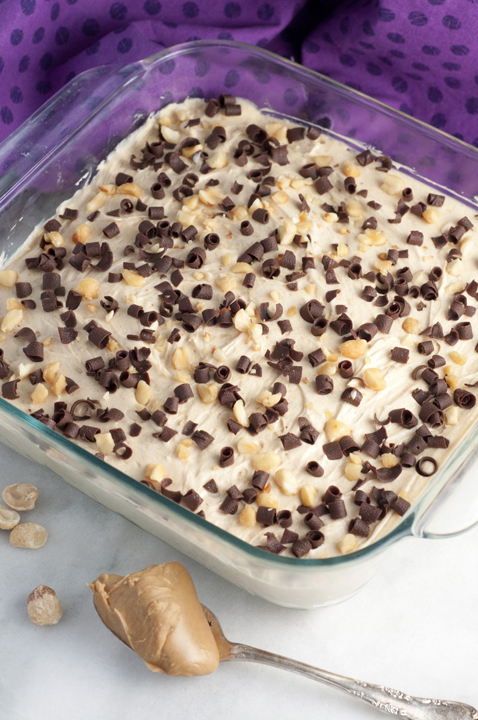 I loved Mary's note in her book under the Creamy Peanut Butter Mousse recipe that suggested sprinkling nuts on top so that everyone eating it knows the dessert contains nuts in case there are allergies.  I took her suggestion and loved the bit of crunch that it gave the mousse with each and every bite!
Needless to say, this mousse is addictive and completely delicious.  It will serve you well at any potluck, holiday, birthday, or just when you're having company over for dessert. Here are some other yummy peanut butter recipes for your enjoyment.  Definitely make this for the peanut butter lover in your life and check out Mary's cookbook soon for other great recipes – you won't regret it! You should also try these Double Peanut Butter Cookies from my friend Michelle!
Creamy Peanut Butter Mousse
This rich, Creamy Peanut Butter Mousse dessert recipe takes ten minutes to make and will not fail to impress for an every day treat, holidays, or birthdays!
Ingredients
1 cup heavy cream
8 oz cream cheese
1 cup creamy peanut butter
1 tsp vanilla extract
1 cup powdered sugar
2 tbsp milk
Shaved chocolate curls, for topping
Crushed peanuts, for topping (optional)
Instructions
Pour the cream into a mixing bowl and beat with an electric mixer until peaks form, about 2-3 minutes.
Scoop the whipped cream into a small bowl and place in refrigerator.
Combine the cream cheese, peanut butter and vanilla in a mixing bowl and beat until smooth, about 2 minutes.
Add powdered sugar and beat again for another minute.
Add the milk and beat until smooth, about 20-30 seconds.
Use a spatula to gently fold and stir in the whipped cream until combined. Transfer to an 8-inch square pan (can also serve in individual serving dishes or trifles).
Top with shaved chocolate and chopped peanuts, if desired.
Serve immediately or chill until firm. I cut it into squares after chilling it and served on dessert plates. Enjoy!