Hawaiian Pineapple Chicken Sausage Kabobs
Easy, protein-packed Hawaiian Pineapple Chicken Sausage Kabobs recipe is a fabulous and fool-proof way to serve up a complete dinner on the grill this summer!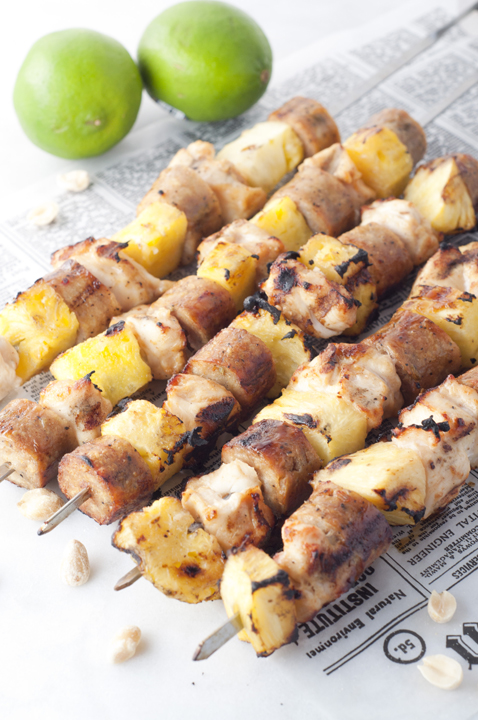 What is summer with some serious grilling action?  This upcoming holiday weekend is the highlight of summer grilling with 4th of July right around the bend and you will love these new Hawaiian Pineapple Chicken Sausage Kabobs.  My hubby is the grill master in the family as I have to admit that I'm kind of afraid of the grill.  I will do all the marinating, prep work, threading of kabobs, but the actual GRILLING is not my forte.  I shared a story here on the blog once where I "almost" blew up the house by making
Grilled Chicken Fresco Tacos
.  Every since then, I just leave the job to Mr. Wishes.  I screw up enough of my food experiments in my actual kitchen indoors – I don't need one more place to cause disasters.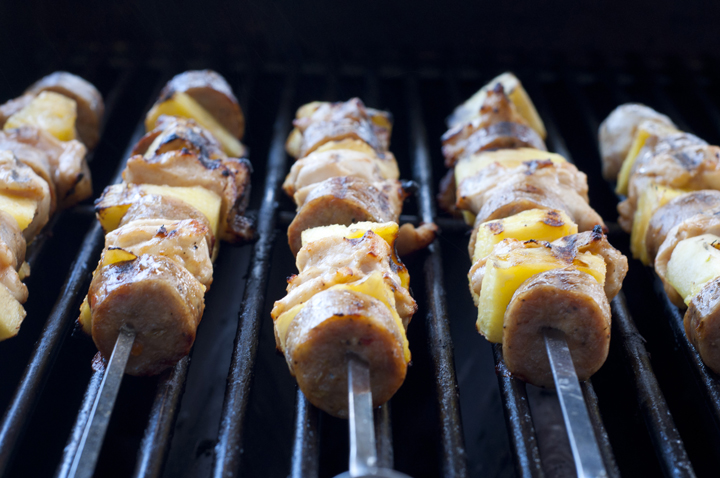 My take on Hawaiian Pineapple Chicken Sausage Kabobs are incredibly easy to make and always delicious.  Aren't kabobs just the perfect way to serve up a complete dinner straight from the grill?  Let me answer that question for you – "YES". I used my favorite chicken sausage for these kabobs – Zweigle's.  For this particular recipe, any variety of Zweigle's chicken sausage will work (Spinach & Feta, Chorizo, Italian, Buffalo Style, Lime Chipotle) – whatever you're feelin'!  I love them ALL and had a hard time choosing what to use for these kabobs, but ultimately ended up going with the Spinach and Feta.  I think it complimented the other flavors very well.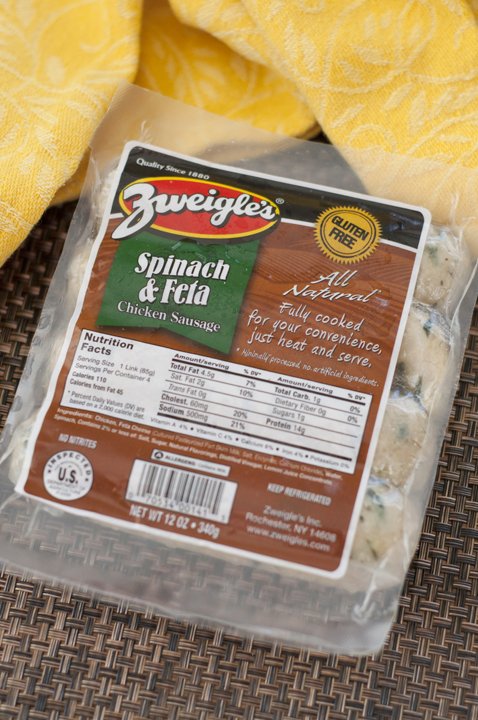 Zweigle's is a beloved local Rochester, NY brand and there's nothing us Rochesterians love more than our Zweigle's (and Wegmans….and Garbage Plates)!  Their pop-open hotdogs are the only…I repeat, the ONLY… hotdogs I will eat going way wayyyyyy back to my childhood. I'm now hooked on their chicken sausage that is gluten-free and made with 100% boneless, skinless chicken meat.  If I ate hotdogs at the rate I eat Zweigle's delicious chicken sausage I would need to buy bigger pants.  Just saying….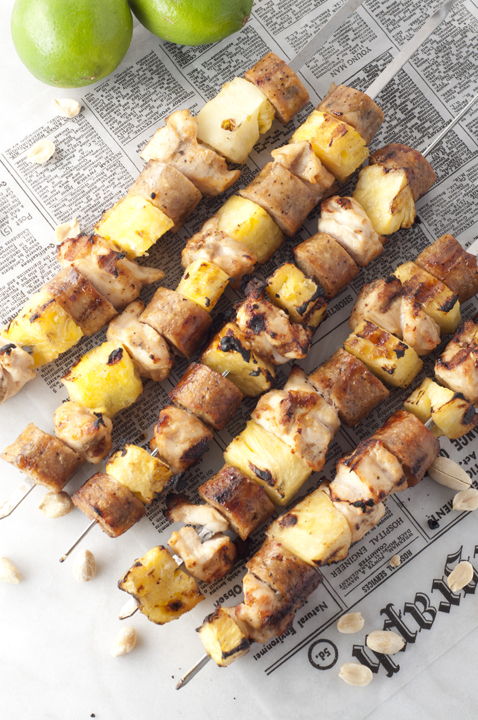 You are guaranteed to love the light sweetness of these Hawaiian Pineapple Chicken Sausage Kabobs being that they are paired with the pineapple and have peanut butter in the marinade.  The chicken turns out perfectly flavorful and tender thanks to this very simple marinade!  Grilled kabobs—whether you choose beef, chicken, seafood or just plain veggies – always seem to be a hit at any BBQ.  I am not surprised by this as they are simple to cook, and fun and easy to eat.  Plus, you can really put anything you like on them according to your taste.  You may also love this Shish Tawook from my friend Rachel.
Happy grilling!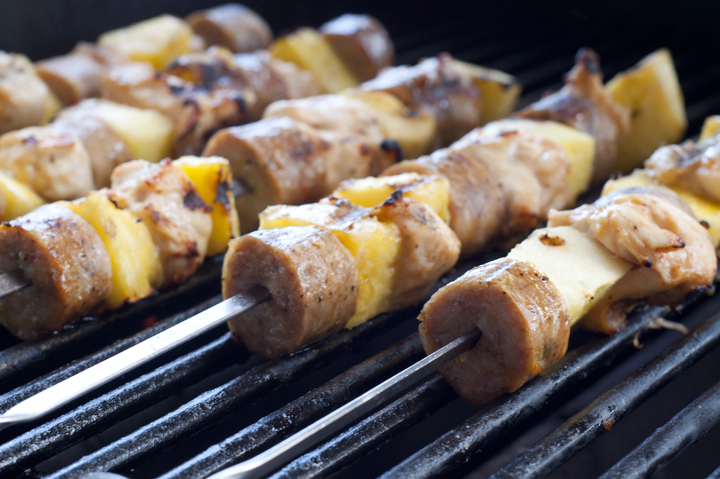 Make sure you check out the previous recipes I created using Zweigle's chicken sausage!

Cheesy Chicken Sausage Pasta Skillet
One-Pot Creamy Green Orzo with Chicken Sausage
Buffalo Chicken Sausage Mac & Cheese
Crock Pot Cheesy Chicken Sausage Hash Brown Casserole
Sausage and Potato Summer Vegetable Skillet
You can get awesome recipe inspiration and purchase Zweigle's products online by heading on over to their website (or look for their products in your local grocery store)!
Hawaiian Pineapple Chicken Sausage Kabobs
Prep time:
Cook time:
Total time:
Easy, protein-packed Hawaiian Chicken Pineapple Sausage Kabobs recipe is a fabulous and fool-proof way to serve up a complete dinner on the grill this summer!
Ingredients
2 large boneless, skinless chicken breasts, cubed
4 fully-cooked Zweigles chicken sausages, any variety, cut into 5 pieces each
½ pineapple, cubed
2 tbsp vegetable oil or non-stick cooking spray
Marinade:
2 tbsp peanut butter
1 tsp sriracha hot chili sauce
1 tsp ground ginger
1 tsp sugar
1 Tbsp fresh lime juice
¼ tsp salt
¼ tsp ground pepper
Instructions
Use metal skewers for this recipe, if possible. They promote even cooking by conducting heat from the inside out, and they don't burn. If using wooden, soak 6 large bamboo skewers in water for 30 minutes. Wrap the blunt end with a small piece of aluminum foil to prevent them from burning.
In a bowl, combine all marinade ingredients and mix well.
Pour over chicken in a large Zip-loc bag and make sure all ingredients are evenly covered. Seal bag and allow chicken to marinade in the refrigerator for at least 1 hour.
Thread marinated chicken, chicken sausage, and cubed pineapple alternately onto each skewer. You can make these any size that you wish, but I had enough ingredients to make 6 large skewers.
Preheat a gas grill to medium-high heat or use a charcoal grill.
Oil the grill with vegetable oil. Place skewers on grill and brush vegetable oil on each skewer to prevent them from sticking to the grates and grill, turning occasionally until the chicken and sausage are cooked through, about 12-15 minutes.
Arrange on a platter and serve. Serve over rice or with a side of beans, corn on the cob, or a salad. Enjoy!