Cheesy Chicken Sausage Pasta Skillet
Creamy, Cheesy Chicken Sausage Pasta Skillet recipe is all made in one skillet and comes together in just 20 minutes!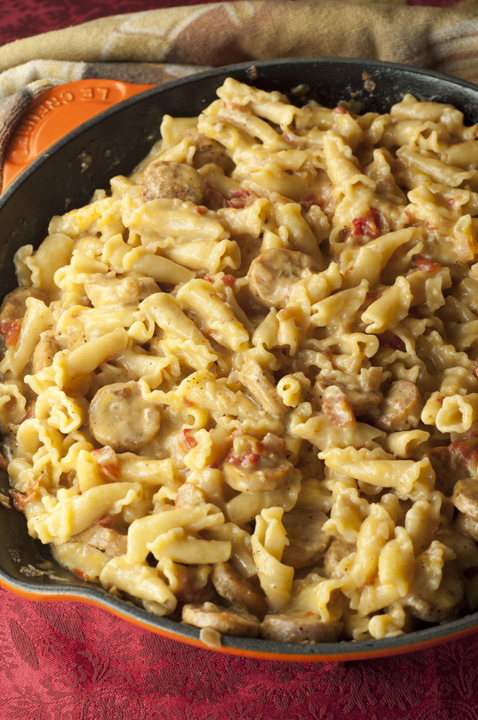 February has arrived and happy Groundhog day to all!  If you know me at all, you know this is a favorite holiday of mine.  I am weird like that!  January just flew by for me and seemingly never even happened…anyone else?  You will love this pasta dish I'm sharing with you today.  It contains the stuff that dreams are made of: lots of cheese, pasta, and juicy chicken sausage.  Come on, who doesn't love a cheesy pasta?
The chicken sausage I used is Zweigle's brand which is a 5th generation family-owned local business here in Rochester!  As you know, I love giving accolades to my favorite brands that are famous here in my hometown.  Zweigle's is one of Rochester's oldest and most widely respected businesses that I absolutely love to do anything I can to support.  If you are from here, you know they are famous for their Pop Open hot dogs!  If you have never tried one, you're seriously missing out.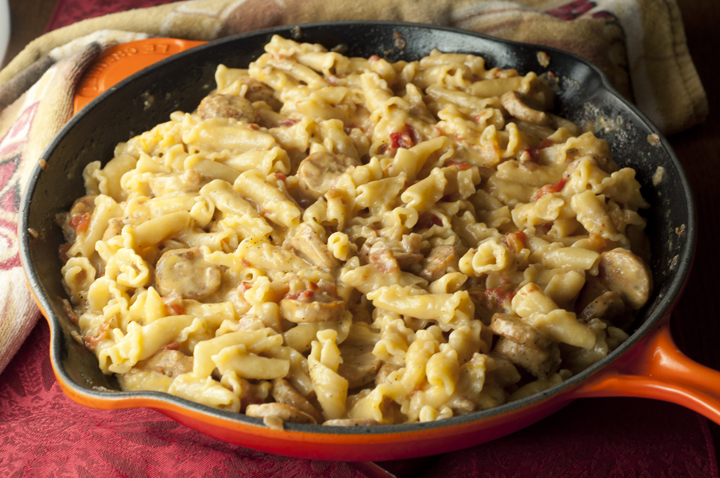 Zweigle's chicken sausage is simply the best quality and I cannot say enough good things about it!  They have 5 different varieties (Spinach and Feta, Italian, Chorizo, Buffalo Style, Lime Chipotle) that make it easy to fit whatever variety you want into the type of dish you are making.  I used the Italian kind in this Cheesy Chicken Sausage Pasta Skillet because it fits in so well with any pasta dish.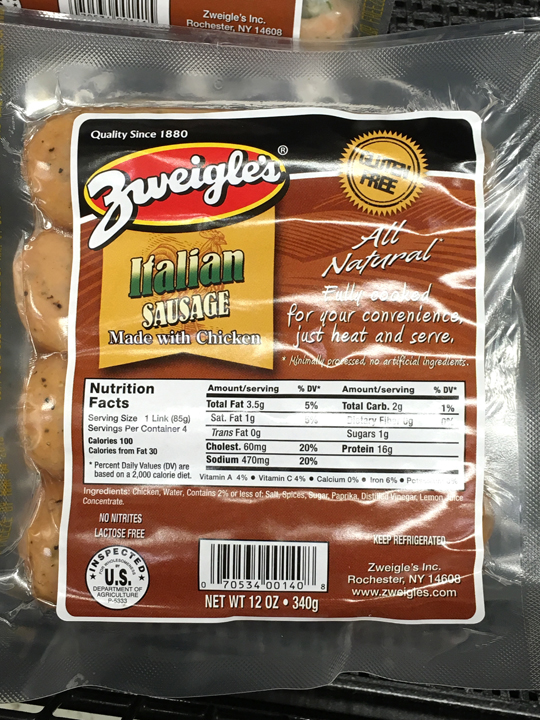 I read an article recently saying that Zweigle's Chicken Sausage is only worth 2 points on the Weight Watchers program!  It's a great substitute for pork or beef sausage in any recipe and still tastes delicious while being health conscious at the same time.  I am constantly using chicken sausage in my recipes.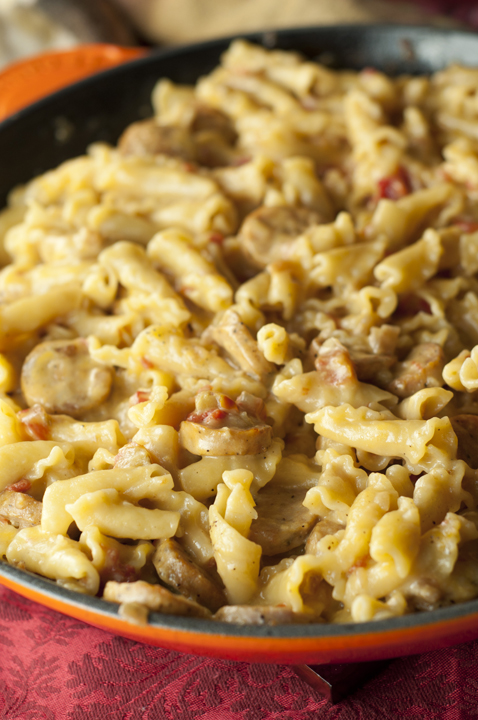 This dish has so much going for it and is a crowd-pleaser for adults and kids alike.  I used Campanelle pasta which is a pasta shaped like a cone with a ruffled edge.  You can use any short cut pasta that you have on hand.  You can't go wrong with warm, melted cheese combined with some good carbs – comfort food at it's finest!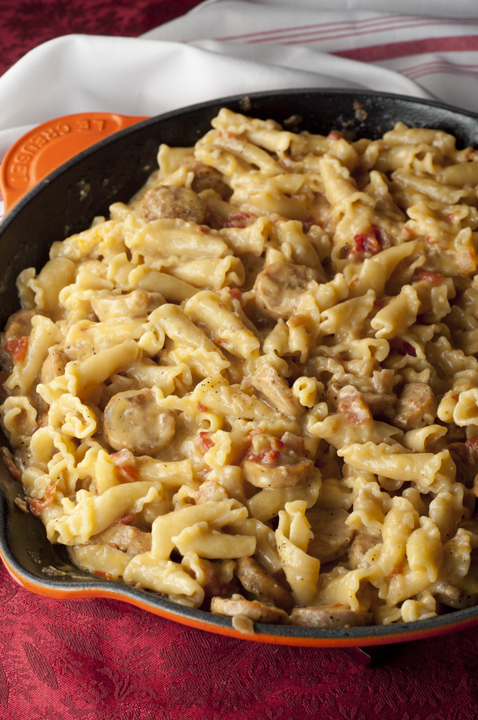 You can find a few other chicken sausage recipes on my blog here.  You can also get more great recipe ideas and purchase Zweigle's products online by hopping on over to Zweigles.com.  Enjoy!
Cheesy Chicken Sausage Pasta Skillet
Prep time:
Cook time:
Total time:
Creamy, Cheesy Chicken Sausage Pasta Skillet recipe is all made in one skillet and comes together in just 20 minutes!
Ingredients
1 Tbsp extra virgin olive oil
1 pound chicken sausage (I used Zweigle's Italian), sliced thin
1 cup onion, finely chopped
3 cloves garlic, minced
3 cups short cut pasta (I used Campanelle)
1 can Rotel tomatoes, undrained
2 cups half and half
¾ cup chicken stock
1½ cup sharp cheddar cheese or Monterey Jack cheese, shredded
pepper
Instructions
Heat olive oil in a large skillet over medium-high heat until just smoking.
Add chopped onions and sliced chicken sausage. Cook for about 5 minutes, stirring frequently, until onions are soft, and sausage is starting get a nice brown color on each side.
Add minced garlic, and cook for 1 minute, stirring constantly, until fragrant (20-30 seconds). Don't let it burn.
Stir in pasta, Rotel tomatoes, half and half, a sprinkle of pepper, and chicken stock and bring to a boil.
Cover, reduce heat to a simmer and cook for 8-10 minutes until pasta is cooked through/tender.
Thoroughly stir in cheese until melted and remove skillet from heat.
Let stand for a few minutes to let the sauce thicken before serving. Enjoy!
Disclaimer:  Thank you Zweigles for sponsoring this conversation.  All opinions remain 100% my own, as always.

Recipe source:  adapted from my good friend Erin at dinnersdishesanddesserts.com.  Visit her for great recipes!