Crock Pot Cheesy Chicken Sausage Hash Brown Casserole
This Crock Pot Cheesy Chicken Sausage Hash Brown Casserole recipe takes 10 minutes of work, is easy and super tasty!  Perfect for breakfast, pot luck, or Mother's Day brunch!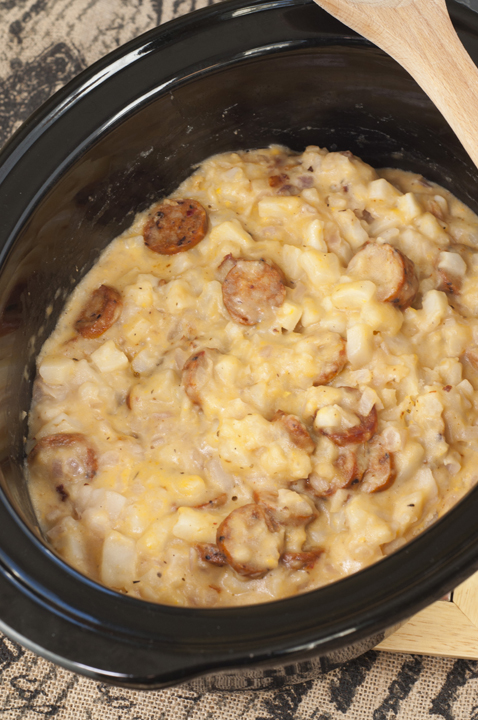 I'm currently getting a case of motion sickness as I write this blog post because I'm working at a coffee shop and there are two people (likely co-workers) sitting behind me having a very deep, dramatic conversation about some sort of work drama.  The lady is clearly from New York City judging by her accent (I'm brilliant, I know…) and an average of every 10 seconds she slams the table really hard with her first while she's talking and shakes the entire floor.  I think your half hour lunch break is long over, lady!
Since I work both of my jobs from home, I try to get out and work from another location a few times a month.  It's actually surprising how much more I get done when I don't have all of the distractions at home (i.e. my lounge chair on the patio that calls out my name whenever it's warm and sunny).  I go to a coffee shop or cafe and people watch while I work.  I find it inspiring and fun and nobody bothers me because I try to look deep in thought.  Ha!  It's crazy how many other people I see that have the same idea and sit at a table for hours and work on their laptops.  OK, onto the food….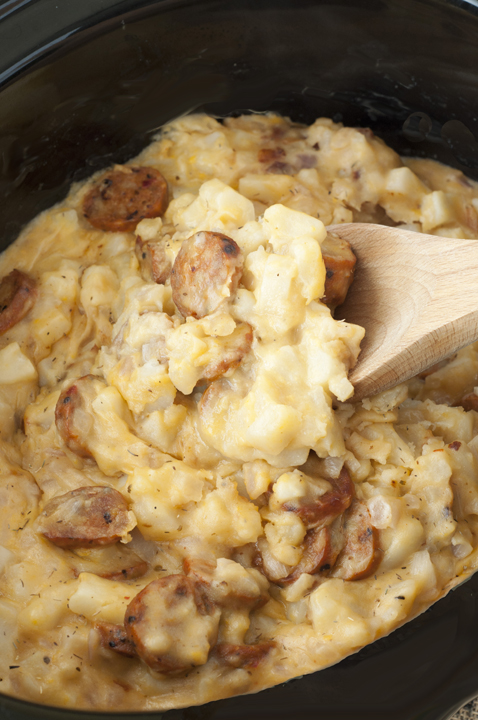 I made this Cheesy Chicken Sausage Hash Brown Casserole in my slow cooker and we actually ate it for dinner ("brinner"?) the other night.  My hubby loves nothing more than he loves breakfast food and once in a while I make it for him for dinner, because, let's be honest, my butt doesn't get out of bed early enough to make him a nice breakfast before he leaves for work.  I added our favorite chicken sausage – Zweigle's brand – and the taste was fantastic.  I use Zweigle's chicken sausage probably once a week in something I'm making!  They have so many different kinds (Spinach and Feta, Chorizo, Italian, Buffalo Style, and Lime Chipotle) that it is easy to find a variety that suits the dish you are making.  I love that!  Their chicken sausage brings so much flavor to our meals.  I used the Chorizo variety in this Cheesy Chicken Sausage Hash Brown Casserole because I figured it goes well with a breakfast hash and would give that boost of flavor.  I was right (surprise, surprise). 😉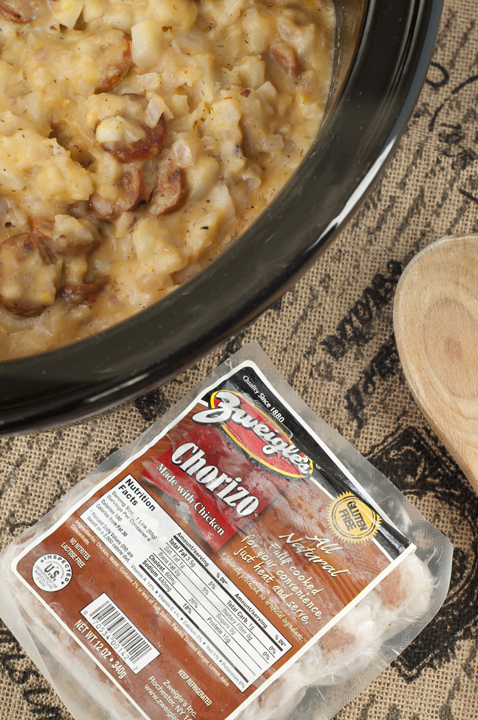 Zweigle's is a local brand here in Rochester, NY and there's nothing us Rochesterians love more than our Zweigle's and our garbage plates!  Their pop-open hotdogs are the only hotdogs I will eat going way wayyyyy back to when I was a kid.  At a BBQ and they are only grilling up generic or other brand of hotdogs?  I'll have a hamburger, thank you very much.  Now, I'm hooked on their chicken sausage made with 100% boneless, skinless chicken meat which is a much healthier alternative to hotdogs, I must say.
I hope you give this Cheesy Chicken Sausage Hash Brown Casserole recipe a try for Mother's day brunch or whenever the mood strikes and you need breakfast food in your life STAT.  The cheesy potatoes and sausage are cooked perfectly and packed with flavor.  Although the sausage is already cooked, I like to brown it a bit in my skillet before adding it to my crock pot for maximum flavor!  Also, the potatoes don't get mushy at all if you're wondering about that.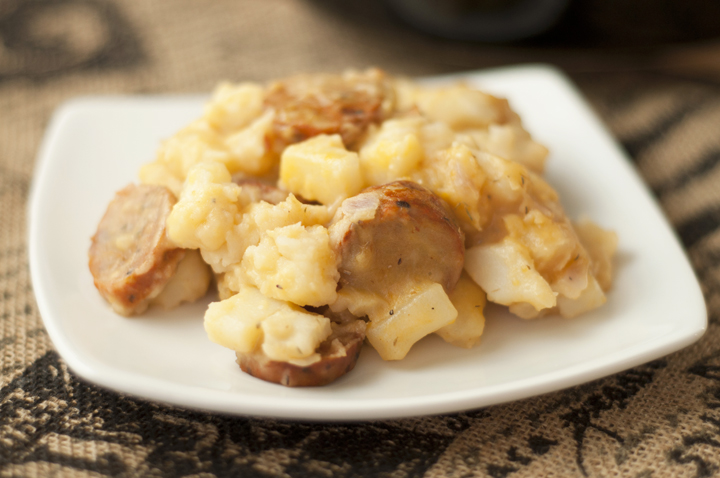 Here are the links for you to check out my previous recipes using Zweigle's chicken sausage in case you very unfortunately missed them:
Cheesy Chicken Sausage Pasta Skillet
One-Pot Creamy Green Orzo with Chicken Sausage
Buffalo Chicken Sausage Mac & Cheese
You can get awesome recipe ideas and purchase Zweigle's products at your local grocery store or online by heading on over to Zweigles.com.  Enjoy!
Crock Pot Chicken Sausage Hash Brown Casserole
Prep time:
Cook time:
Total time:
This Crock Pot Chicken Sausage Hash Brown Casserole recipe takes 10 minutes of work, is easy and super tasty! Perfect for breakfast, pot luck, or Mother's Day brunch!
Ingredients
Homemade cream of chicken condensed soup:
1 tablespoon butter
2 tablespoons flour
1 and ¼ cup chicken stock
1 and ¼ cup whole milk, almond milk, or half-and-half
1 teaspoon thyme
1 and ½ teaspoon poultry seasoning
salt & pepper, to taste
Casserole:
1 Tbsp olive oil
1 32-oz. bag of frozen hash browns
14 oz. chicken sausage, diced (I used Zweigle's Chorizo)
1 medium onion, diced
2 cups sharp cheddar cheese, shredded
Instructions
Homemade cream of chicken condensed soup:
Melt butter in a small saucepan over low heat. Sprinkle in the flour and whisk. Cook for about 30 seconds.
Stir in chicken stock and whisk to remove any clumps. Simmer until it starts to thicken, then stir in milk and all of the seasonings. It should be thickening nicely by now. Taste and adjust seasonings as needed then set aside. I needed to add a bit more pepper.
Casserole:
Heat olive oil in a large skillet over medium-high heat until just smoking.
Brown the sliced chicken sausage slices a bit on both sides for just a couple of minutes (since sausage is already pre-cooked). Set aside. This step will bring out the best flavor of the sausage.
Pour hash browns, chicken sausage, onion and cheese together in a lightly greased crock pot/slow cooker. Pour the condensed cream of chicken soup you just made over all of it and stir until incorporated.
Cover and cook on high for 3 hours or until potatoes are soft and sausages are hot (may be done sooner). Serve warm. If using for a brunch or pot luck, leave crock pot on warm setting as long as you need. Enjoy!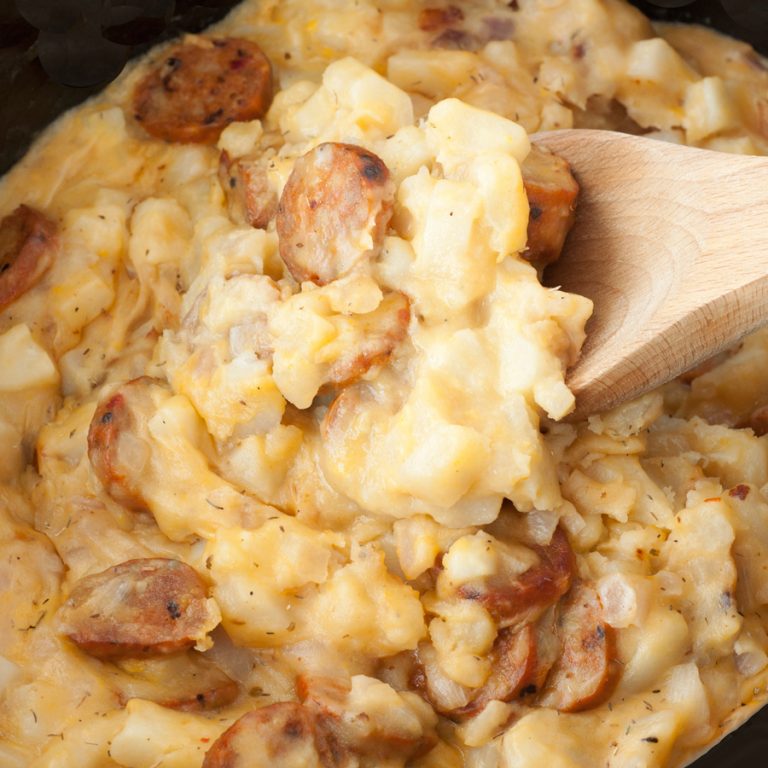 Disclaimer:  Thank you Zweigles for sponsoring this conversation.  All opinions remain 100% my own, as always.
Recipe source:  strongly adapted from Laurenslatest.com