Crock Pot Chicken Tacos
I hope everyone had a good week.  Here in Rochester, we are back to the snow, snow, and more snow…. and the cold.  We had a short span of weather in the 40's, so that was nice.  I always get really anxious for Spring about this time during the winter.  On the plus side, the days are getting longer already and THAT I really like. I have a recipe for you today that will take no time at all and leave you that extra time to shovel your driveways.
This very inexpensive (and easy) recipe for chicken tacos was simple and incredibly delicious.  The chicken turned out really moist.  You can start it in the morning before you leave for work and when you get home you have perfectly cooked and seasoned chicken.
I added some minced garlic and a sprinkle of cayenne pepper to this before I cooked it.  Also, I also used Old El' Paso Low Sodium Taco Seasoning & it still tasted great.  I served this with soft tortillas and hard shells, as well, and just added a variety of toppings–lettuce, cheese, onion, olives, tomato, etc…whatever you like!  A great side dish to go with these tacos is this perfect Mexican rice.  This chicken can be used for other recipes too….I bet it would be good on nachos!  Oh great, now I want nachos.
I found this cooked very fast on low, but my crock pot  definitely runs warm.  Because of this, I shortened the cooking time to four hours because my crock pot seems to cook all recipes in less time than recipes call for.  The trick is to know your crock pot and how fast it cooks.
You can also double this recipe and have enough to put in the freezer for a quick meal at a later time.  Anything you can plop in the crock pot and forget about for the day is a great recipe in my eyes.  Enjoy!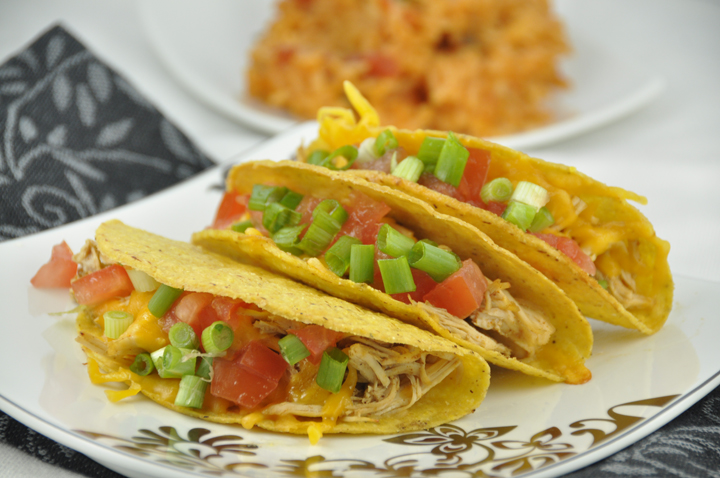 INGREDIENTS:
3 tablespoons taco seasoning
1 cup chicken broth
1 lb boneless skinless chicken breast
1 teaspoon minced garlic (optional)
Corn or flour taco shells/tortillas
Taco toppings: chopped tomato, lettuce, green onions, cheese, black olives, etc.
DIRECTIONS:
Dissolve taco seasoning into chicken broth.  Place chicken breasts in crock pot and pour chicken broth over.  Add minced garlic on top.  Cover and cook on low for 5-6 hours (cooking times vary depending on how hot yours cooks).
With two forks, shred the chicken meat into bite-size pieces.
Preheat oven to 425 degrees. Add shredded chicken into the bottom of taco shells then top with shredded cheese. Bake on a foil-lined baking dish for 2-3 minutes, or until cheese melts (You can skip this step, but this does double duty of warming the shells/tortillas AND melting the cheese!)
Top with desired toppings and chow down!
To freeze, place shredded meat into freezer bags with the juices.
Press out all the air and seal.