Chocolate Chip Cookie Cups a la Mode
Giant Chocolate Chip Cookie Cups recipe a la mode topped with dark chocolate ice cream and finished off with a drizzle of strawberry syrup!  These are the size of cupcakes and a great dessert recipe for any holiday, Valentine's Day or birthday party!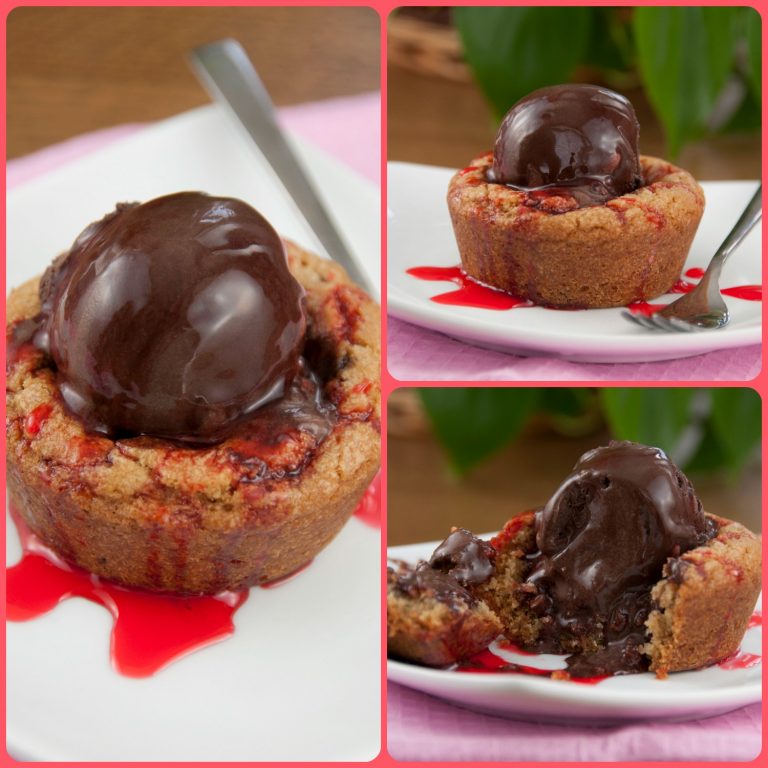 Welcome to yet another giant cookie cup Wednesday!  I hope you've been enjoying them as much as I have.  Normally I fill my jumbo cookie cups with different variations of frosting and/or mousse, but this one is a little different – a cookie cup filled with ice cream for these warmer weather months coming up!
Perry's Ice Cream sent me three of their new 2014 flavors as I am part of their Inside Scoopers program, one flavor being this delicious Premium Dark Chocolate that I used as the "a la mode" in these cookie cups.  The Inside Scoopers program entitles me to early access of Perry's new flavors and so much more!  They are one of the largest ice cream producers in New York State and has always been a favorite of mine since I was a little girl.
I'm so excited about these cookies cups because they are like individual chocolate chip cookie cakes and would be great for a birthday party – cake and ice cream all in one dessert!
Note: You can get a jumbo muffin tin on Amazon if you don't already have one. They are also great for making bakery style muffins, etc.! I also use these reusable Wilton cupcake decorating bag and decorating tips for piping on the frosting.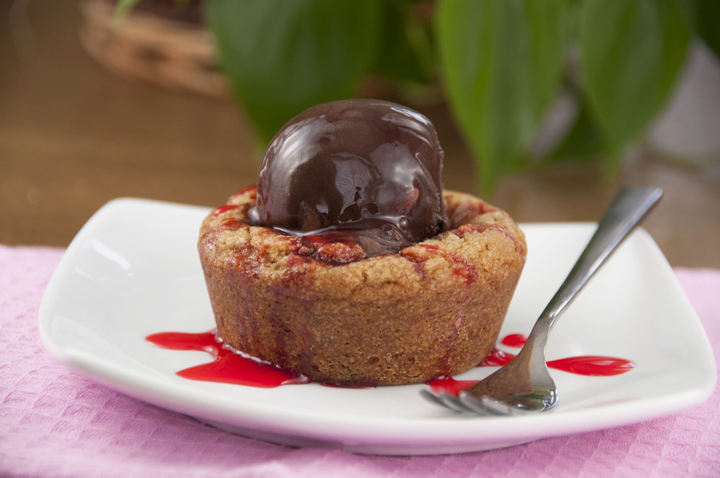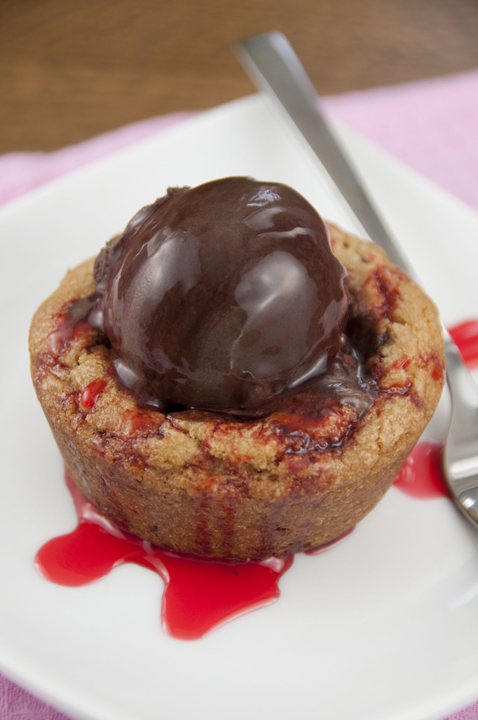 Chocolate Chip Cookie Cups a la Mode
Prep time:
Cook time:
Total time:
Serves:
9 or 10, depending on size
Giant Chocolate Chip Cookie Cups a la mode dessert recipe topped with dark chocolate ice cream and finished up with a drizzle of strawberry syrup! Great for any holiday, Valentine's day, or birthday party.
Ingredients
Cookie cups:
¾ cup (1.5 sticks) unsalted butter, room temperature
⅔ cup packed brown sugar (light or dark)
⅔ cup white sugar
1 Tbsp white vinegar
2 large eggs
1 Tbsp vanilla
½ tsp salt
½ tsp baking powder
¼ tsp baking soda
2¼ cups all-purpose flour
1½ cups semi-sweet chocolate chips (regular or mini)
Ice Cream (I used Perry's Dark Chocolate, for topping cookie cups
Strawberry Syrup, for drizzling on top
(can also use 2 rolls of pre-made chocolate chip cookie dough - 16 oz each package)
Instructions
Preheat oven to 350 degrees.
In a large bowl, with an electric mixer, cream together butter and sugars until light and fluffy, about 2 minutes.
Mix in vinegar, eggs and vanilla until well blended.
In a medium bowl, stir together the salt, baking powder, baking soda and flour until combined.
Add the flour mixture gradually into the butter mixture, beating to combine.
Mix in chocolate chips.
Portion dough into balls and place in lightly greased jumbo muffin tin, filling each cavity about ⅔ full of dough.
Bake about 20-22 minutes (check at 18 if your oven cooks hot) or until middle is mostly cooked (I had to put mine in a few more times to make sure they were done but they were perfect right at 20 minutes - a little gooey is still fine because they will cook in the pan a little bit more as they cool).
As soon as you take them out of the oven, use something with a circular bottom (I use the bottom of an ice cream scoop or a tablespoon) to press into the middle of the cups and make craters. Whatever you use should be slightly less than the width of the cookie. If after making indentation, you realize the cookies are too gooey, stick them in the oven for a couple more minutes.
Let cool in the pan until they pop out easily.
Run a butter knife around the edges of the cookies to loosen and gently lift out. I didn't need to do this, I just pulled them out with my fingers. These are best served slightly WARM because of the ice cream.
Transfer cookies to working surface and top with one scoop of ice cream each. Drizzle strawberry ice cream topping over each and serve immediately.
Recipe source:  an original Wishes and Dishes idea