Reese's Pieces Blondies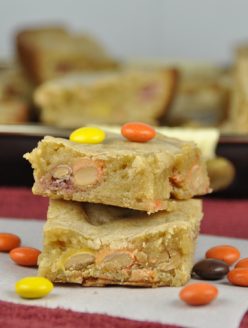 1 cup (2 sticks) of butter
2 and ¼ cups light brown sugar, packed
2 and ½ cups flour
2 and ½ teaspoon baking powder
1 teaspoon salt
1 teaspoon vanilla
4 large eggs
1 and ¼ cups Reese's Pieces (more or less depending on how much you prefer)
Mix flour, baking powder, and salt together in a bowl. Set aside.
Melt butter in a medium-sized saucepan. Add in brown sugar and vanilla, mix together to blend well. Take off heat and let cool for 10 minutes.
Mix in eggs (you can do this all in that same saucepan) with the melted butter and brown sugar, one at a time. Beat well after adding each egg (I use just a wooden spoon, sometimes a whisk).
Slowly add in dry ingredients, mixing as you add. Stir in Reese's Pieces. Batter may seem thick, but that's OK.
Spread batter in a WELL GREASED (so that the Reese's don't stick) 13 x 9 glass pan. Bake at 350 degrees for about 25 minutes. Check for doneness by sticking a knife or toothpick into the middle to see if it comes out clean. Do not let them get overdone as they will lose their softness. (Some ovens may take longer than 25 minutes, some shorter. So just keep an eye on them. I like mine a little gooey on the inside.)
Store in an airtight container and they will stay fresh for a couple of days.