Homemade Bolognese Sauce
Happy Monday to everyone and I hope you all had a great weekend!  I had a nice, relaxing weekend.  Friday night we went with some friends to dinner at Chipotle (our new obsession) and saw the movie "Safe Haven" afterward.  Has anyone else seen it?  It wasn't what I expected, but I did enjoy it.  I thought the acting was really good.  It was definitely more of a girlie movie.  Also, Saturday night we rented the new Batman movie, "Dark Knight Rises".  Not normally my type of movie, but I have to admit it was pretty entertaining.  I fully planned on snoozing through the entire thing like I usually do when Mr. Wishes gets a chance to pick out a movie that he wants to see.  I stayed awake for the whole thing and I was very proud of myself.  It was the weekend of movies!
On to the recipe for today.  I am a sucker for trying new sauces.  Hey, I'm Italian, what can I say?  I don't know if it's the cold winter months that seems like they go on forever sometimes, but I've really been in the mood for hearty sauce recipes lately.  I remembered that the Pioneer Woman had posted a version of Bolognese sauce on her page a while back.  It was a recipe she got from her friend, Pastor Ryan, and I just had to try it out.
This sauce was ridiculously easy and delicious.  I especially liked the simple ingredients and how easy it was to put together.  Normally, I tend to like a smoother sauces versus a chunkier one, but bolognese sauce is supposed to be chunky so I was mentally prepared 🙂  You can read all about my hatred for chunks of tomatoes in my sauce here if you are feeling extra bored today.
This recipe made a TON of sauce.  We ended up having leftovers for dinner for a couple of nights because there was so much of it.  If you aren't feeding a big group of people then a good idea would be to freeze half of the sauce for a later day. You could also easily cut it in half if you don't want to be eating it for days.  It's a great winter sauce, but would be good all year round!  Pioneer Woman's recipes have never steered me wrong.  Hope you guys like this as much as I did!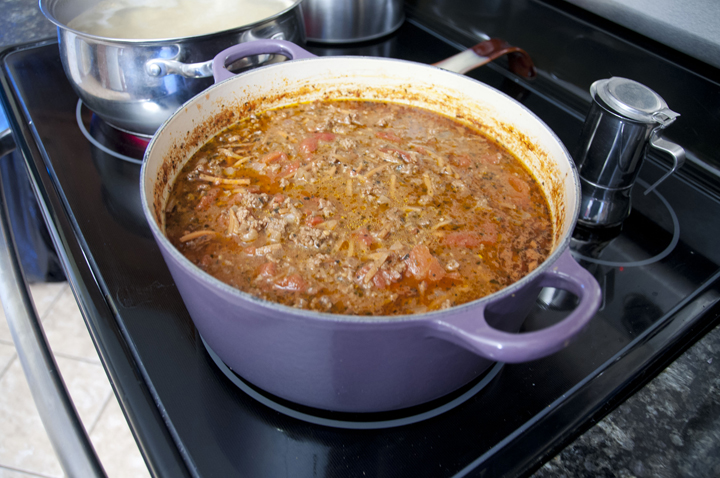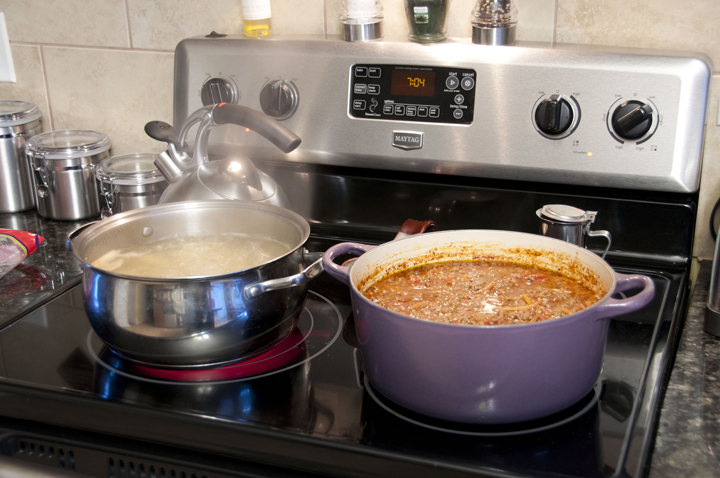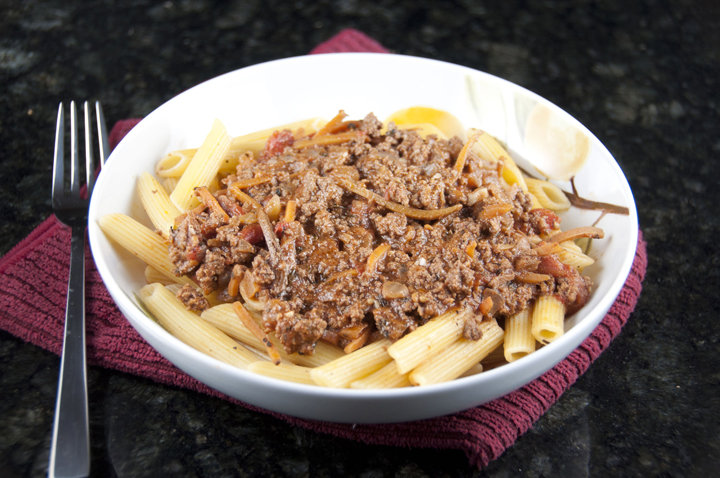 INGREDIENTS:
1/2 cup Olive Oil
1-1/2 cup Grated Carrots
1 whole Large Red Onion, Diced
2 pounds Ground Beef
2 Tablespoons Dried Oregano
2 Tablespoons Dried Basil Flakes
1 can (6 Ounce) Tomato Paste
5 cloves Garlic, Minced
1 cup (to 2 Cups) Red Wine
2 Tablespoons Worcestershire
2 cans (28 Ounce) Whole Tomatoes
1 cup Milk
Salt And Pepper, to taste
Fresh Parmesan Cheese
DIRECTIONS:
Heat oil in a large Dutch oven or skillet over medium heat. Add grated carrots and onions and cook for a few minutes. Make a well in the center of the mixture, and then add in the ground beef. Cook for a few minutes until brown, gradually stirring it into the carrot mixture.
Throw in oregano and basil. Use fresh if you have it; if you don't, it's fine. When the meat is browned and combined with other ingredients, make another well. Add tomato paste and let it heat. Add garlic and stir to combine.
Make a well in the center of the mixture and add red wine. Stir together. Add Worcestershire and stir. Add canned tomatoes. Finally, pour in milk, stir, and let simmer for 30 minutes to 2 hours—however long you need.
Serve with pasta and a generous sprinkling of Parmesan cheese.