Grilled Strip Steaks with Herb Compound Butter
Perfect Grilled Strip Steaks with Herb Compound Butter is a gourmet dinner recipe at home! The compound butter is an easy and flavorful topping to add extra goodness to your steak!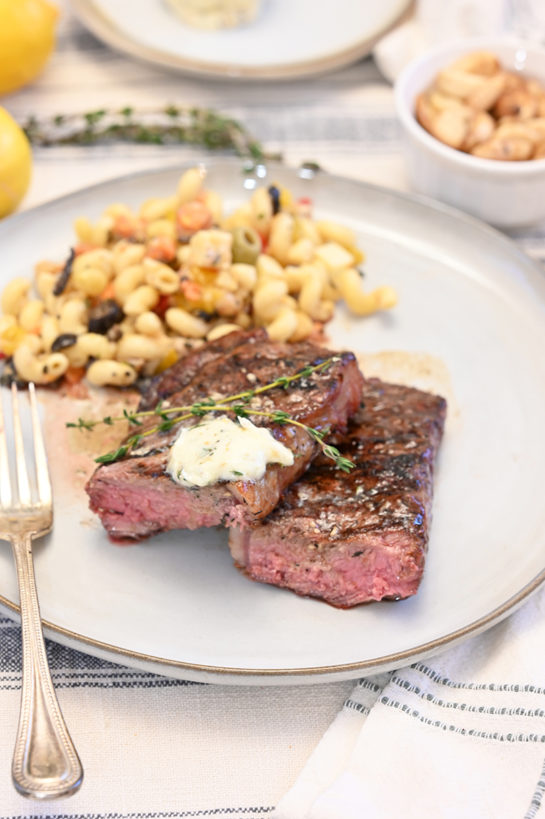 Who else is craving summer?! It's time to bust out the grill to make these grilled strip steaks with herb compound butter! This meal is summer on a plate.
Grilling is my favorite way to cook beef. It is fast, easy, and gets me my beef fix in no time at all. I am entering MAJOR grill mode now after spending the last few months stuck inside.
Just the smell of the grill alone sends me into a nostalgic spiral. I have already made my Grilled Flank Steak Tacos with Avocado and Cilantro Lime Crema this week and have my freezer stocked with steaks.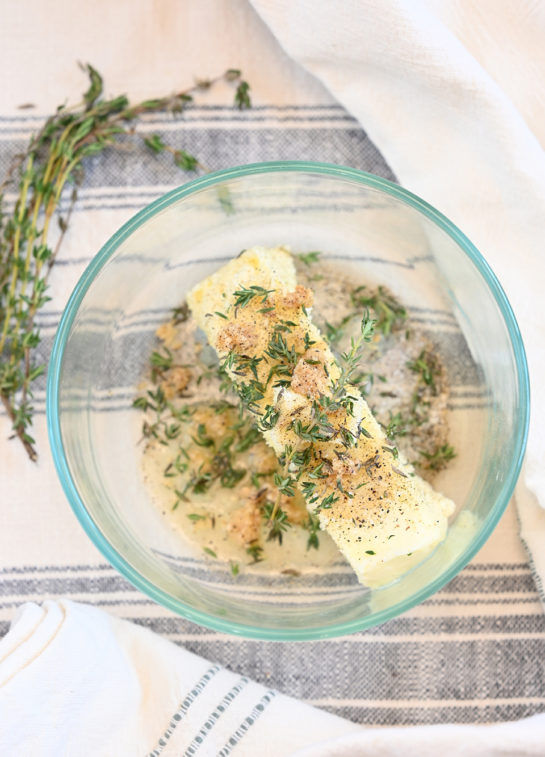 Certified Angus Beef® never steers me wrong when it comes to their grilling tips on their website. When I spent time with them at their culinary center in Ohio and again in Kansas, the chefs told me that as long as you get the time and temperature right, you cannot fail. I loved that advice.
They recommend high heat on your grill that is applied directly to the surface of the beef. This high heat creates a browned, flavorful crust on the surfaces of your steaks while keeping them so juicy on the inside (like in my Grilled Ribeye Steak with Onion Blue Cheese Sauce).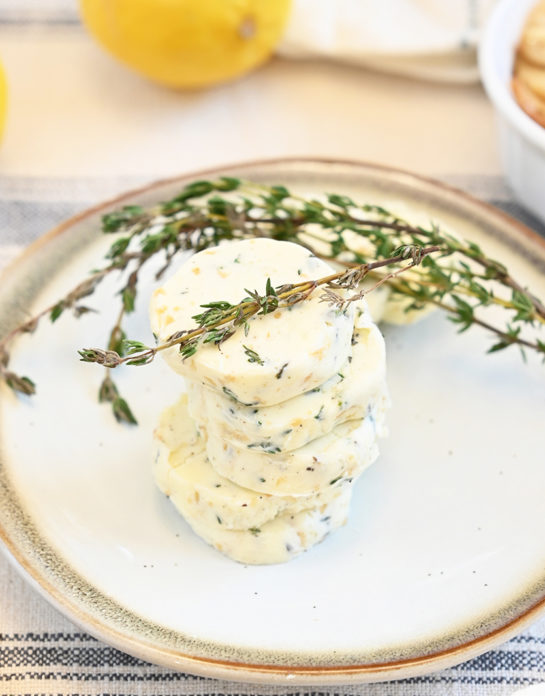 Here's a little secret of mine: I rarely order steaks when out at a restaurant (back when we could actually go to restaurants). I know I can make them just as great at home by just simply going to Palmer's Direct to You Market and purchasing my own Certified Angus Beef Steaks. It saves money from ordering them when out, tastes gourmet, and you really can't go wrong if you follow their grilling tips!
You can also purchase Certified Angus Beef steaks on their website and have them shipped right to your doorstep. They have a brand new Steakholder Rewards™  program that allows you to scan your Certified Angus Beef brand purchase receipt and earn rewards! You can join here.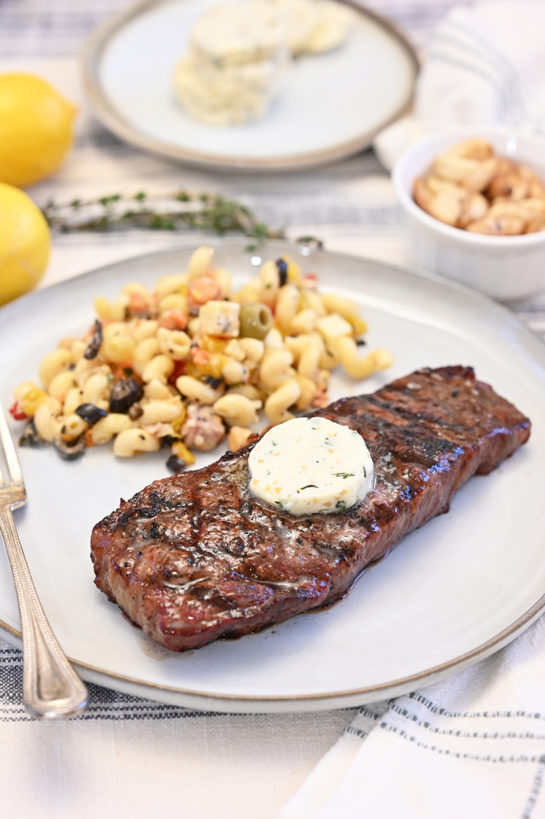 I chose to grill Certified Angus Beef strip steaks this week and pair them with a homemade herb compound butter. This compound butter is also great on other meat dishes, mashed potatoes, bread, my grilled sweet potatoes, or whatever you want to use it on to add flavor. 
I can't even with this butter. I practically wanted to eat it with a fork.
You can also put it on my grilled honey chicken kabobs or my Perfect Ribeye Steak. I mean, what WOULD NOT be better with compound butter? OH mah gah. Ridic to another level.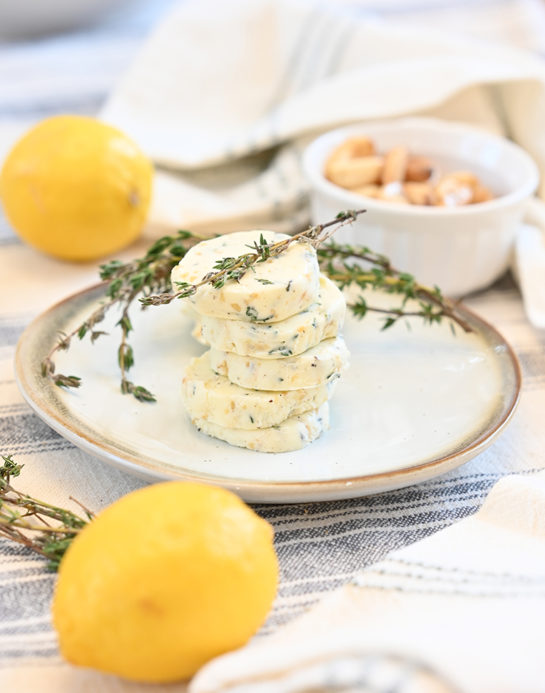 If you're not familiar with compound butter, it is just a cube of butter mixed with an assortment of herbs and spices and rolled back into a cube form for later use. It looks fancy but takes minutes to make! A ridiculous amount of butter was consumed with these strip steaks. Butter coma, commence.
Juicy strip steaks were my steak of choice for this dinner. Strips are what I grew up eating (my dad used to grill them up for me) and it's what I gravitate to the most for easy weeknight meals. It is easy, very simple, it's flavorful, it cooks quickly – what more do I need, ya know?!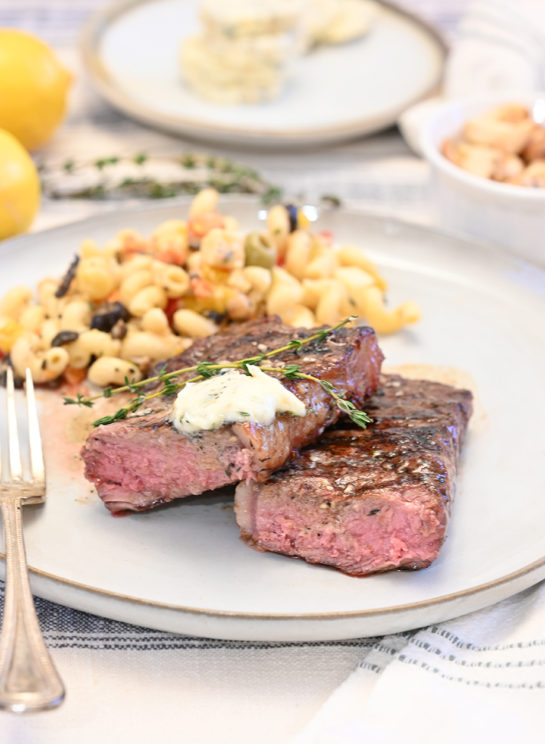 I know you know and that is precisely why I love you.
Feel free to use any steaks that you prefer, just make sure they're Certified Angus beef if you really love flavor and quality in your beef.
This steak and this compound butter. Serious dreamboat. Do it.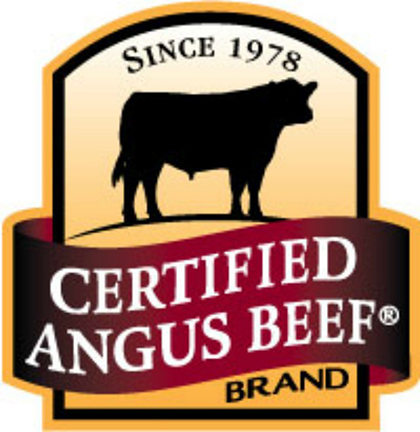 Perfect Grilled Strip Steaks with Herb Compound Butter
Prep time:
Cook time:
Total time:
Perfect Grilled Strip Steaks with Herb Compound Butter is a gourmet dinner recipe at home! The compound butter is an easy, flavorful topping for your steak!
Ingredients
2 Certified Angus Beef® strip steaks
Salt & pepper
Herb Compound Butter:
1 cup (2 sticks) salted butter, softened to room temperature
½ TBSP minced garlic
1 TBSP fresh thyme
½ TBSP fresh lemon juice
1 tsp salt
½ tsp freshly ground black pepper
Instructions
Strip Steaks:
Preheat your grill to high heat.
Take the steak out of the fridge for at least 30 minutes to take the chill off.
Season your steaks with salt and pepper.
Grill the steaks until medium-rare (or to your liking), approx. 3-4 minutes per side, and then remove from the heat, tent with foil, and keep warm. (You can also saute them in a skillet or grill pan over medium-high heat if you don't have a grill or weather doesn't cooperate.)
Herb Compound Butter:
Dice thyme leaves.
Mix together the softened butter with the thyme.
Add in minced garlic, lemon juice, salt & pepper.
Stir until well incorporated.
Place butter mixture onto some plastic wrap and wrap into a log form.
Refrigerate until hard. Cut into slices and add on top of your warm steaks. Enjoy!
Disclaimer: 
This post is sponsored by the Certified Angus Beef ® brand in conjunction with a social media campaign through Sunday Supper LLC. All opinions are 100% my own, as always.