Old-Fashioned Coconut Cream Pie
This is my favorite classic coconut cream pie recipe. It's the best coconut cream pie, so light and fluffy on top but packed with rich creamy flavor on the bottom. Old fashioned coconut cream pie is a spring and summer staple in our house!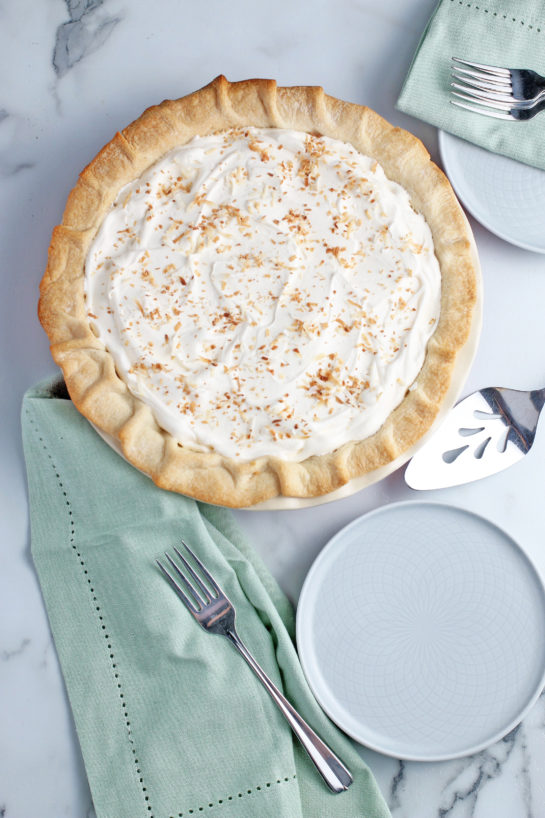 Making coconut cream pie is simple but the end result is nothing short of masterful. This particular old fashioned coconut cream pie is not just for the coconut lovers out there. It's got something for everyone from the flaky golden-brown crust to the indulgent homemade whipped cream on top.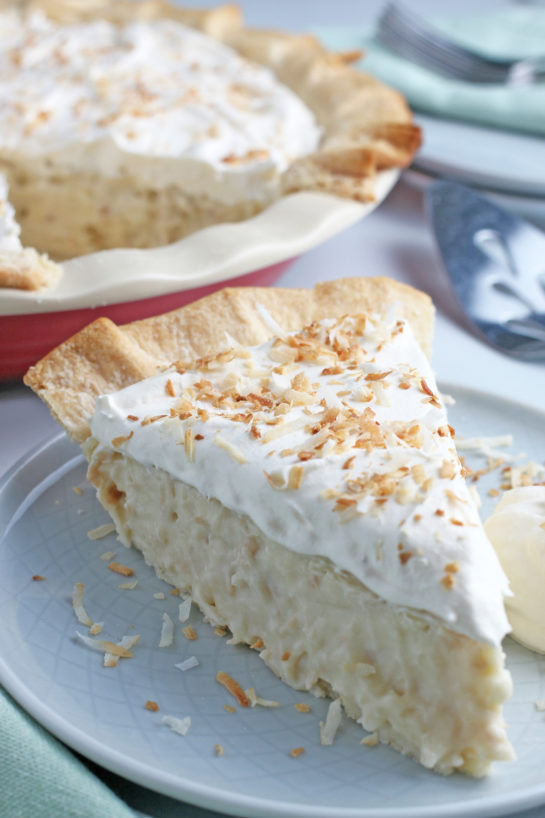 How are you all holding up out there? April was a total wash and I have no idea what I even did with my life for that entire month. That being said, this month is looking to be pretty similar. Haha. We did get one day of nice weather Sunday and I have the sunburn to show for it. We literally took advantage of the weather and stayed outside for like 7 hours straight.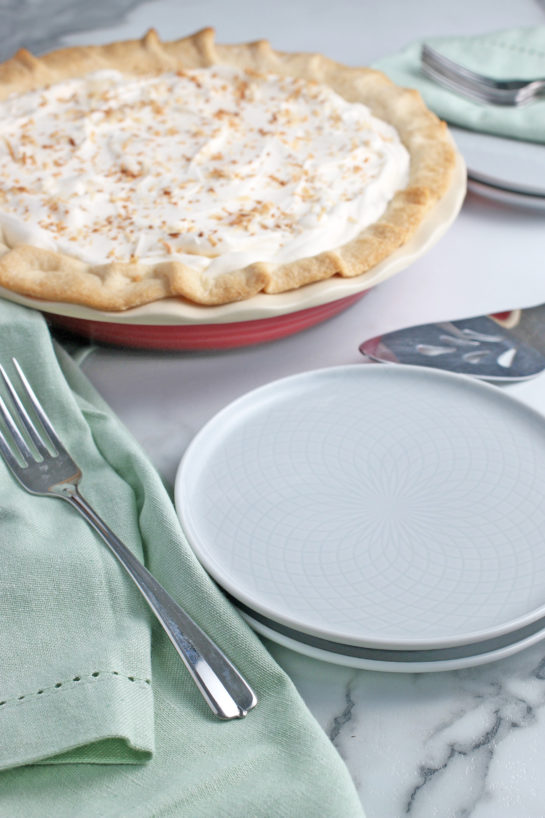 Now Mother's Day is the next holiday coming up that won't feel like much of a holiday at all! Easter felt like just another day, didn't it? Besides making a 9 pound ham and having zero clue what to do with it all, not much else was different.
I figured I would carry on as usual and still make some Mother's Day desserts and treats to share with you all. Personally, I plan on making my Salted Honey Pie. I know some of you still like to bake, even if just for your own immediate family! What mother wouldn't like this Creamy Chocolate Pie?
If you are looking for a delicious pie recipe to make for Mother's Day or any holiday you have to give this coconut cream pie a try. Your guests will love it, the flavors are perfect for spring and summer but of course, you can make this any time you need a bright spot in the kitchen.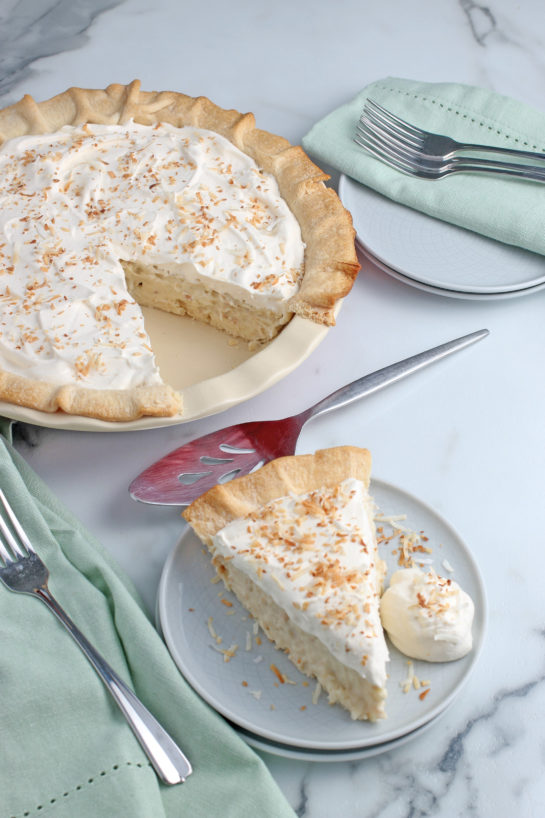 What are the elements of the best coconut cream pie? 
Every great coconut cream pie is made up of three main elements that you can't miss…Okay, those three elements are especially important since they make up the actual old fashioned coconut cream pie we're going to create.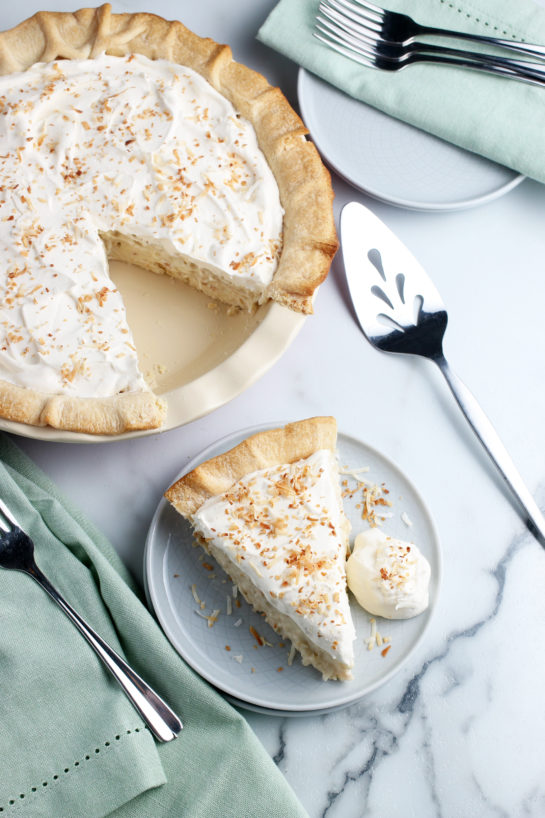 Pie Crust: It needs to be flaky, delicious, and buttery to go along with our sweet and indulgent filling. 

Coconut Cream Filling: This needs to be smooth and thick, packed with coconut flavor and the texture of a thick pudding. 

Whipped Cream: Ideally this layer is homemade and perfectly whipped from fresh ingredients. If time is of the essence you can definitely sub in a store-bought variety, I won't judge. 

What you'll need to make this coconut cream pie recipe: 
Here is a list of the ingredients you will need to recreate this beauty for yourself at home. It's a simple set of supplies, nothing too fancy or crazy going on here.
There's a little bit of an extra step with the crust on this one so keep in mind that we're making everything for this old fashioned coconut cream pie from scratch! You can absolutely buy your pie crust!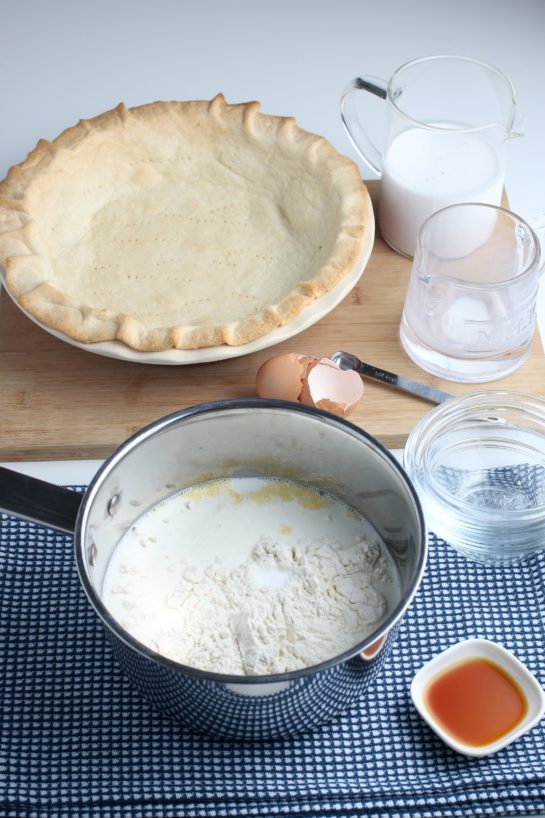 How to make the crust for this delicious pie: 
You can use this crust recipe for any of your pies though it's especially good for custard pies and more wet types of cream pie fillings. I have used it for my Caramel Apple Pie with success.
This is what is called a blind-baked crust. That means that we're baking the pie crust without any filling in it. For recipes like apple pie, the crust will continue to bake with the filling but in this case, we're not baking the pie filling so we need to fully bake the crust before we add the filling!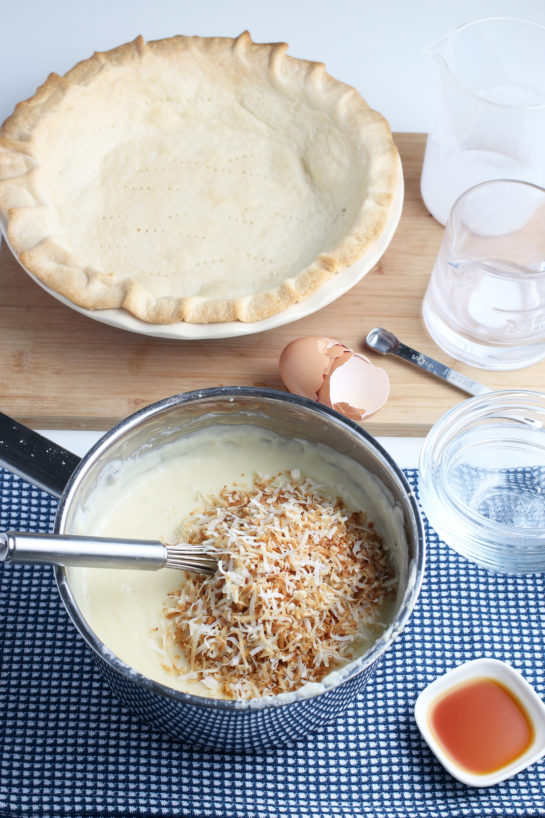 How to make the filling for coconut cream pie: 
One of the most important parts of our coconut cream pie is the filling…of course…but don't worry it's not difficult. We're going to make a smooth, creamy, indulgent coconut cream filling that you'll have to stop yourself from eating right out of the bowl. 

Homemade whipped cream for the best coconut cream pie: 
If you are using a pre-made whipped topping you can go ahead and skip this step. I think that a pie this delicious deserves the best topping so we're going to make a batch of light and fluffy homemade whipped topping to finish off our coconut cream pie recipe with all the flair it deserves. 

Can I make this pie in advance? 
This is a great pie recipe to make in advance. Everything comes together really well and it will benefit from an extra day to sit and allow the flavors to meld. It should sit for at least a few hours anyway to let the custard part of the filling set in the crust, giving it a full day or overnight to do its work is fine!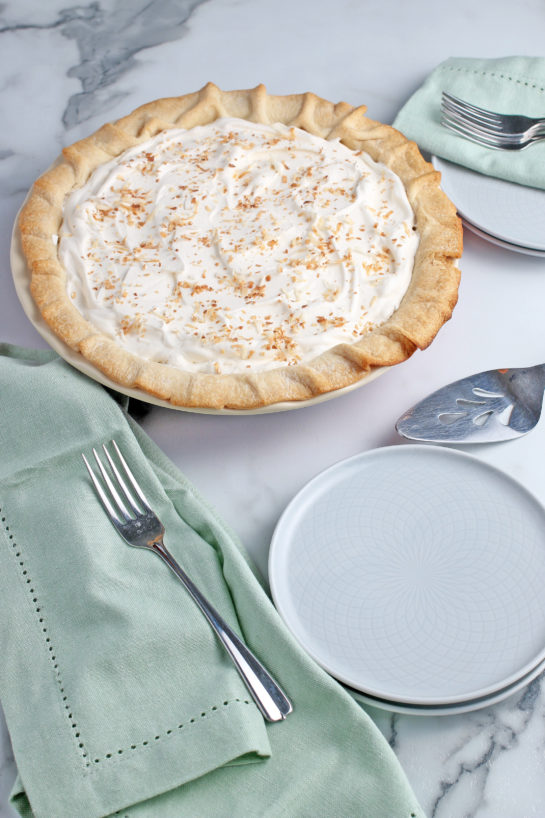 If you won't need the pie for a few days then you should wait until about a day before to make the recipe! 

Old-Fashioned Coconut Cream Pie
Prep time:
Cook time:
Total time:
Let me show you how to make the best coconut cream pie recipe. This is an easy old fashioned coconut cream pie that everyone will love!
Ingredients
1 cup sweetened flaked coconut
1 and ½ cups half and half
1 and ½ cups coconut milk
2 large eggs, beaten
¾ cup white sugar
½ cup all-purpose flour
¼ teaspoon salt
1 teaspoon vanilla extract
1 (9-inch) pie shell, baked (homemade or store-bought)
1 cup whipped topping (frozen and thawed OR homemade)
Instructions
Preheat oven to 350 degrees F.
Spread the coconut on a baking sheet and toast it, stirring occasionally, until golden brown, about 4-5 minutes.
In a medium saucepan, combine the half-and-half, coconut milk, eggs, sugar, flour and salt and mix well.
Bring to a boil over low heat, stirring constantly. Cook and stir continuously, for 2-3 minutes more.
Remove the pan from the heat, and stir in ¾ cup of the toasted coconut and the vanilla extract. Reserve the remaining coconut to top the pie later on.
Pour the filling into the pie shell and chill in refrigerator until firm, about 4-5 hours.
Top with homemade or store-bought whipped topping and reserved toasted coconut. Enjoy!