Grilling the Perfect Ribeye Steak
This is a "how to" post on grilling the Perfect Ribeye Steak.  Why go to an expensive restaurant to get a great steak? Steak is one of the easiest and fastest foods to grill!
I know most of you probably already are expert "grillers" and know exactly how to go about grilling the perfect ribeye steak (No? Me neither). I had NO idea how to cook beef until my trip to Wooster, Ohio with Certified Angus Beef.
I was absolutely clueless!  We worked on cooking up some holiday roasts and not so much grilling.  Lucky for me they have a fabulous website where you can look up any cut of beef and get great information on how to cook it.  I reference their site all.the.time.
Grilling is one of the most exciting ways to enjoy beef and, quite frankly, my absolute favorite.  I'm completely obsessed with grilling this time of the year.  If I didn't constantly run out of propane I would be grilling out every night.
That was a hint to my hubby to get me more propane- haha!  Whether cooking on a gas or charcoal grill, in the backyard or at a tailgate, this cooking method for grilling ribeye steaks provides maximum flavor and optimal tenderness.
I do know that strip steaks, Flank and and Ribeye are the best for grilling.  You just have to do it right so you don't mess up a perfectly good (and most of the time, expensive) cut of beef.  Grilling the perfect steak is an art form and takes practice, practice and more practice to master.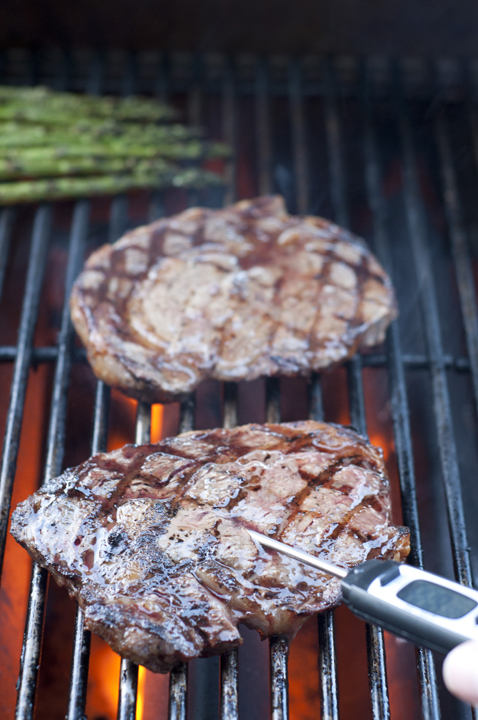 The ribeye steak is a pretty forgiving cut of meat: it is a large tender cut of beef from the outer side of the rib.  Ribeyes are rich, juicy and full-flavored with generous marbling throughout.
This fat marbling makes for a very flavorful and juicy steak without tons of effort.  Keepin' it simple – just how I like it!
I like to grill mine to a perfect medium-rare.  The biggest thing to keep in mind when grilling steak is that you can always throw it back on the grill if it isn't done enough, but you can't undo the damage of an over-cooked steak.  Therefore, err on the side of rare!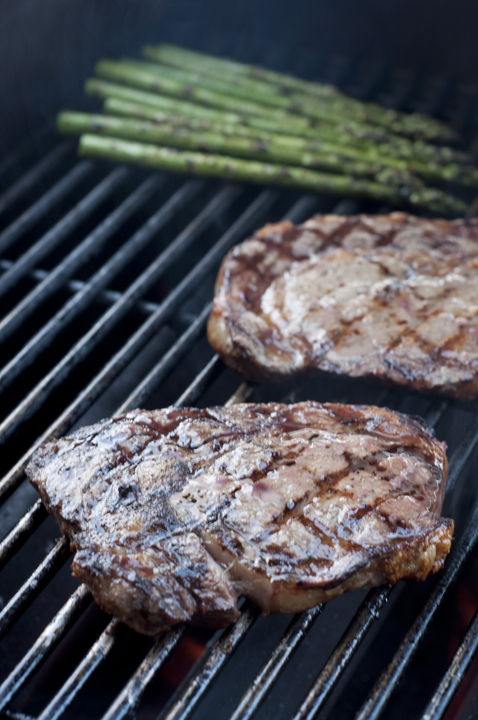 Note:  I made these professional looking diamond grill marks by placing the ribeye steaks on the grill with the ends at 10 and 4 o'clock. Once the meat seared, I turned them clockwise, so the ends were at 2 and 8 o'clock. After a minute or two, flip the steaks over and cook until they reach the desired doneness.
I am absolutely positive that you will love these Philly Cheesesteak Baked Egg Rolls if you love your red meat like I do! They can be served as dinner or an appetizer. I also love how my friend Lisa made her steak into this Southwestern Steak Salad. I'm totally trying that soon! Enjoy!

Grilling the Perfect Ribeye Steak
Prep time:
Cook time:
Total time:
This is a "how to" post on grilling the perfect Ribeye Steak. Why go to an expensive restaurant to get a great steak? Steak is one of the easiest and fastest foods to grill!
Ingredients
4 choice rib-eye steaks
Salt and ground black pepper, to taste
garlic powder, to taste
Instructions
Prepare your grill (gas or charcoal) according to manufacturer's instructions or until very hot (about 500 - 550°F)
Place rib-eye steaks on a large platter and season on all sides with garlic powder, salt and pepper, or as desired.
Let them sit at room temperature for 10 minutes before grilling.
Transfer seasoned steaks to preheated grill – they should sizzle.
After a couple minutes, once juices begin to rise to the surface, use tongs to flip steaks over.
Continue grilling steaks to desired doneness. Use an instant-read thermometer for accuracy. I cooked mine about 4 to 6 minutes on each side for a perfect medium-rare. (see in the above post for creating the diamond grill marks.)
Remove steaks to a clean plate and let rest for 5 minutes before serving.
The resting period is important so that the juices don't run out when you cut into the ribeye, so be patient! Enjoy!