Swedish Meatballs with Creamy Gravy
Authentic tasting recipe for tender Swedish Meatballs with Creamy Gravy made with ground beef, pork, and veal that your whole family will go crazy for!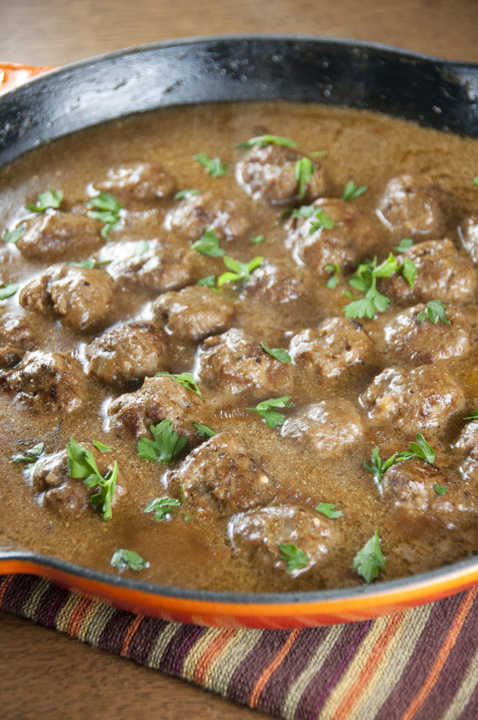 What day is it today and what year is it? I can't remember – what are Swedish Meatballs? I am so confused this week AKA a little "jet-lagged".  Add sickness on to that and I am one very discombobulated girl.
Hopefully I'll get back into my normal rhythm soon because this whole falling asleep at 4 a.m and getting up at noon thing is really not working out for me productivity-wise. I am living off these Grape Jelly BBQ Meatballs that I have leftover from earlier this week.
I am traveling again next week for an exciting work trip so by the time I get back to normal I'm off to another part of the country and another time zone again. Gotta love it!
I know somebody Swedish is going to tell me these aren't authentic Swedish meatballs, so I just want to preface this post by saying I am not claiming they are completely authentic but I think they have a wonderful taste!
I made these Swedish Meatballs with Creamy Gravy my own by using a mixture of ground beef, pork and veal, added delicious spices, cooked them in a skillet , and served with a creamy brown gravy.
The mixture of the meats is what gives them this very distinct, unique flavor.  The gravy and the spices just add to the amazing taste.  I make practically all of my meatballs this way because they always come out so tender!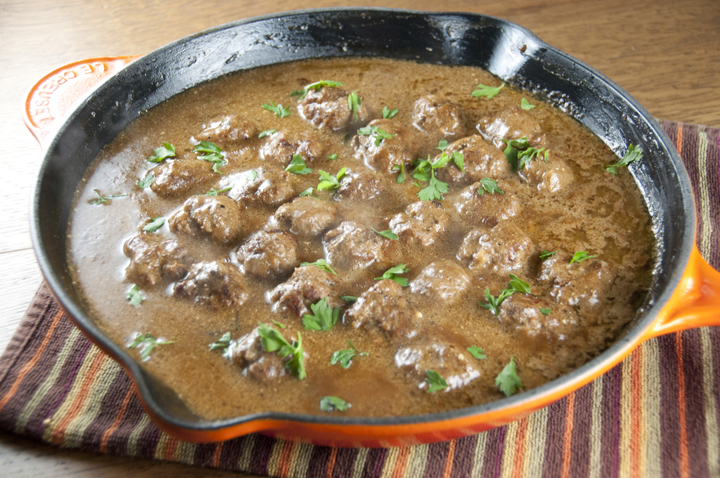 Homemade meatballs smothered in a creamy gravy sauce?  Sold!  I go crazy for meatballs of all kinds so I could seriously eat these every night for dinner and never get sick of them.  You can make a big batch of these and store them, uncooked, in your freezer for a quick future meal.
Serve these puppies over rice or a bed of egg noodles.  They would also make a great appetizer if you want to serve them at a party, all on their own!  Just put them on a plate, stick some toothpicks in them, and call it a day.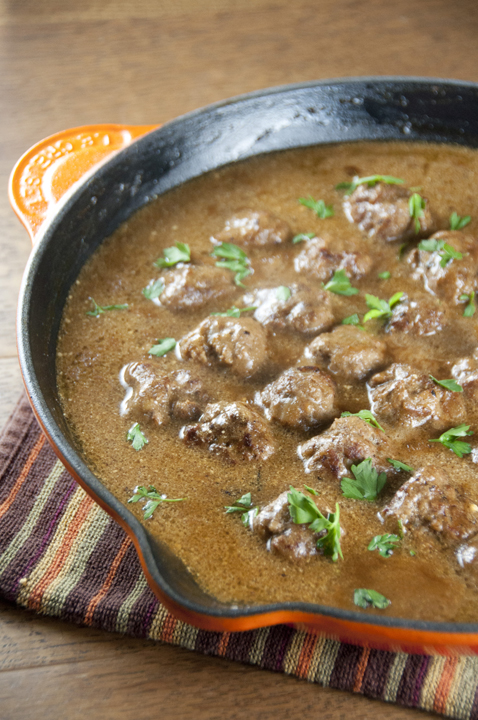 Swedish Meatballs with Creamy Gravy
Prep time:
Cook time:
Total time:
Ingredients
2 tablespoons olive oil, divided
1 medium onion, diced
2 pounds "meatloaf mix" (ground beef, pork and veal mixed together)
½ cup Panko bread crumbs
2 large egg yolks
¼ teaspoon ground allspice
¼ teaspoon ground nutmeg
Kosher salt and freshly ground black pepper, to taste
Gravy:
¼ cup unsalted butter
⅓ cup all-purpose flour
4 cups beef broth
¾ cup sour cream
Kosher salt and black pepper, to taste
2 tablespoons chopped fresh parsley leaves
Instructions
Heat 1 tablespoon olive oil in a large skillet over medium heat. Add onion, and saute, stirring frequently, until onions have become translucent, about 2-3 minutes.
In a large bowl, combine ground beef, ground pork, Panko, egg yolks, allspice, nutmeg and cooked onion; season with salt and pepper, to taste. Using a wooden spoon or clean hands, stir until well combined.
Roll the mixture into 1¼-to-1½-inch meatballs, forming about 24 meatballs.
Add remaining 1 tablespoon olive oil to the skillet. Add meatballs, in batches, and cook until all sides are browned, about 4-5 minutes. Transfer to a paper towel-lined plate.
To make the gravy, melt butter in the skillet. Whisk in flour until lightly browned, about 1 minute. Gradually whisk in beef broth and cook, whisking constantly, until slightly thickened, about 1-2 minutes. Stir in sour cream; season with salt and pepper, to taste.
Stir in meatballs and cook, stirring occasionally, until heated through and thickened, about 8-10 minutes.
Serve warm, garnished with parsley, if desired.
Recipe source:  adapted from damndelicious.net and jocooks.com