Pineapple Upside Down Cake
Making a pineapple upside down cake might seem intimidating but it's actually quite easy! This pineapple upside down cake recipe from scratch is delicious and easy for anyone to make. Give this upside down cake a try, you will be hooked!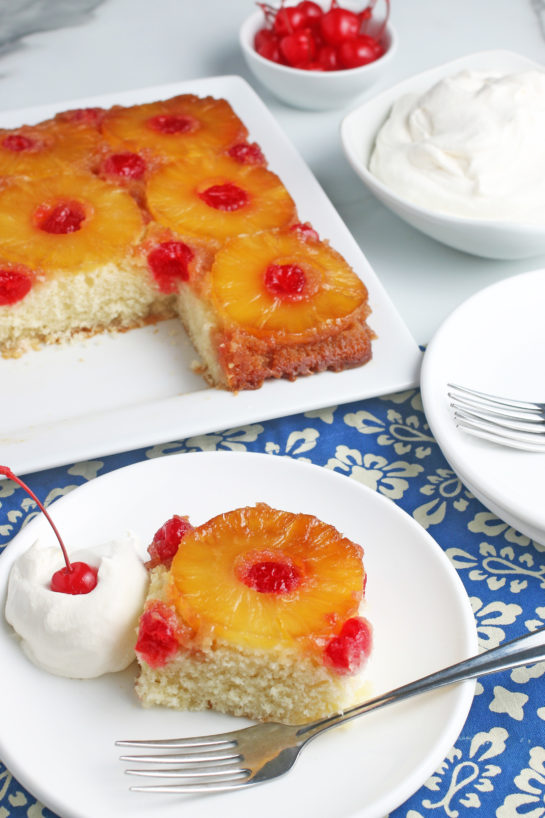 Just how I like to eat my fruit. IN CAKE. Hi, guys. It's me, with another dessert. Can you tell that I'm eating my feelings during this quarantine? First, a to-die-for coconut cream pie and now I made you a pineapple upside down cake. Are you sick of it yet or are you team dessert?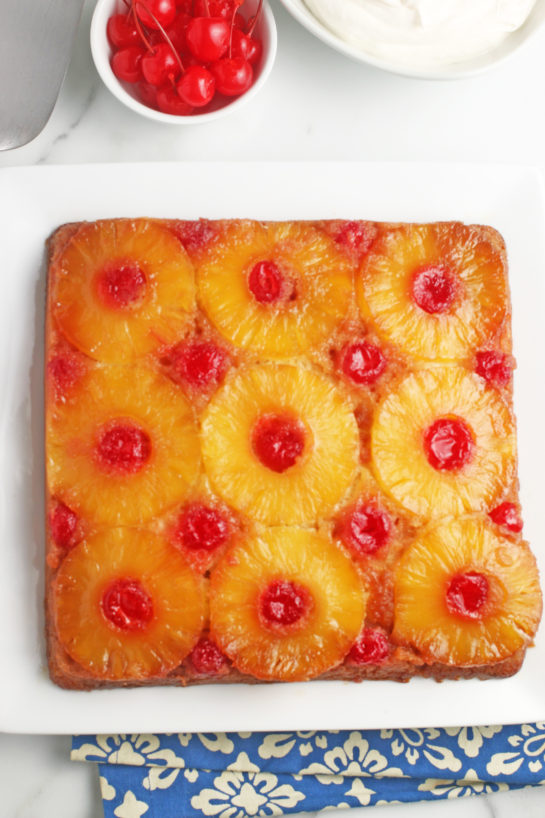 This is one of my favorite homemade cake recipes, along with my Chocolate Eclair Cake. It's made from scratch, deliciously moist and fruity. It's a game changer in the dessert department.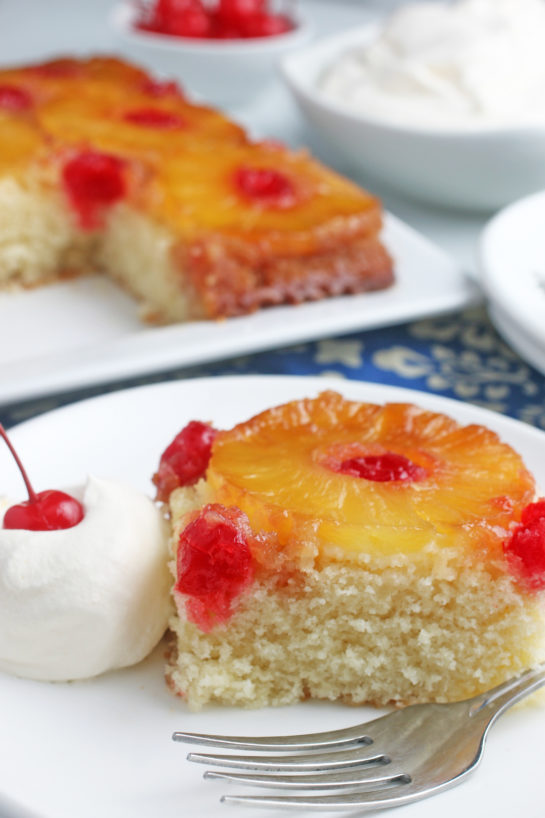 When springtime rolls around, or when you are just needing a little springtime in your kitchen, break out this recipe for pineapple upside down cake. It's a classic recipe and maybe nothing too fancy, but it packs a big flavor profile and thanks to all of that fruit it stays very moist and soft.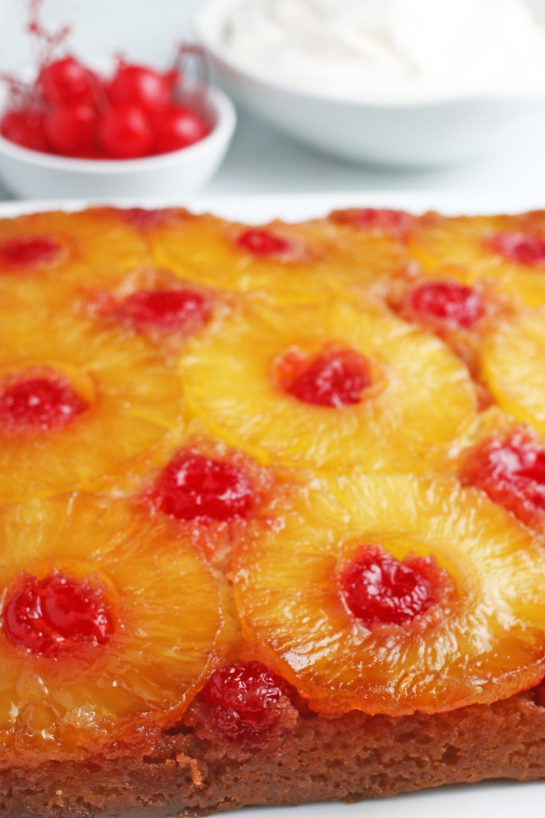 If you have never made this American classic you have to give it a try. It's tough to choose just one favorite dessert so I won't try but a tasty pineapple upside down cake from scratch is hard to beat. Serve up a slice with some vanilla ice cream and there will be nothing but smiles around the table.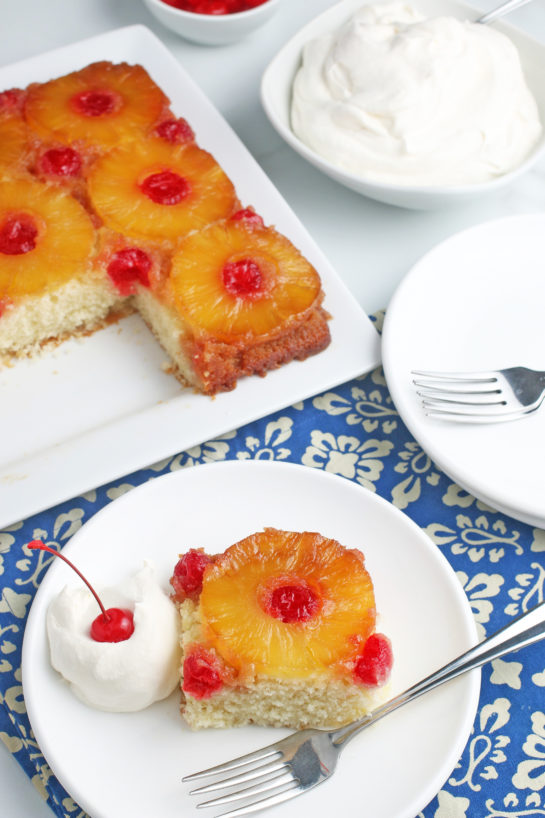 Here is what you will need to make this deliciously easy pineapple upside down cake: 
There's nothing too surprising or difficult in this recipe. It is very easy, despite the crowd pleasing look of the finished product. You should be able to find any of these ingredients in your local grocery store so add them to your next shopping list!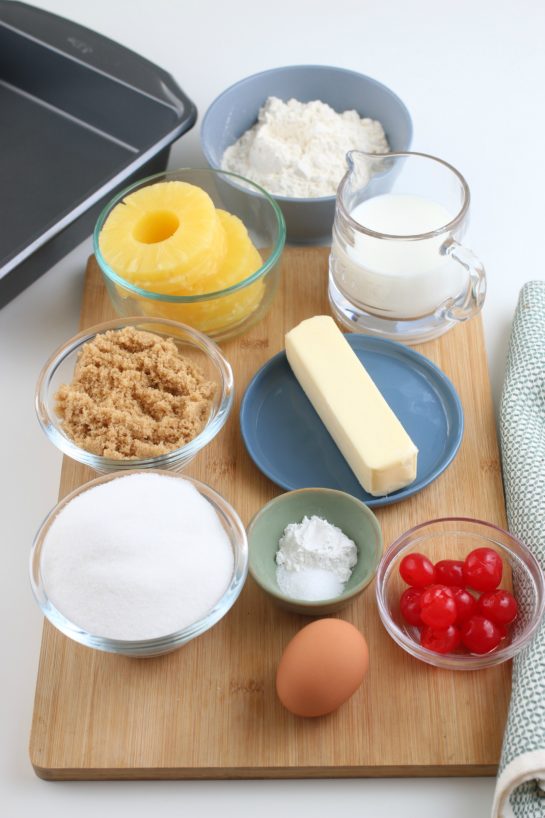 How to make my simple pineapple upside down cake recipe: 
Let's dive right in and make this gorgeous dessert recipe together. This is a pineapple upside down cake from scratch. If you wanted to use a boxed mix for the cake you probably could, it would cut down on your prep time a little bit but I prefer the flavor of my homemade cake recipe! Homemade is always best.
Remember, if you really like cherries you can add in some extra ones, just plop them in wherever you see a space between the pineapple, you can't have too many, right?! Mr. Wishes is a cherry fanatic so extra cherries for him.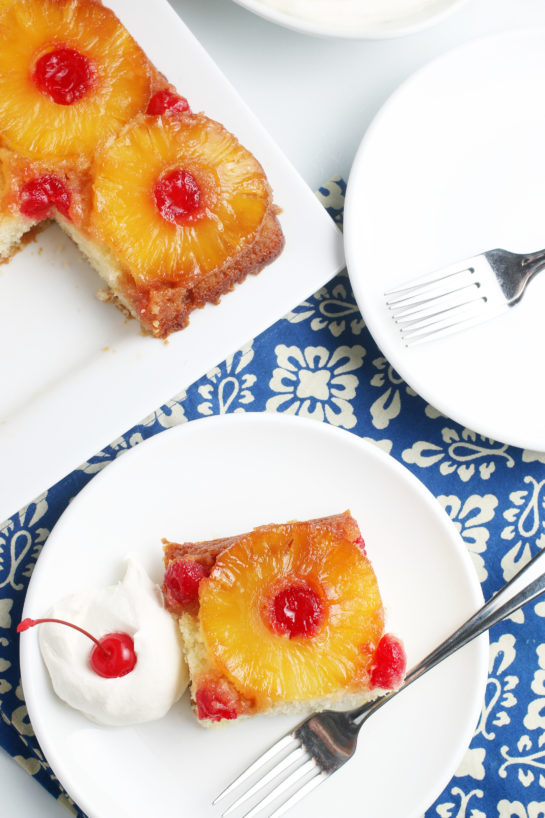 How to perfectly flip a pineapple upside down cake: 
Let the cake rest for a little bit after it comes out of the oven. 10-15 minutes is plenty of time to let it cool before trying to flip it. 

Place your cake stand or any plate that is larger in circumference than your baking dish over the top. The surface of the plate should be facing IN so that when you flip it over the cake will be sitting on the right side of the plate. 

Put on your oven mitts and firmly grasp the sides of your plate AND the baking dish at the same time.

Carefully flip the whole thing over in one quick motion if possible. This will help to let everything slide out of the pan at once and not in sections so your cake doesn't break! 

Take off the cake baking dish and reveal the beauty of the pineapple upside down cake underneath!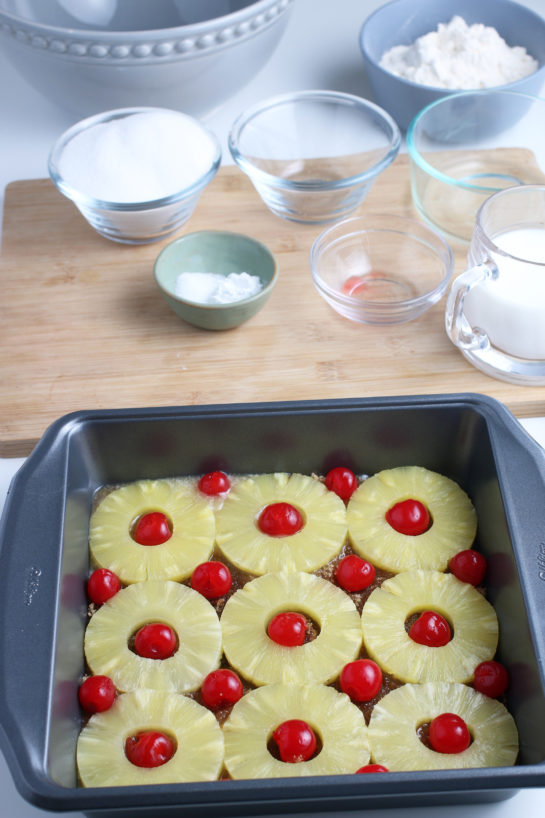 Does this upside down cake recipe take longer to bake? 
I suppose in comparison to a regular boxed cake mix this might take a little longer to bake. Make sure to let it get golden brown on the top before pulling it from the oven. Thanks to the fruit and because this is a very moist cake recipe it will take a bit longer than a plain white cake would bake.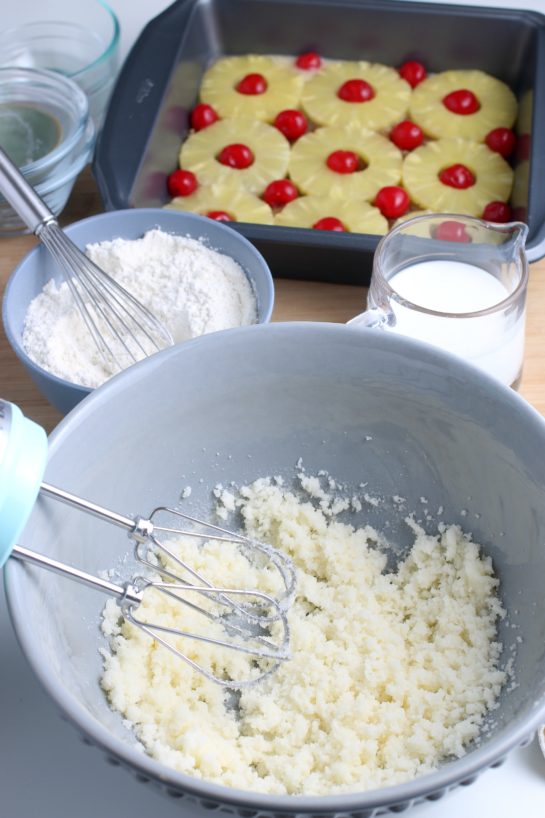 Trust me when I say that the little bit of extra time is well worth it. This upside down cake recipe is out of this world, packed full of flavor, and a total crowd pleaser. Once you make it for a party or event it's all anyone will request so be prepared to share the recipe.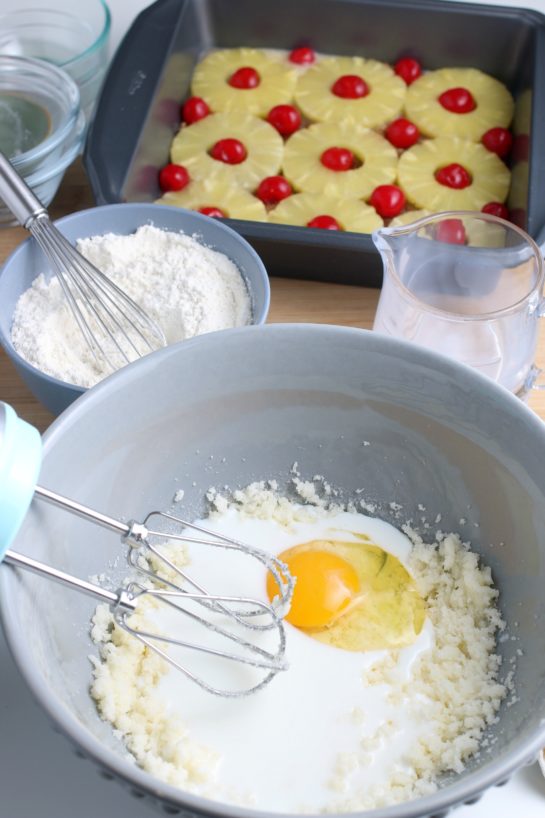 Is this really an easy pineapple upside-down cake from scratch? 
I am being absolutely serious when I say that this is the easiest and most delicious pineapple upside-down cake recipe. It's simple ingredients but they come together to create something truly magical for the taste buds.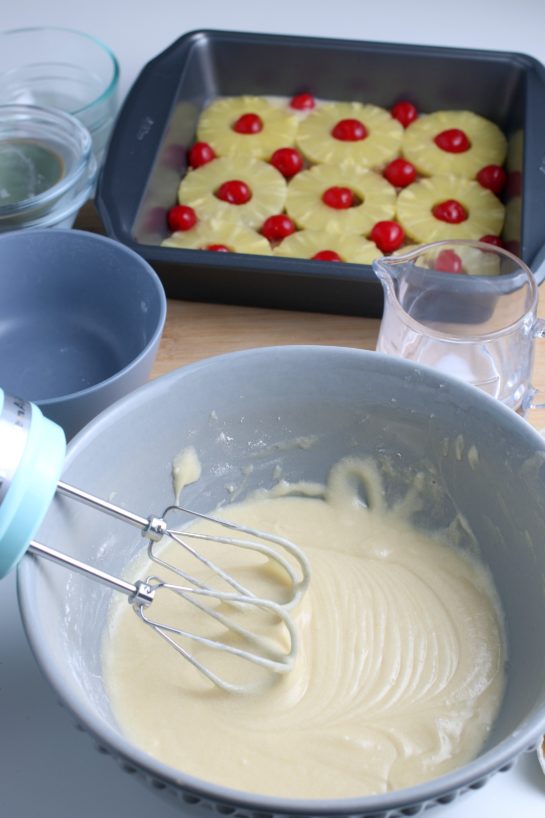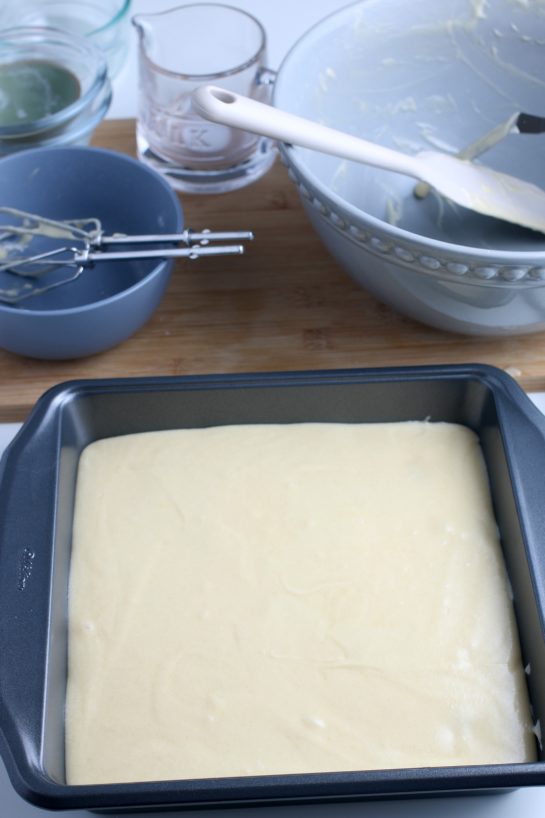 Anyone can make this cake and be successful. I'd highly recommend making it for family and friends so there's someone to help you eat it…it's very indulgent and you will be tempted to keep it all for yourself!
If you love fruit in your cake, try out this amazing Hummingbird Cake or my Banana Bread Brownies. Fruit mixed in with cake batter makes for some of the best tasting desserts.
I also like this Peach Upside Down Cake from my friend April. Enjoy!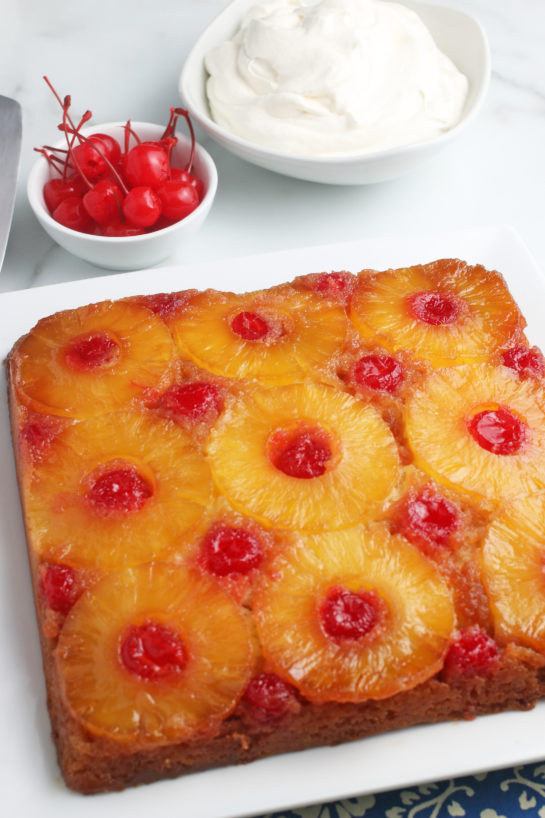 Pineapple Upside Down Cake
Prep time:
Cook time:
Total time:
Pineapple upside down cake is easy and it looks great! My pineapple upside down cake recipe is from scratch and comes out perfectly moist!
Ingredients
¼ cup (½ stick) unsalted butter, melted
⅔ cup brown sugar, packed
1 can (20 oz) can - 9 slices pineapple, drained
1 jar (10 oz) maraschino cherries without stems
1 ⅓ cups all-purpose flour
1 ½ teaspoons baking powder
½ teaspoon salt
⅓ cup unsalted butter, softened
1 cup granulated sugar
¾ cup milk
1 large egg, room temperature
Instructions
Preheat oven to 350 degrees F
Melt ¼ cup butter in microwave and pour into 9x9 inch square baking pan
Sprinkle brown sugar evenly over melted butter
Arrange pineapple slices over brown sugar, then add a cherry in the center of each pineapple slice. Add additional cherries between the slices if you like
In a medium bowl, whisk together the flour, baking powder and salt. Set aside.
In a large mixing bowl, combine the granulated sugar and ⅓ cup butter until well combined
Add the milk and egg, combine well
Gradually add the dry ingredients until well combined
Pour batter over pineapple slices and cherries, spread evenly
Bake 50-55 minutes or until a toothpick inserted in the center comes out clean
Place plate on top of cake and turn plate and pan over
Leave pan over the plate for a few minutes to let any brown sugar mixture drizzle onto cake
Remove pan
Serve warm or cool to room temperature
Store cake covered. Enjoy!