One Pan Sausage Pepper Fettuccine Skillet is an easy weeknight dinner pasta recipe made with chicken sausage that's sure to impress your family and dinner guests!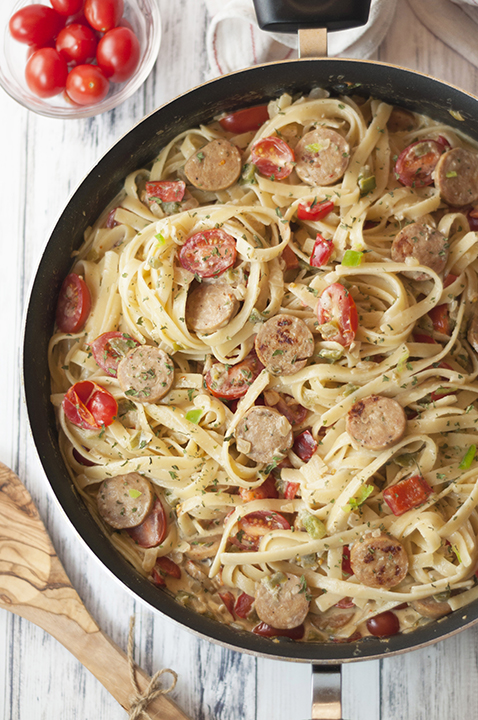 On the days that I really do not feel like cooking dinner…like REALLY don't feel like it, I often ponder the reason why.  I don't dislike cooking…because, what did cooking ever do to me? And I really hope I don't dislike cooking as I have this here food blog.  Then it hit me – it's the clean up process that I dread and strongly dislike!  Grown up chores make me sad sometimes.  I mean, really,….when will my kitchen learn to clean itself?  When I cook or bake, I basically use every utensil I have ever owned, every bowl, every plate,and fully trash the place until looking at it makes me want to cry. Who can relate? Just me?
I'm so glad you're here! Follow along on Pinterest for more inspiration! 
Even if you hate the cooking as well as the cleanup, this meal is so easy and anyone can make it!  A delicious meal doesn't have to be complicated and that's where this One Pan Sausage Pepper Fettuccine Skillet comes into play.  This, my friends, is for those days that you don't feel much like cooking or scrubbing pots and pans.  It is all made in one pan with very minimal prep work.  Quick, easy and tasty is where it's at! I mean, how can you not love a recipe which only produces only ONE dirty pan? Of course, you have the pot where you boil the water but that doesn't really count.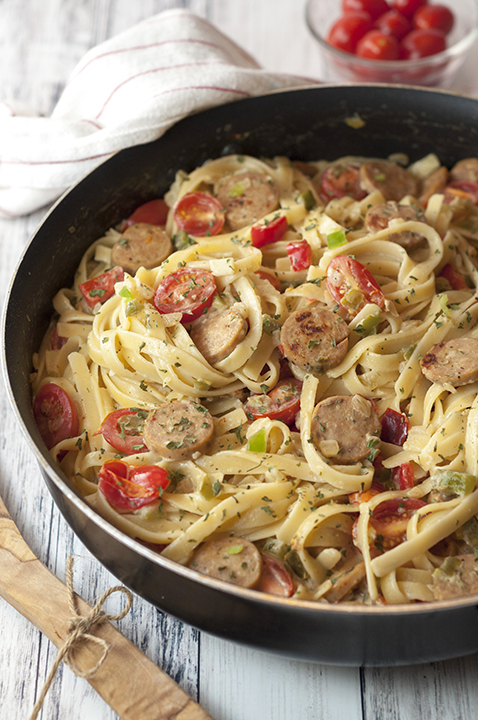 Crock Pot Spinach, Sausage & White Bean Soup
Glazed Chicken Sausage Pineapple Bites
Hawaiian Chicken Sausage Kabobs
Sausage and Potato Summer Vegetable Skillet
Cheesy Chicken Sausage Pasta Skillet
One-Pot Creamy Green Orzo with Chicken Sausage
Buffalo Chicken Sausage Mac & Cheese
Crock Pot Cheesy Chicken Sausage Hash Brown Casserole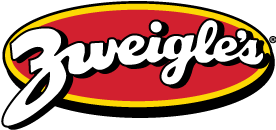 If you don't live near a store that sells Zweigle's, don't sweat it.  Simply head on over to their website where you can easily buy their products online.  There you will also find a plethora of new recipe ideas to switch up your dinner routine a bit.
One Pan Sausage Pepper Fettuccine Skillet
Prep time:
Cook time:
Total time:
One Pan Sausage Pepper Fettuccine Skillet is an easy weeknight dinner pasta recipe made with chicken sausage that's sure to impress your family and dinner guests!
Ingredients
12 oz. fettuccine pasta (or any pasta)
1 red bell pepper, chopped
1 green bell pepper, chopped
1 medium onion, diced
12 oz (4 links) Zweigle's chicken sausage (12-16 oz), any flavor, sliced thin
⅓ cup chopped parsley
1 cup heavy cream
1 cup chicken stock
2 Tbsp garlic, minced
¾ cup cherry tomatoes, halved
Olive oil
Salt and pepper, to taste
Instructions
Cook the pasta in a large pot of salted water according to the package instructions and then drain.
Heat a large skillet over high heat with a couple tablespoons of olive oil.
Add the sausage slices, peppers & onion and on medium-high heat and cook until sausage is slightly browned on both sides and veggies are soft.
Add minced garlic and cook briefly - just until fragrant, being careful not to burn (this is a quick process).
Slowly add in the chicken stock and stir.
Add in the heavy cream.
Stir in the drained pasta and make sure all the pasta is coated with the sauce. Simmer on medium heat until the sauce is thickened.
Add parsley and halved cherry tomatoes and stir to combine.
Taste and add a bit of salt and pepper, as needed. Serve hot with a salad and Italian bread and enjoy!
Disclaimer:  Thank you, Zweigles, for sponsoring this conversation.  All opinions remain 100% my own, as always.
Recipe source:  strongly adapted from letthebakingbeginblog.com
- Craving more?
Sign up for the Wishes & Dishes Newsletter
for a fresh serving of content delivered every week to your inbox! And stay in touch on
Facebook
,
Twitter
,
Pinterest
and
Instagram
for all of the latest updates!