About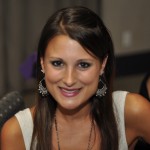 Until I discovered cooking, I was never really interested in anything. ― Julia Child
My name is Ashley.  I am a Christian and married mother of zero from upstate New York.  I love baking, cooking, traveling and spending time with family, friends, and my marvelous husband.
"Wishes and Dishes"…but whatever does it mean?!  The "wishes" facet of my blog is my dreams, aspirations and wishes. This is where I will write about anything and everything that means something to me

) Let me make a tiny confession; the hidden meaning behind "wishes" is what you see in my logo if you look closely. I am infatuated with Disney World and "Wishes" is the fireworks display set to music at Magic Kingdom. I have never left that show with dry eyes. So, that's my little bit of "me" incorporated into the blog name. The "dishes" segment is pretty self-explanatory. Because of the high demand of my Facebook fans requesting my recipes, I will be sharing my recipe trials and tribulations with you all.
This blog will tell tales of my journey from dinners consisting of Kraft mac n' cheese and Spaghettios to explorations in the kitchen and attempting to master recipes.
The people I always admired in life were people who could cook well. I deemed them "domestic goddesses".  I had never learned a thing about cooking, nor did I have an interest, until I got married and realized my husband wasn't thrilled with the idea of a diet consisting of what typical 5 year old children eat.
One day it occurred to me that maybe I could be like these "domestic goddesses" that I so greatly esteemed. I was done making excuses and leapt in to the land of cooking and baking!
*A shout out to my hubby, Nick, who has been my guinea pig and official taste-tester in the kitchen. His experiences haven't been all rainbows and butterflies

He has been nothing but an encouragement to me on my journeys in the kitchen and pushed me to make my dreams of having a blog a reality. He also made my awesome "Wishes and Dishes" logo!
Thank you, honey, for making all my "wishes" come true.