These Honey Lime Chicken Enchiladas are some seriously delicious, restaurant-quality enchiladas.  This is my husband's favorite meal I have ever made.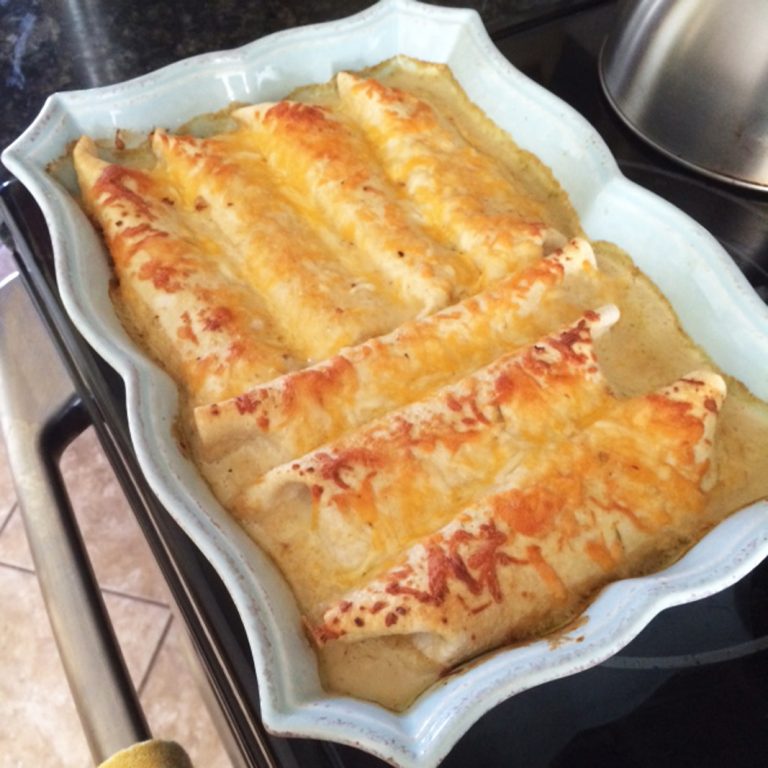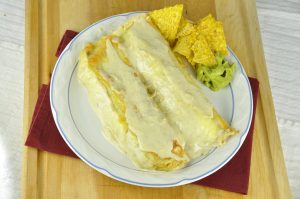 I definitely have a thing for Mexican food, but unfortunately, there really are no great Mexican restaurants here in upstate New York.  For the most part, the Mexican restaurants here just don't compare at all to the food I have had in other parts of the country.  So far, the best Mexican restaurant I have eaten at is Azteca Mexican Restaurant in Orlando, Florida.  That place was a goldmine of deliciousness!   Mr. Wishes has been traveling regularly to Miami for work lately and has been raving about Talavera in Coral Gables.  I look forward to trying this new Mexican cuisine experience in the near future, since he is taking me with him on his next trip down to Miami in a couple of weeks!  Like I said though, the Mexican cuisine here in Upstate New York just isn't the same.  So, when I want some top-notch, tasty, non-greasy Mexican food that doesn't leave my stomach with regrets….I just have to make it myself.  Mr. Wishes is a huge fan of chicken enchiladas so I thought I would give these a whirl.  These are by far the best chicken enchiladas that I have ever had.  Mr. Wishes feels the same way, saying that the hint of sweetness in the filling set these apart from any enchilada he has ever come across.  This is one of those meals that I can see myself making again and again….. they are that good.
Try them out, maybe even make them for a group, and go have yourself a fiesta.  You and the lucky individual(s) you serve these to will indulge in every bite.
These would also be a perfect way to celebrate Cinco de Mayo!  Just serve with a side of chips and guacamole and maybe a margarita…or two 🙂
Honey Lime Chicken Enchiladas
These Honey Lime Chicken Enchiladas are some seriously delicious, restaurant-quality enchiladas. This is my husband's favorite meal I have ever made.
Ingredients
Marinade (4 ingredients directly below):
6 tablespoons honey
5 tablespoons lime juice (1 large lime)
1 tablespoon chili powder
½ teaspoon garlic powder
Everything else:
1 pound chicken, cooked and shredded
8-10 flour tortillas
¾ pound monterey jack cheese, shredded
16 ounces green enchilada sauce
1 cup heavy cream
Instructions
Whisk the first 4 ingredients and toss with shredded chicken in zip-loc bag.
Let it marinate for at least a ½ hour, preferably a half day or so.
Pour about ½ cup enchilada sauce on the bottom of 9 x 13 pan.
Fill tortillas with chicken, saving marinade, and shredded cheese, saving about 1 cup of cheese to sprinkle on top of enchiladas.
Put tortillas in 9 x 13 pan as you go.
Mix the remaining enchilada sauce with the cream and leftover marinade (if there is any).
Pour sauce on top of enchiladas.
Sprinkle with remaining cheese.
Bake at 350 for 30 minutes, until brown and crispy on top.
Serve with a side of rice, beans or chips and gaucamole!
*This is a great recipe to make as a freezer meal - put into two 8 x 8 pans. Bake 1 pan for dinner now; freeze the other pan. Pull it out and bake when you need a meal in a hurry!
Recipe Source:  adapted from dinneronadime.blogspot.com
- Craving more?
Sign up for the Wishes & Dishes Newsletter
for a fresh serving of content delivered every week to your inbox! And stay in touch on
Facebook
,
Twitter
,
Pinterest
and
Instagram
for all of the latest updates!