Buttermilk Blueberry Breakfast Cake
This easy recipe for Buttermilk Blueberry Breakfast Cake is an amazing way to start the morning! It is super moist, can double as a dessert, and is loaded with fresh blueberries.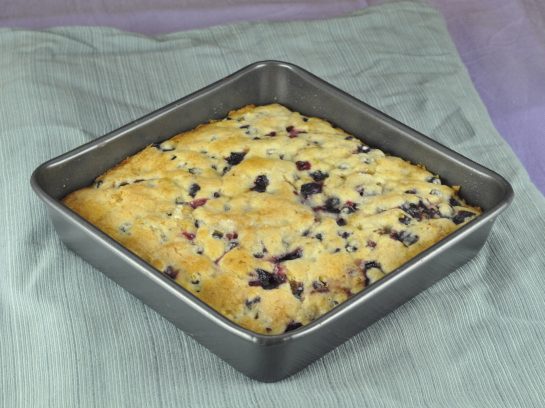 Buttermilk seems to make everything better.  This Buttermilk Blueberry Breakfast Cake is a simple cake-like-but-not-dessert-like recipe to make for a morning treat. You will fall in love with this Buttermilk-Blueberry Breakfast Cake.
Have you heard of Pinterest?  If not, you are totally missing out.  If you have heard of it, then you probably know it is by far the best place to find new and interesting recipes to try and that is where I found this recipe.
I always said I would never join the Pinterest community because I feel like I have "too many things to check and keep up with", but I got sucked in recently.
The first day I joined I fell down the black hole and it took me days to emerge.  It is very addictive!  I am more of an observer than an actual "pinner", however.  Mr. Wishes happened to take a look at my Pinterest page yesterday and rendered it "boring".
He had the nerve to say I went overboard with the New York Yankee pins. Could that even be possible?  I guess that permits me to spend some more quality time catching up on some less-boring pinning this week.
If you love blueberries, try my blueberry banana bread! I love the combination of blueberry and lemon! There are also a lot of reasons to be obsessed with this Overnight Blueberry French Toast Casserole. It's one of the most popular recipes on my blog.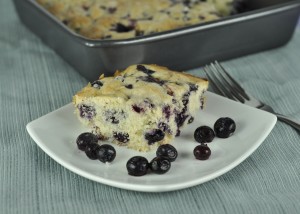 I loved this Buttermilk-Blueberry Breakfast Cake for many reasons.  First, any cake that demands to be eaten at breakfast time is alright with me (and can be enjoyed with your morning coffee).
Secondly, I like the intricacy that results as a combination of the blueberry and lemon flavor.  And third, I just love cake!
It is a super moist cake so it will stay good if you have to make it a day ahead of time.  Of course, as with all sweets, it's best the day it's baked. Definitely put this on your t0-bake list!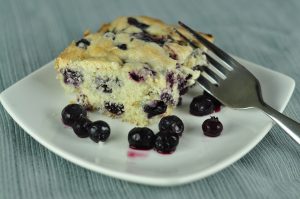 Buttermilk-Blueberry Breakfast Cake
Prep time:
Cook time:
Total time:
This easy recipe for Buttermilk-Blueberry Breakfast Cake is a great way to start the morning! It is moist, doubles as a dessert, & loaded with blueberries.
Ingredients
½ cup unsalted butter, room temperature
2 teaspoons lemon zest (zest from 1 large lemon)
¾ cup + 2 tablespoons sugar
1 egg, room temperature
1 teaspoon vanilla
2 cups flour
2 teaspoons baking powder
1 teaspoon salt
2 cups fresh blueberries
½ cup buttermilk
1 extra tablespoon sugar for sprinkling on top
Instructions
Preheat oven to 350 degrees.
Cream butter with lemon zest and sugar (3/4 cup + 2 tablespoons) until light and fluffy.
Add the egg and vanilla and beat until combined.
Meanwhile, toss the blueberries with ¼ cup of the flour, then whisk together the remaining flour, baking powder and salt.
Add the flour mixture to the batter a little at a time, alternating with the buttermilk.
Fold in the blueberries.
Grease a 9-inch square baking pan (or something similar) with butter or non-stick spray and spread the batter into pan.
Sprinkle batter with 1 tablespoon of sugar.
Bake for 35 minutes. Check with a toothpick for doneness. If necessary, return pan to oven for a couple more minutes.
Let cool 15-20 minutes before serving.
Enjoy!