Chicken Bellagio
This Chicken Bellagio dinner recipe is a copy-cat of the popular Cheesecake Factory chicken and pasta dish with crispy, juicy pan-fried chicken, spaghetti coated in a creamy Parmesan pesto cream sauce and topped with prosciutto and arugula!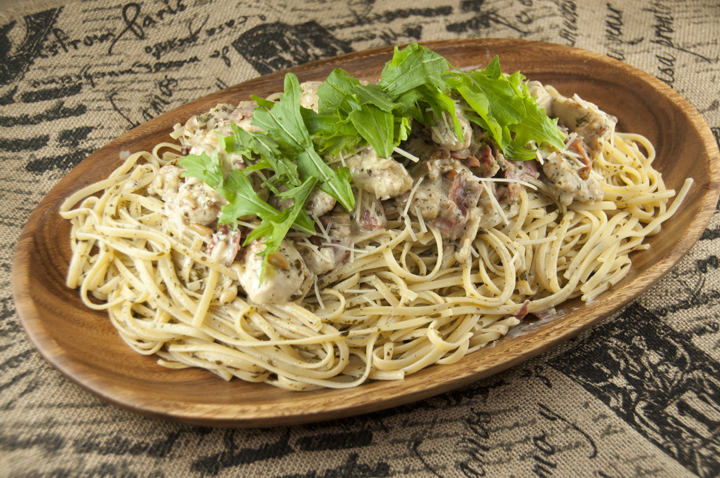 Have you ever had a bad meal at the Cheesecake Factory?  The answer for most of you reading this is probably a resounding "no".  No, this is by no means an advertisement for the restaurant…I just love it!  I am not someone who switches things up at a restaurant – I always order the same tried and true recipe (Chicken Bellagio) that I know I'm going to like.
Why take a risk in ordering something different and maybe not liking it?  That's my mentality, anyway.  Cheesecake Factory is an exception: there are so many dishes there that I have tried and loved that I always have a hard time selecting one thing to order.  More often than not I gravitate toward the Chicken Bellagio.  It is a wonderfully delicious and perfect dish loaded with every ingredient I love…and somehow when they all come together they taste better than anything ever.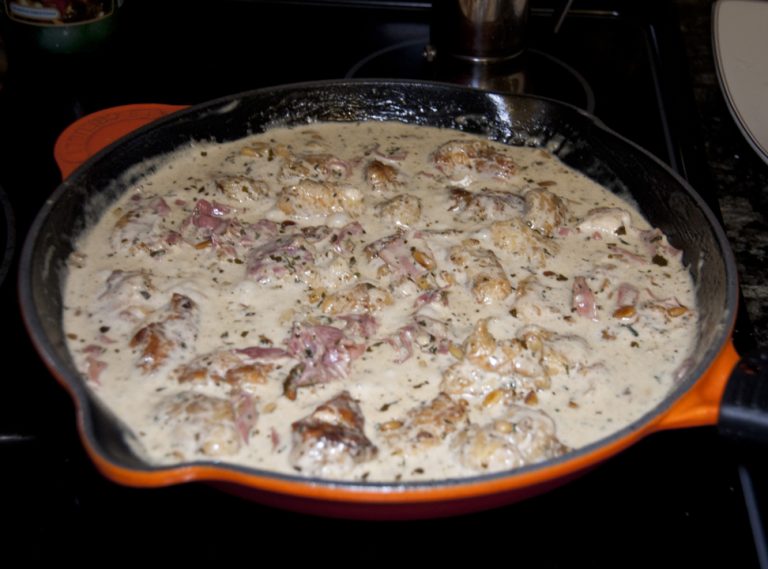 I HAD to…absolutely positively had to…try to recreate this dish at home.  In the process, it cuts some of the calories and sodium out but the flavor remains outstanding!  Mr. Wishes is a hard-to-please eater (just kidding, honey), but he kind of is…and he asks for this meal more than anything else.  It even beat out his old fave: Honey Lime Chicken Enchiladas.
Yeah, I was as shocked as you are. The chicken in this Chicken Bellagio comes out so tender and the creamy sauce puts it over the top.  I discovered many copy-cat recipes online as well as the recipe that Cheesecake Factory shared years ago.  I found some changes that my friend Martha at Family Feast made in cutting the chicken up into strips instead of using whole pieces of chicken breast and adding pine nuts – I just had to try that!  Thanks for the great ideas, Martha 🙂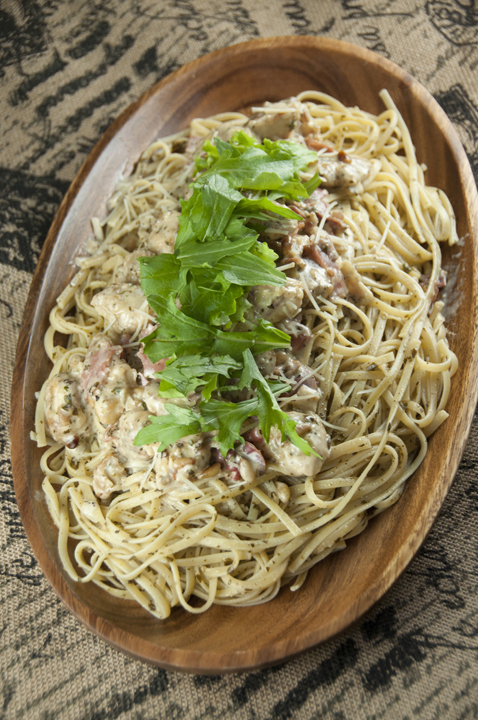 Yes, It takes a bit of time from start to finish and is a little bit involved but worth every second.  Yes, the ingredients list is lengthy, but it's necessary for the amazing taste and you won't be sorry.   Oh, and the presentation is gorgeous!  I love meals that just look all fancy like that.  Did I mention I took a trip to Bellagio, Italy- this dish's namesake – last month?  So, there's that…
Now you can have Italian fine dining at home and you don't even have to put on real pants or makeup!  You will get multiple meals out of this if you have a small family or it's just the two of you.  I have never been more excited for leftovers the next day than when it's this meal right here.
If you're looking for an impressive meal with a read sauce, try out my Baked Spaghetti and Meatballs Casserole. Everyone loves that dish. You can even get super fancy with any pasta dish on my site and make the pasta using my recipe for Homemade Egg Pasta. Buon appetite!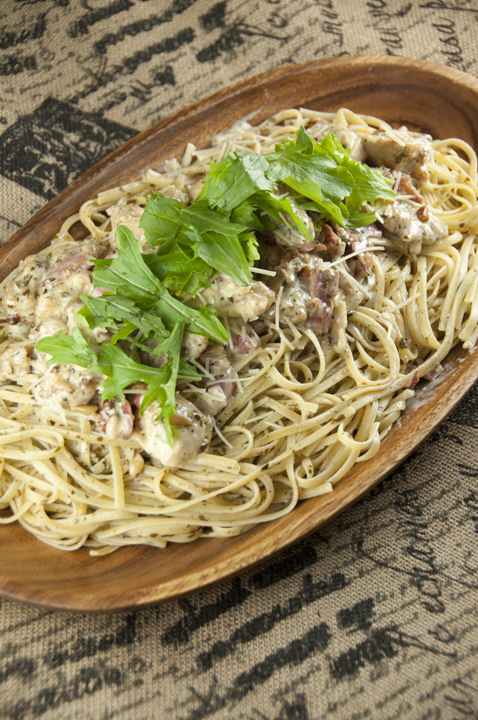 Watch my "How To" Video below to see step-by-step instructions on how to make this Chicken Bellagio recipe!
Chicken Bellagio
Prep time:
Cook time:
Total time:
This Chicken Bellagio dinner recipe is a copy-cat of the popular Cheesecake Factory chicken and pasta dish with crispy, juicy pan-fried chicken, spaghetti coated in a creamy Parmesan pesto cream sauce and topped with prosciutto and arugula!
Ingredients
¾ cup of pesto sauce (store-bought or homemade), divided
1 pound boneless, skinless chicken breasts
2 egg whites
2 tablespoons lemon juice
1 teaspoon dry oregano
1 cup of flour
¼ teaspoon salt
¼ teaspoon ground black pepper
3 tablespoon butter
2 tablespoon extra virgin olive oil
1 lb pasta, linguini or spaghetti
¼ cup onion, diced
3 cloves garlic, minced
10 shaved slices Prosciutto, cut into roughly one inch pieces
2 tablespoon fresh parsley, chopped small
⅓ cup pine nuts
2 cups heavy cream
½ cup grated Parmesan cheese, divided
1.5 cup arugula
Instructions
Cut chicken into strips, approximately 1" wide by 2" long. This doesn't have to be exact.
Mix egg whites, lemon juice, oregano and 2 tablespoons of pesto and stir to combine. Place in a large zip-loc bag with chicken strips and marinate for 45 minutes to an hour.
Toast the pine nuts in a small skillet or frying pan pan over medium heat for 4-5 minutes or until lightly browned. Be careful not to burn them - it can happen fast. Toasting brings out the flavor in the nuts.
Whisk together the flour. salt and pepper in a shallow bowl. Dip the marinated chicken strips in the flour, coat both sides, shake of excess.
In a large skillet or frying pan, heat the butter and olive oil over medium-high heat until hot, being careful not to burn the butter. Add the flour-coated chicken strips and cook on both sides for about 3 minutes until cooked through and not longer or chicken will get tough. Don't crowd the pan - you may need to cook the chicken in a few batches and add extra butter/oil as necessary.
Once cooked through, place chicken on a plate and cover with foil.
Cook pasta according to directions on box.
Turn heat down to medium and saute your onion for about 2 minutes in the same skillet or frying pan until soft and translucent. Add minced garlic and cook for about 20 seconds or just until fragrant, stirring constantly - be careful not to burn it. Add chopped Prosciutto, parsley and toasted pine nuts and cook for 1-2 additional minutes.
Slowly add in the heavy cream and 4 tablespoons of the pesto sauce. Taste and season with salt and pepper, if desired. Mix in ⅓ cup of the Parmesan cheese until fully melted into the sauce. The rest of the Parmesan will be added on top right before serving.
Add the cooked chicken to the sauce and gently mix to coat the chicken.
Mix 3-4 tablespoons of the pesto with the cooked pasta and place on a serving platter or large plate. Put the chicken/cream mixture on top the pasta. Sprinkle the remaining Parmesan cheese (use as much as you want) and top with the arugula. You can also do this all on individual plates, if you prefer. It looks very impressive all served on one platter and you can let guests take as much as they want. Enjoy!
Check out a couple more pasta dishes I've had my eye on from my favorite foodie friends:
Sausage, Sage, and Pumpkin Pasta from Garnish with Lemon
Cajun Shrimp Pasta from Wonky Wonderful
Baked Pizza Spaghetti from Melissa's Southern Style Kitchen
Recipe source:  adapted from afamilyfeast.com