Creamy Chicken Tetrazzini
Boneless chicken breast meat adds flavor to this lovely Creamy Chicken Tetrazzini casserole of cooked penne pasta in a creamy herb sauce.  Great idea for a dinner to bring to someone!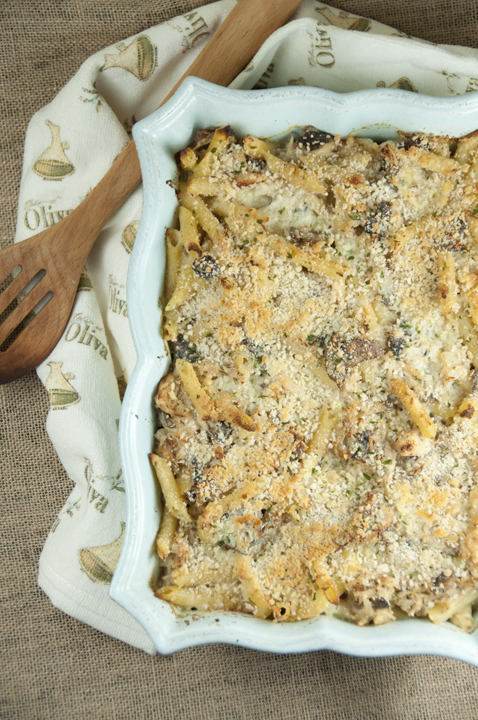 This creamy chicken casserole dish is one of my new favorite comfort meals and I'll tell you why I chose today to share it.  I have a good blog friend named Ashley (great name, right?) who blogs over at Center Cut Cook.  She is going through some incredibly tough times right now in her life.  Not too long ago, Ashley and her husband of 10 years (Ryan), were given the news that Ryan was diagnosed with colon cancer at the age of 29.  She found out she was pregnant the same week that they found out about Ryan after trying for a baby for many years.  Fast forward to the present where Ashley and Ryan's infant son, who was born with a condition called Primary Hyperoxaluria Type 1, needs a life saving liver AND kidney transplant to fight end-stage kidney failure.  Primary Hyperoxaluria is a very rare genetic disease (1 in 5 million infants get this) and he needs to go for hemodialysis four days per week.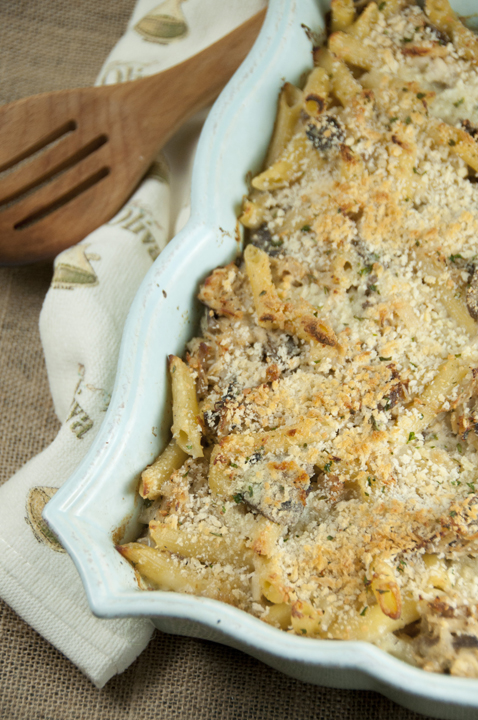 Today, I joined a group of other food bloggers who are on a mission to support Ashley and her family during this time!  We are all posting recipes today on our blogs with the food theme of "comfort food" – dishes you would take to someone who just had a baby, surgery, or has a sick family member. These are meals that ease the burden of meal planning because they can be made ahead of time and just popped in the oven to heat up (and/or they are freezer-friendly to be saved for a later time!).
This Creamy Chicken Tetrazzini fits the bill and is a freezer-friendly dish as well as a great way to use up that leftover chicken.  Give it a try for your own family or make it for a family who is in need.  Also, check out all of the other bloggers wonderful dishes below!
Ashley said it well when she said "I don't know why God has decided to take us down this path, but I have to believe it's for a reason."  She is such an upbeat, positive person through this all!  If you are interested, there is a fundraiser page where you can read more about Ashley's story, make a donation if you feel so led, and see an adorable photo of her hubby and son while you're at it. 🙂
Here are the comfort food dishes from all of the other fabulous bloggers:
Sugar Dish Me made this Easy Chicken Broccoli Bake
That Skinny Chick Can Bake made Mexican Chicken Manicotti
Food faith & Fitness made a Paleo Casserole with Turkey, Peppers, Zucchini, and Tomato
Spend with Pennies made Chicken Noodle Casserole (from Scratch)
Frugal Foodie Mama made Pizza Pierogi Casserole
Snappy Gourmet made Chicken Cordon Bleu Pasta Casserole
Miss in the Kitchen made a Chicken and Mushroom Tortellini Bake
Life, Love, and Good Food made this Poppy Seed Chicken Casserole
Bless This Mess made Quick and Easy Summer Chicken Salad
Mandy's Recipe Box collected 30 Freezer Meals
Hugs and Cookies made Baked Parmesan Meatball Casserole
Barbara Bakes made this Veal & Wild Mushroom Stew
A Cedar Spoon made Sausage, Roasted Red Pepper, & Gouda Macaroni & Cheese
It's Yummi made an Easy Cheese & Sausage Pizza Bake
A Family Feast made these Easy Freezer Meatballs
Stuck on Sweet made Homemade Goulash
Two Healthy Kitchens made a 5-Ingredient Easy Pasta Bake
It Bakes Me Happy made a Peach Skillet Galette
Creamy Chicken Tetrazzini
Prep time:
Cook time:
Total time:
Boneless chicken breast meat adds flavor to this lovely Creamy Chicken Tetrazzini casserole of cooked penne pasta in a creamy herb sauce.
Ingredients
9 tablespoons butter
2 tablespoons olive oil
4 boneless skinless chicken breasts
2¼ teaspoons salt
1¼ teaspoons freshly ground black pepper
1 pound white mushrooms, sliced
1 large onion, diced
5 cloves garlic, minced
1 tablespoon chopped fresh thyme leaves
½ cup dry white wine
⅓ cup all-purpose flour
4 cups whole milk, room temperature
1 cup heavy whipping cream, room temperature
1 cup chicken broth
⅛ teaspoon ground nutmeg
12 ounces pasta (I used Penne)
¾ cup frozen peas
¼ cup chopped fresh Italian parsley leaves
1 cup grated Parmesan
¼ cup dried Italian-style breadcrumbs
Instructions
Preheat the oven to 450 degrees F.
Spread 1 tablespoon of butter over a 13 x 9 baking dish.
Melt 1 tablespoon each of butter and oil in a deep large nonstick frying pan over medium-high heat. Sprinkle the chicken with ½ teaspoon each of salt and pepper.
Add the chicken to the hot pan and cook until pale golden and just cooked through, about 4 minutes per side. Transfer the chicken to a plate to cool slightly.
Coarsely shred the chicken into bite-size pieces and into a large bowl.
Meanwhile, add 1 tablespoon each of butter and oil to the same pan. Add the mushrooms and saute over medium-high heat until the liquid from the mushrooms evaporates and the mushrooms become pale golden, about 1-2 minutes.
Add the onion, garlic, and thyme, and saute until the onion is translucent, about 8 minutes. Add the wine and simmer until it evaporates, about 2 minutes.
Transfer the mushroom mixture to the bowl with the chicken.Melt 3 more tablespoons butter in the same pan over medium-low heat. Add the flour and whisk for 2 minutes.
Whisk in the milk, cream, broth, nutmeg, remaining 1¾ teaspoons salt, and remaining ¾ teaspoon pepper. Increase the heat to high.
Cover and bring to a boil. Simmer, uncovered, until the sauce thickens slightly, whisking often, about 10 minutes.
Bring a large pot of salted water to a boil. Add the pasta and cook until it is tender but still firm to the bite, stirring occasionally, about 9 minutes. Drain.
Add the pasta, sauce, peas, and parsley to the chicken mixture. Toss until the sauce coats the pasta and the mixture is well blended.
Transfer the pasta mixture to the prepared baking dish. Stir the cheese and breadcrumbs in a small bowl to blend. Sprinkle the cheese mixture over the pasta.
Dot with the remaining 3 tablespoons of butter.
Bake, uncovered, until golden brown on top and the sauce bubbles, about 25 minutes.
 Recipe source:  adapted from the Food Network