Crispy Southwest Chicken Wraps
Crispy Southwest Chicken Wraps couldn't be easier to put together and are absolutely delicious with peppers, black beans and cheddar cheese.  Great lunch or dinner recipe.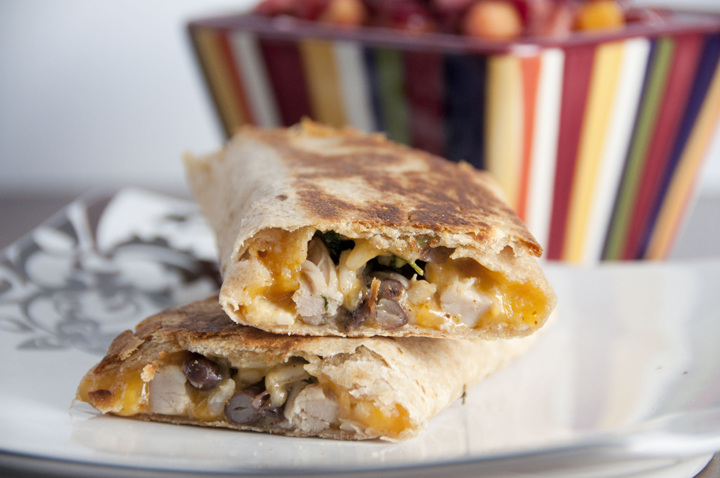 I'm a sucker for a really good wrap, whether it be for lunch or dinner, and chicken wraps happen to be my very favorite.
These wraps I'm sharing with you today have been made a few times at my house and I absolutely LOVE them. That says a lot about how good these are because I rarely make the same meal twice.  Being a food blogger, I like to constantly have new dishes coming out of my kitchen to share with you all.  If I made the same meals all the time I'd run out of recipes to share with all you lovely people!  Mr. Wishes, however, makes special requests sometimes for certain meals and in those cases I always have to say "yes".  Mostly because I am flattered when he likes something enough to have it repeatedly (he's a little on the picky side).  In case you are wondering, these Honey Lime Chicken Enchiladas are his favorite meal of all time.
The crispiness of these wraps really makes them extra delicious and is what sold me on them.  Wraps are good enough…but warmed up?  Even better. I guarantee that these are going to go over well with the entire family. They will definitely become a regular on our menu, especially in the summer when I don't want to turn the oven on.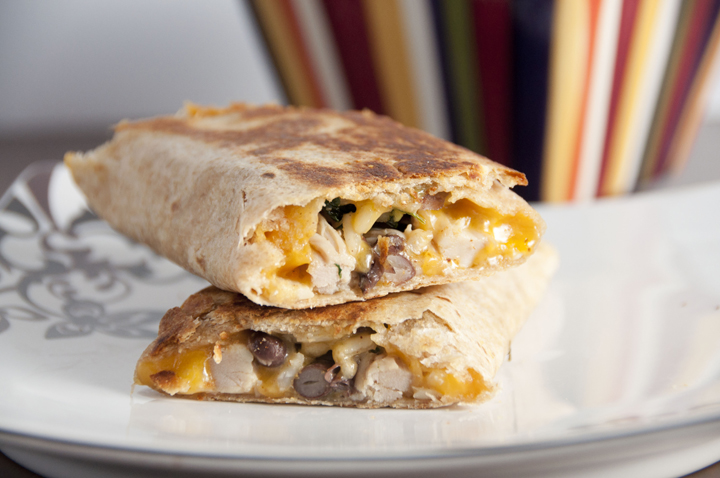 Crispy Southwest Chicken Wraps
Ingredients
1 cup cooked rice, warm or at room temperature
1 cup cooked, shredded chicken (or other leftover meat, like shredded pork or beef)
1 can black beans, rinsed and drained
1 green onion, finely sliced (white and green parts)
½ red or green pepper, diced
¼ cup fresh cilantro, chopped
juice of 1 lime
½ tablespoon chili powder
1 teaspoon ground cumin
½ teaspoon garlic salt
2 cups shredded cheese (I use a combination of Monterey jack and sharp cheddar)
Sour cream (optional)
6 burrito-sized flour tortillas
Instructions
Mix rice together with chili powder, cumin and garlic salt.
Add remaining ingredients except for cheese and sour cream. Sprinkle cheese over tortillas, leaving ½-inch border around edges, then arrange chicken and rice mixture down the center of each tortilla. (Optional: I like to dollop little bits of sour cream over the cheese before arranging chicken and rice mixture down the center – it makes the wraps delightfully creamy.)
Roll stuffed tortillas, leaving edges open and slightly flatten the wraps with the palm of your hand. Spray seam-side of the wrap lightly with cooking spray.
Heat a large non-stick skillet (or griddle) over medium heat for 1 minute.
Arrange wraps, seam-side down, in pan or griddle and cook until golden brown and crisp, about 2-3 minutes per side. Cooking them seam-side down first helps seal the long edge so they don't fall apart.
Transfer to a plate and repeat with remaining wraps. Serve warm.
 Recipe source:  adapted from melskitchencafe.com