Red Velvet Crinkle Cookies
First of all, Happy Valentine's Day! (a few days early)  Mr. Wishes and I don't make a huge deal out of Valentine's Day, but it's always fun to celebrate by doing something simple.  In our case, we like to have a relaxing night at home and cook dinner together…and I made these special cookies just for him!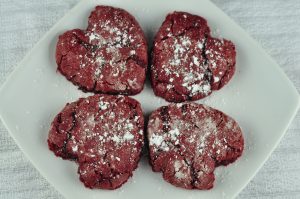 I hope I don't come across like a Valentine's Day Scrooge or anti-cupid, but I'm not all that big on Valentine's Day.  I know, strange coming from the girl who gets a huge thrill out of Groundhog day.  It's just that roses (and flowers in general) aren't really my thing… and when it comes to chocolates, I like to know exactly what type of filling will ooze out of it once I bite into it.  I don't like the element of surprise when it comes to my candy!
It's also a day when restaurants are so crowded and often the most expensive (and not even close to their best quality) and it gets ruined by commercialism and the pressure (on guys especially) to buy expensive gifts. "What to buy", "how much to spend", "don't spend too much", "don't be cheap"….. that alone is enough to take away from the entire point of Valentine's Day, which is to think about the ones we love!  OK, I'm done with my rant 🙂
Moving on to the cookies:  these are so adorable and I love when a simple technique can be used to make something look extra special.  These heart Valentine's cookies are super easy to make, but yield impressive results.  Make sure you try them!
Happy (early) Valentine's Day, everyone!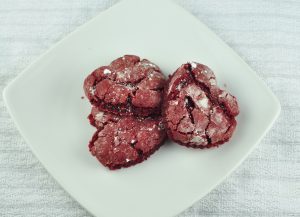 INGREDIENTS:   
1 box red velvet cake mix (I used Duncan Hines)
2 tablespoons all-purpose flour
2 large eggs
1/2 cup canola oil
1 teaspoon vanilla extract
Powdered sugar, for rolling the cookies
Heart shaped cookie cutter, optional
PREPARATION: 
Note: you don't have to cut the cookies into heart shapes. They can be left round!
Preheat oven to 350 degrees F. Line a large baking sheet with parchment paper or a Silpat and set aside.
In a large bowl, combine cake mix and flour. Whisk until clumps disappear. In the bowl of a stand mixer, mix together cake mix, flour, eggs, oil and vanilla extract. Mix until smooth. Take 1 tablespoon of cookie dough and form into a ball. Roll the ball in powdered sugar until fully coated. Place cookie dough balls on prepared baking sheet. Bake for 10 minutes, or until edges are set and cookies begin to crack.
Let cookies sit on baking sheet for 2 minutes. If desired, cut cookies into heart shapes while they are still warm, using a heart-shaped cookie cutter. Transfer cookies to a wire cooling rack and cool completely.
Optional: Dust with additional powdered sugar. 
Enjoy!    
Recipe Source: adapted from twopeasandtheirpod.com