Pepperoni Pizza Nachos
Pepperoni Pizza Nachos are incredibly delicious and a crowd pleaser. The garlic cream sauce takes these to another level. You can add any pizza toppings that you prefer and will love this new take on standard nachos.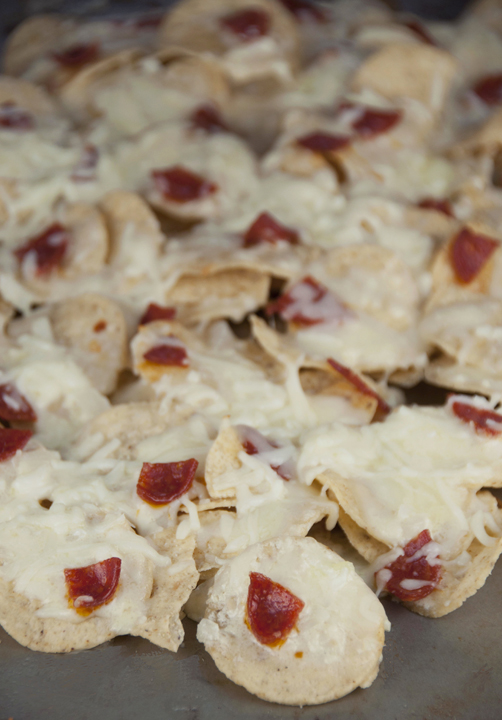 These delicious, sinful pepperoni pizza nachos are a new twist on your typical plate of nachos….they are all jazzed up pizza style!  I made this for a weekend snack for Mr. Wishes and I a few weeks ago when I was scrounging for something…ANYTHING…I could make since I had no food in the house.  I'd have to say this was the best spontaneous "lunch" I have had in a very long time – I was impressed at just how good these were, especially the garlic cream sauce!  They were so addictive that we ate the whole plate in one sitting.
The great thing about these pizza nachos, much like any dish of nachos, is that you can make them your own way.  Go ahead and add any toppings you like!  I am pretty simple when it comes to pizza (and also didn't have much of a choice since I had nothing in my pantry), so I just added pepperoni for the one and only topping.  Get creative!  This amazing appetizer would be great for football season (any game day, really), girls' night, Super Bowl, movie night, a party with friends, or just a weekend snack, as it was for me.  OH, and if you liked these, you might also like these BBQ Pulled Pork Nachos.  Enjoy!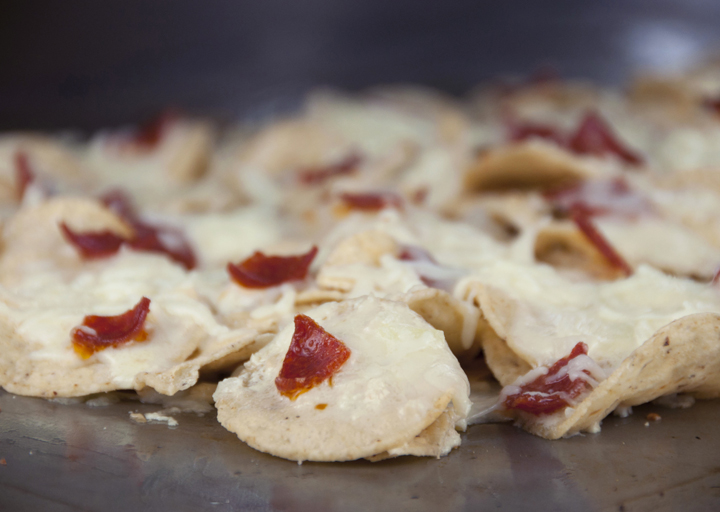 Pepperoni Pizza Nachos
Prep time:
Cook time:
Total time:
Pepperoni Pizza Nachos are incredibly delicious and a crowd pleaser! The garlic cream sauce is amazing and you can add any pizza toppings that you prefer.
Ingredients
Garlic Cream Sauce:
1 and ½ Tablespoon Unsalted Butter
½ Tablespoons Olive Oil
4 cloves Garlic, Minced
½ cups Heavy Cream
¼ cup of 2% Milk
1 pinch Salt
1 pinch Cracked Black Pepper
1 pinch Red Pepper Flakes
¼ cups Parmesan Cheese, Grated
Nachos:
Your Favorite Crispy Tortilla Chips ( I used approximately half a bag)
Garlic Cream Sauce (Recipe Included below)
¼ cup Onion, Diced
½ cup Pepperoni, Cut Into quarters (or use mini pepperoni)
1 and ¾ cups Cheddar Cheese, Shredded (white or yellow)
Optional: any other pizza toppings of your choice (½ cups Black Olives Sliced, ½ diced Green Bell Pepper)
Instructions
Garlic Cream Sauce:
Melt the butter, along with the olive oil on medium-low heat
Once melted, toss in the minced garlic, and give it a good stir
Raise the heat up to medium
Add in the cream and milk and give a good stir
Keep stirring until it comes to a boil.
Toss in the salt, pepper, and chili flakes, along with the parmesan cheese, and continue stirring (The sauce will thicken pretty quick, so continue to stir)
Once the sauce is thickened, remove from the burner, and set aside.
Nachos:
When you are ready to make your nachos, preheat your oven to 400ºF
Build your nachos on an oven-proof dish or baking sheet
First, add your chips.
Drizzle the garlic cream sauce all over the chips.
Top with the onions and pepperoni (and other pizza toppings of your choice).
Make sure each chip gets covered with the sauce and toppings.
Top with the cheddar cheese.
Place in the preheated oven, and cook until the cheese is nice and bubbly and the veggies are warmed through, roughly 7 minutes. Serve immediately.
Recipe source:  adapted from simplecomfortfood.com