Chicago-Style Deep Dish Pizza
Authentic recipe for Chicago-Style Deep Dish Pizza made just like you would have in Chicago with a thick, buttery crust, homemade tomato sauce, and loaded with cheese!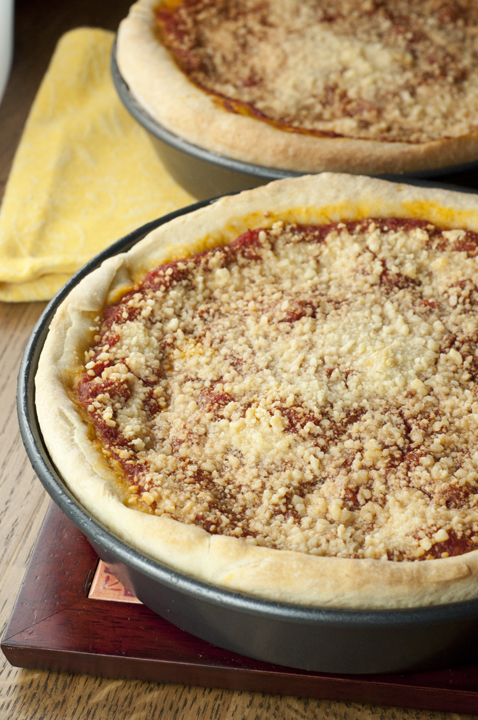 Today I am sharing this Chicago-Style Deep Dish Pizza recipe, but is a really hard day for me. This day marks the one year anniversary of my father passing away.  How it has been a whole year I have no idea!  The feelings I felt that day and the things myself and everyone around me said or did resonate with me as if it all just happened yesterday.
Things have gotten a bit easier over time, but there are certain days that are just as difficult as the day he died.  I think it was tough having all of the important holidays, New Year, my birthday and now the one year anniversary all packed into about a month and a half.
On this first anniversary, all I can think about is how I did what I never thought was possible right after it all happened: I survived an entire year without someone who was very important to me and so dearly loved.
Alas, I keep on trucking and keep this little ol' blog going because this is something that made him so proud.  In fact, a couple of months before he died, he laughed at the fact that I had a food blog since I was always the worst cook in the universe (AKA I just didn't ever try).  We shared a love for good food – especially pizza and pasta!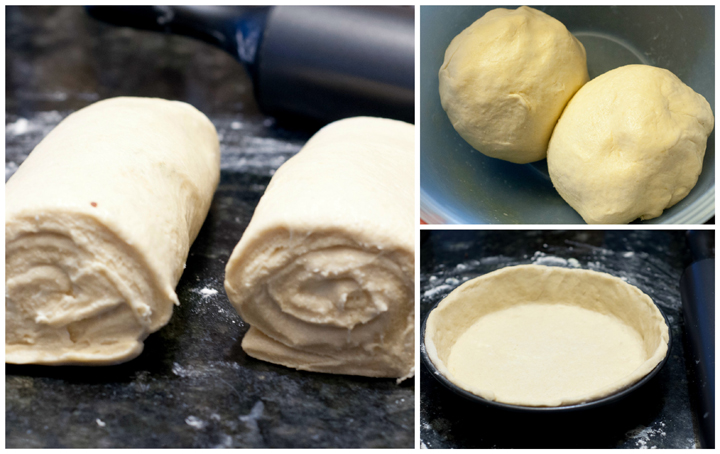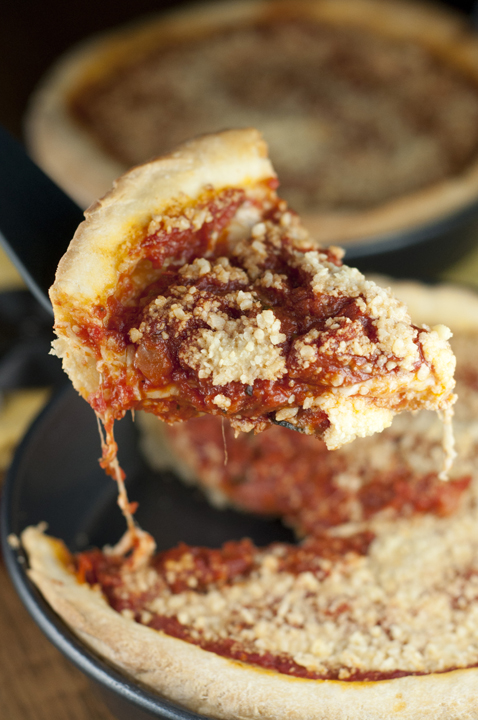 Deep dish pizza is something you will see a lot of if you ever get the chance to visit Chicago.  I tagged along last year on a work trip that Mr. Wishes had to go on – exploring new cities is pretty much my jam.
Of course we researched to death what the best deep dish pizza was in Chicago and ended up at Chicago's most famous pizza spot: Lou Malnati's.  This pizza is life-changing!  I did feel disgusting afterward but just because of the fact I ate way too much of this pizza and way too close to bedtime.  YOLO.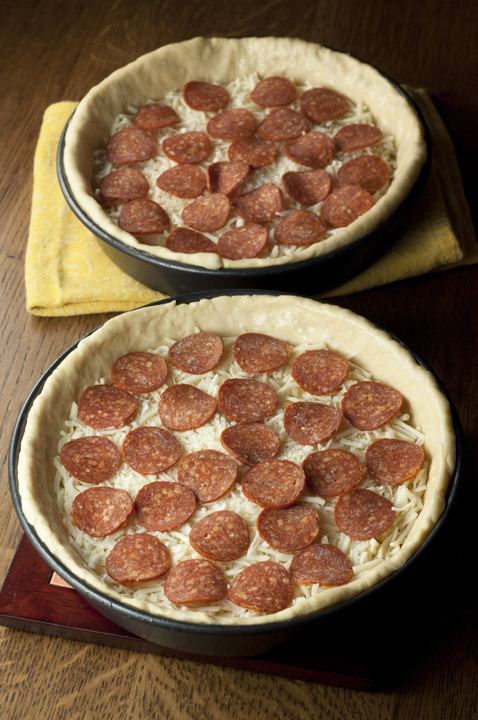 In Chicago-Style Deep Dish Pizza,  a deep layer of dough forms a bowl in a high-sided pan and the toppings and cheese are added on top.  An additional layer of dough goes on top of all of that and is pressed to the sides of the crust. 
If you have never tried it before, there is no better time than now!  This Chicago-Style Deep Dish Pizza recipe is a bit of a time investment but makes for an unforgettable dinner your whole family will love.

Note:  If your family is small, freeze half of the dough or prepare the pizza without baking, wrap well, and freeze to heat up for dinner at a later time.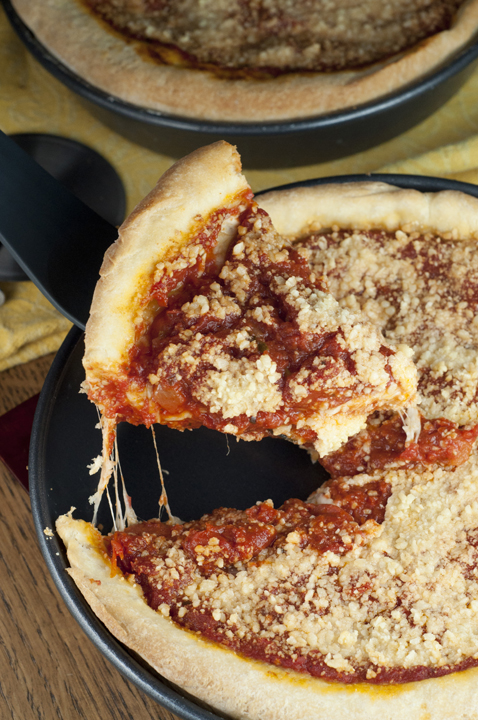 If you are a pizza fan like I am, make sure you try these other delicious pizza recipes on my blog:
Pepperoni Pizza Rolls – these rolls are BAKED instead of fried and easily my favorite appetizer recipe!
Easy Bacon Alfredo Pizza – I love using white alfredo sauce on my pizza once in a while! You can't go wrong with bacon!
One Pan Pizza Pasta Casserole – this pizza and pasta combination is always the best combination ever!
Chicago-Style Deep Dish Pizza
Prep time:
Cook time:
Total time:
Serves:
two 9-inch deep dish pizzas
Authentic recipe for Chicago-Style Deep Dish Pizza made just like you would have in Chicago with a thick, buttery crust, homemade tomato sauce, and loaded with cheese!
Ingredients
Pizza Crust (makes 2)
3 and ¼ cups all-purpose flour
½ cup yellow cornmeal
1 and ¼ teaspoons salt
1 Tablespoon granulated sugar
2 and ¼ teaspoons yeast (1 standard packet)
1 and ¼ cups warm water (not hot)
½ cup unsalted butter, divided (1/4 cup melted, ¼ cup softened)
olive oil for coating
Tomato Sauce (for 2 pizzas)
2 Tablespoons unsalted butter
1 small onion, grated (about ⅓ cup)
¾ teaspoon salt
1 teaspoon dried oregano
½ teaspoon crushed red pepper flakes, optional
3 garlic cloves, minced
one 28-ounce can crushed tomatoes
¼ teaspoon granulated sugar
Toppings (for 2 pizzas)
4 cups shredded good-quality mozzarella cheese
½ cup grated Parmesan cheese
optional toppings: pepperoni, cooked and crumbled bacon, cooked and crumbled sausage, green peppers. onions, mushrooms, etc.
Instructions
For best results, read through the recipe completely before beginning. You need two 9x2 inch round
cake pans
if you are making both pizzas at the same time. Nine inch
springform pans
would also work.
For the crust:
Combine the flour, cornmeal, salt, sugar, and yeast in the bowl of your stand mixer fitted with a dough hook attachment. If you do not have a stand mixer, use a hand mixer and LARGE bowl.
Give the above ingredients a fast mix on low speed.
Add the warm water and ¼ cup of melted butter (once butter is cooled to room temperature). Make sure both the water and the butter are not too hot or it will kill the yeast. On low speed, beat the dough ingredients until everything is moistened. Continuing on low speed, beat the dough until it is soft and supple and gently pulls away from the sides of the bowl and falls off of the dough hook- approximately 4-5 minutes.
Take the dough and form into a ball with your hands. Lightly grease a large mixing bowl with olive oil and place the dough inside, turning it all around so that all sides of the dough ball are coated in the oil. Cover the bowl tightly with aluminum foil and allow to rise in a warm environment for 1-2 hours or until ball has doubled in size.
When the dough has doubled in size, take it out of bowl, set bowl and foil aside, and lightly flour a large work surface. Take dough and gently punch it down to remove any air bubbles and roll the dough using a rolling pin into a large 15x12 rectangle.
Spread ¼ cup of softened butter on top of the dough (this is called laminating the dough). Roll it up lengthwise (I have a photo of this step above). Cut the dough log in half. Form the two pieces of dough into balls and place back into your greased bowl. Cover with aluminum foil and allow to rise in the refrigerator for 1 hour until they are puffy. Make the sauce while you are waiting for that step.
For the sauce:
Melt the butter in a medium saucepan over medium heat. Watch so it doesn't burn. Once completely melted, add the grated onion, salt, oregano, and red pepper flakes (if using). Once the onion has slightly browned (this will take about 5 minutes), add the garlic, tomatoes, and sugar. Turn the heat down to medium-low heat and allow it to simmer until it thickens a bit- about 30 minutes. You should have around 2 or 2 and ½ cups of sauce by this step. If you have more than that, keep simmering until the amount has reduced to what it should be. Remove sauce from heat and set aside.
Preheat oven to 425 degrees F.
Assemble the pizzas:
Remove one of the (now puffy) dough balls from the refrigerator. Keep the other one in the refrigerator so it stays cold. Roll it out on your lightly floured work surface, making it into about a 12-inch circle. Place over a 9x2 inch cake pan and press it tightly into the pan using your fingers. At this point, trim any excess dough off the edges carefully with a knife. Repeat this whole process with the 2nd dough ball if you are making both pizzas at this time.
Brush the top edges of the dough with olive oil (this will make the crust glow/shine). Fill each pizza with ½ of the cheese (about 2 cups per pizza) and your toppings of choice.
Pour sauce (approximately 1 and ¼ cups) on top of each. You can use less if you prefer less sauce and discard the excess sauce. Sprinkle each pizza with ¼ cup of grated Parmesan cheese.
Bake the cake pans on top of a large baking sheet to prevent the spilling of any sauce over the sides of the pans. This didn't happen to me, but better to be on the safe side and prevent a big mess. Bake for 20-28 minutes or until the crust is golden brown. Optional: loosely cover the pizzas with aluminum foil after 15 minutes of baking to prevent too much browning on the crust (some ovens bake unevenly).
Remove the pizzas from the oven and allow to cool in the pans on a wire rack for 10 minutes. Slice and serve. Place any leftover pizza in an airtight container and refrigerate for up to 5 days. Reheat leftovers in a 300 degree oven for 16-20 minutes or until hot.
To make ahead:
Pizza dough may be prepared as usual. In the step where the dough needs to rise in the refrigerator for 1 hour, you may leave it in the refrigerator for up to 1 day, then punch it down to remove any air bubbles before rolling out. You may freeze the pizza doughs after preparing them and instead of allowing to rise in the refrigerator, freeze for up to 2 months. To bake, allow the doughs to thaw overnight in the refrigerator and allow to rise at room temperature for 1 hour before continuing.
Recipe source:  adapted from food.com, CooksIllustrated.com, and SallysBakingAddiction.com