One Pan Pizza Pasta Casserole
One Pan Pizza Pasta Casserole is an easy, family-friendly, crowd-pleasing recipe that combines two favorites into one!  It is all made in one pot for a comforting weeknight meal with fast clean up!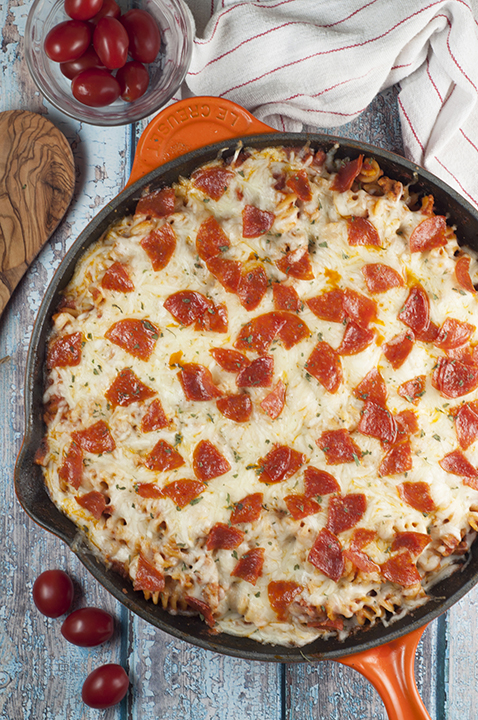 It is Halloween today, which makes it extremely likely that your family dinner tonight is going to be fast and will be squeezed in between work, school, trick-or treating, parties, or all of the other craziness of the day.
Normally on busy days like today I am totally fine with a bowl of cereal… or 30 slices of cheese, but a homemade meal is always best (and makes my husband happier than a bowl of cereal or cheese slices, let's be honest).
I have the absolute perfect meal for you to whip up before taking your children trick or treating after school or handing out candy to the kids.  This One Pan Pizza Pasta Casserole is quick and easy (yet hearty and filling) and will make everyone happy…guaranteed.
Oh, and you only have to clean ONE pan.  Yes, you heard me right.  Even the pasta is cooked in the skillet with all of the other ingredients! Despite our hectic schedules any day of the year, dinner together as a family is important and special and this recipe is here to help make that happen.
I'm so glad you're here! Follow along on Pinterest for more inspiration!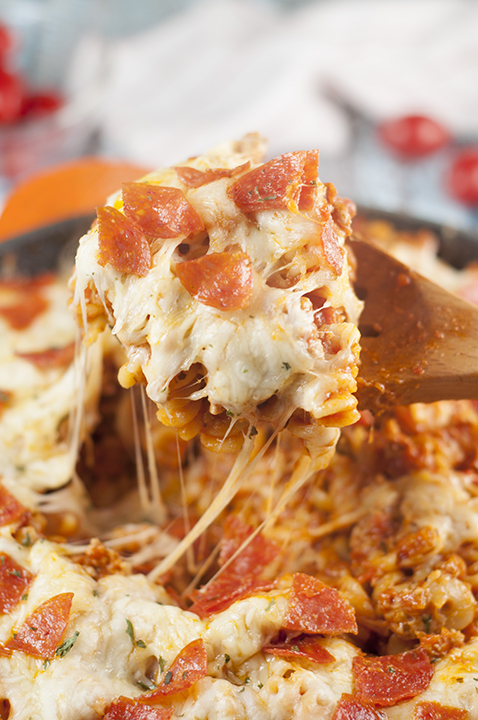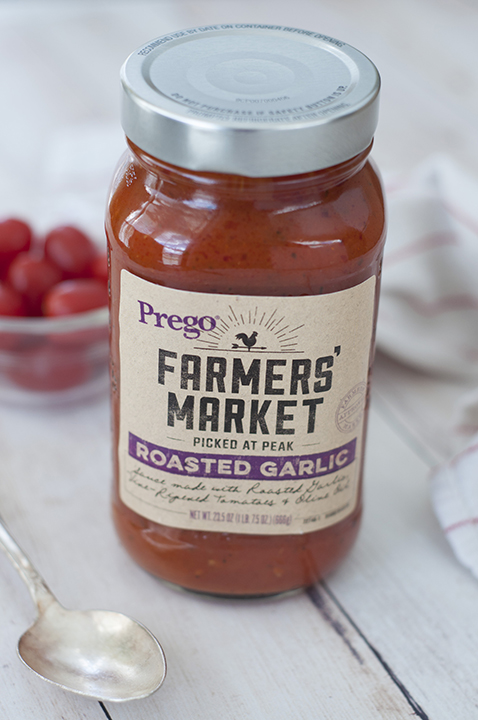 I used Prego Farmers' Market® Roasted Garlic sauce in this recipe that I picked up at Walmart, but feel free to use their other 2 delicious flavors: Tomato and Basil or Classic Marinara.  They have a beautiful produce display at the front of the store and I picked up my fresh tomato to incorporate into this recipe!
I have to sneak any fruits and veggies into your meals when you can, right?  Adding in fresh ingredients always take the taste of my dinners to the next level and I like to do it whenever I can.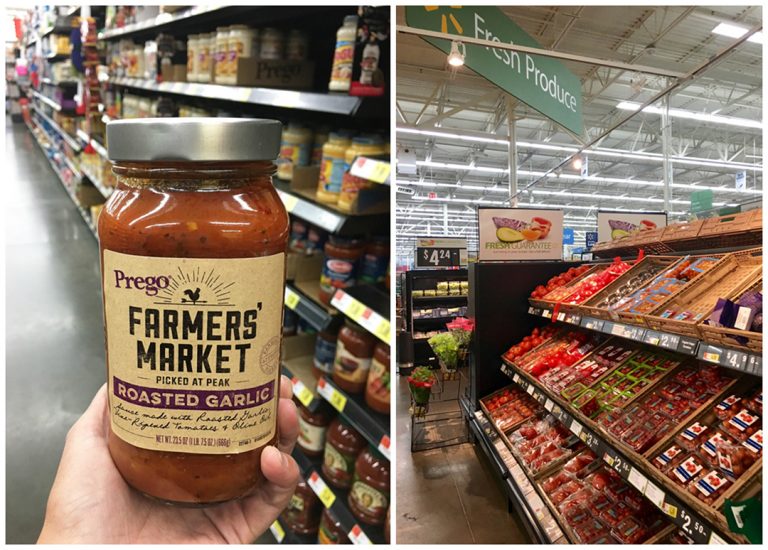 Prego Farmers' Market® brings amazing flavor from simple, farm fresh ingredients and I was super excited about how this dinner turned out using the Roasted Garlic variety.  Next time I think I will try it with the Tomato & Basil flavor!
The taste really cannot be beat as Prego uses ingredients that you would find at your local farmers' market.  The vine-ripened tomatoes, garlic and basil are picked at the peak and made with olive oil, black pepper and oregano.
The spices in the sauce were just right and the sauce can totally stand alone, as is, just served with pasta.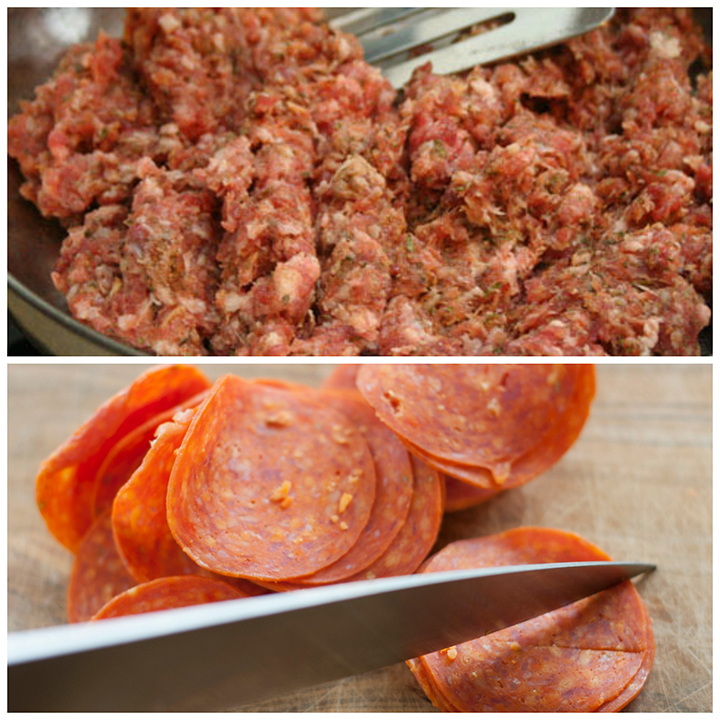 The best part about this One Pan Pizza Pasta Casserole is that it won't take a lot of time and may not even require a special trip to the grocery store for the ingredients.  It's rustic and pretty basic, yet packed with flavor!
This is a great recipe to have on hand when you are in a hurry to get dinner on the table or have a picky group of eaters – everyone loves a pasta dish loaded with cheese!  Comfort food has my heart, as do one pot meals. I make them often and they have never let me down!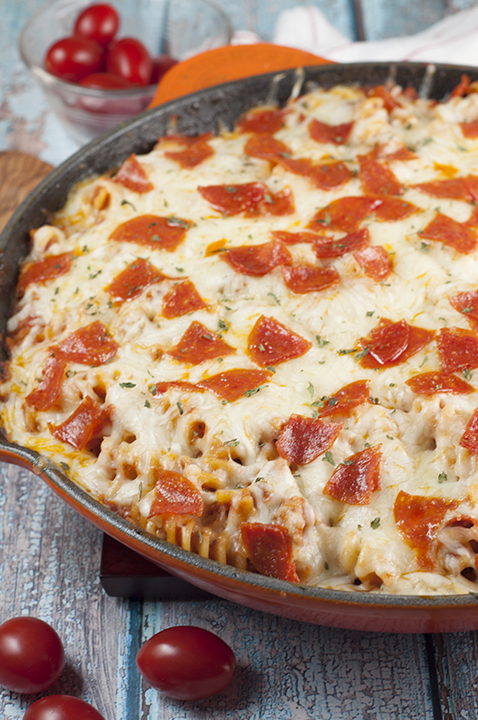 Feel free to add in extra pizza toppings to this One Pan Pizza Pasta Casserole.  Any toppings that your family loves will work with this meal as it's very adaptable!
You can even save yourself some money on the Prego Farmers' Market® sauces using this coupon or check out the fun Prego Farm Jar Commercial for more information on their product. Enjoy, everyone!
One Pan Pizza Pasta Casserole
Prep time:
Cook time:
Total time:
One Pan Pizza Pasta Casserole is an easy family-friendly, crowd-pleasing recipe that combines two favorites into one for a fast weeknight dinner!
Ingredients
*If you double this recipe use a very large skillet!
1 tablespoon olive oil
8 ounces ground Italian sausage (can use ground beef)
½ cup pepperoni, cut into quarters, divided
2 cups Prego Farmers' Market® Roasted Garlic tomato sauce
¼ teaspoon garlic powder
¼ teaspoon onion powder
8 ounces spiral pasta (any short cut pasta will do)
½ cup tomato, diced
1.5 cups shredded mozzarella cheese
2 tablespoons chopped fresh parsley or basil
Instructions
Preheat your oven to broil.
On medium-high heat, heat olive oil in a large oven-proof skillet.
Add Italian sausage and cook until browned, breaking it up as you go. This takes about 3-5 minutes. Drain the excess fat.
Mix in half of your pepperoni until heated through, about 1 minute.
Mix in the sauce, garlic powder, onion powder, diced tomato, pasta (uncooked) and 1½ cups hot water.
Bring this mixture to a boil; cover, reduce heat to medium-low and simmer until pasta is completely cooked through, about 12-14 minutes.
Remove the skillet from heat; top with mozzarella cheese and remaining pepperoni.
Place into oven, uncovered, just until the cheese is melted and golden brown, about 1-2 minutes. Keep a close eye on this so the cheese doesn't burn - you want it just melted!
Serve hot, garnished with fresh parsley or basil for some color and added flavor (optional). Enjoy!
Recipe source: a Wishes and Dishes original