BBQ Pulled Pork Nachos
These are definitely super nachos with a layering of tortilla chips, BBQ pulled pork or chicken,  tomato, Cheddar cheese, and more. This easy appetizer recipe will be a crowd-pleaser on game day or for any party!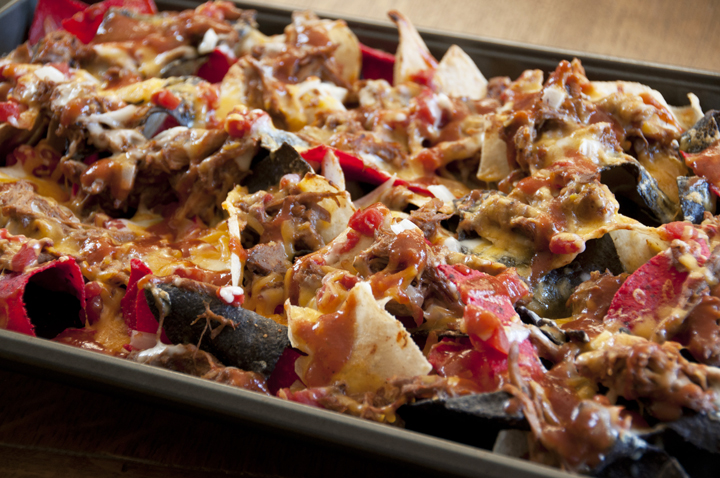 I have this tradition with a few of my high school friends (actually we've been friend since JUNIOR high) that we have done for about 7 or 8 years now.  Every so often, we go out to one of our favorite steakhouse restaurants, Bugaboo Creek, and order nothing but appetizers and hang out for hours and hours on end.  We are known to close the place down every single time we go.  We joke that they must just LOATHE us there (we tip really good, don't worry HAHA)!  But the one thing that keeps us coming back for more is their Loaded BBQ Pulled Chicken Nachos.  I've tried time and time again to recreate them at home, and although they will NEVER taste exactly like Bugaboo Creek's nachos, this is an awesome homemade version, but these are BBQ Pulled PORK nachos!  These are the perfect football food or snack for game day, parties, holidays, or anytime you need a good appetizer that will "wow" everyone!  I'm totally making these for Super Bowl Sunday 🙂  They don't take a lot of time and they taste fantastic.
This is a GREAT way to use up leftover pulled pork, especially when you are tired of just plain old pulled pork sandwiches and need a new idea.  I made this delicious pulled pork recipe and made these nachos with the leftovers.  The secret to getting these nachos to taste like Bugaboo's version was to heat up the pork and BBQ sauce separately so that after you put the nachos all together, you only need to put the tray in the oven on high heat for a couple of minutes JUST until the cheese melts.  This keeps the cheese (and everything else) from getting dried out.
This recipe can be as simple or complex as you'd like. Feeling lazy? Just pick up some smoked pork at your favorite barbecue house and add your favorite sauce.
Watch out because these will go so fast!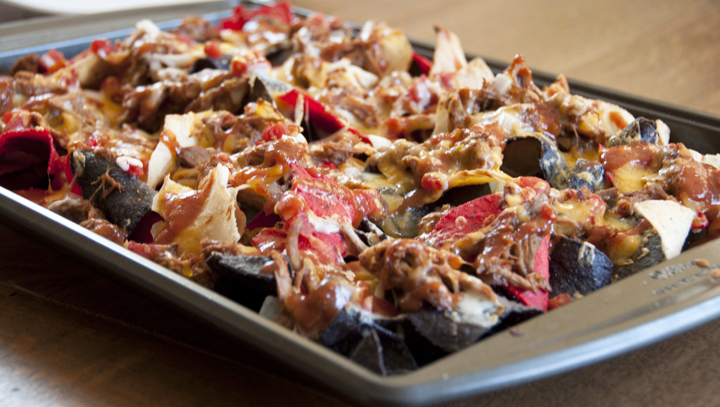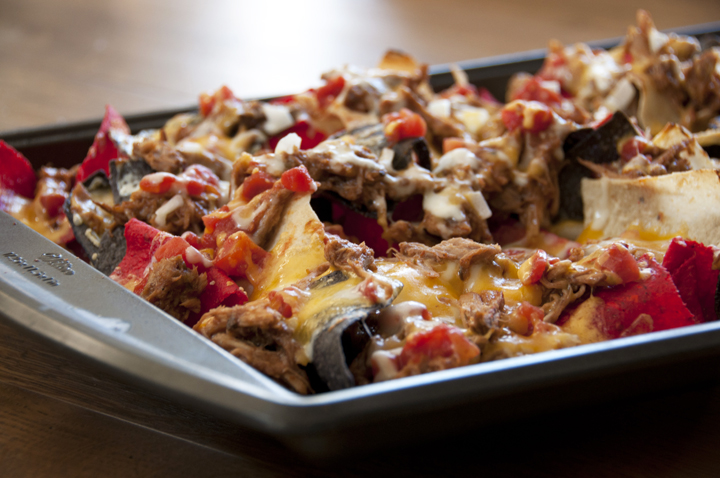 BBQ Pulled Pork Nachos
Delicious nachos with a layering of chips, BBQ pulled pork or chicken, tomato, cheese, and more. This easy appetizer recipe is crowd-pleaser on game day or a party!
Ingredients
(you can't go wrong here with ingredient amounts – this is the method I use but adjust to your liking!)
good quality tortilla chips (Tostitos scoops work well)
2 cups of leftover pulled pork (you can also use BBQ pulled chicken)
8-oz bag of cheddar cheese (any cheese will do and you can use as much as you'd like)
½ cup of your favorite barbecue sauce, or to taste, plus extra for drizzling on chips after assembling on tray
diced tomato
pickled jalapenos, optional (great for some heat!)
sour cream, salsa, guacamole, or extra BBQ sauce, for dipping
Instructions
In a medium saucepan, reheat the pork with the BBQ sauce.
Preheat oven to 500 degrees.
Line a baking sheet with foil.
Place tortilla chips in a single layer (or close to it) on baking sheet.
Spread the saucy meat over and around the tortilla chips. Then liberally spread the cheese over the chips evenly to the rim – load it on and make sure you cover all of the chips!
Drizzle BBQ sauce over the top.
Top with jalapeno slices and diced tomatoes.
Toast in 500-degree oven JUST until cheese is melted completely (should toast quickly – you don't want to dry out the cheese or burn the chips on the edges) so keep an eye on them! Transfer nachos to a serving platter. Enjoy!