Pepperoni Pizza Nachos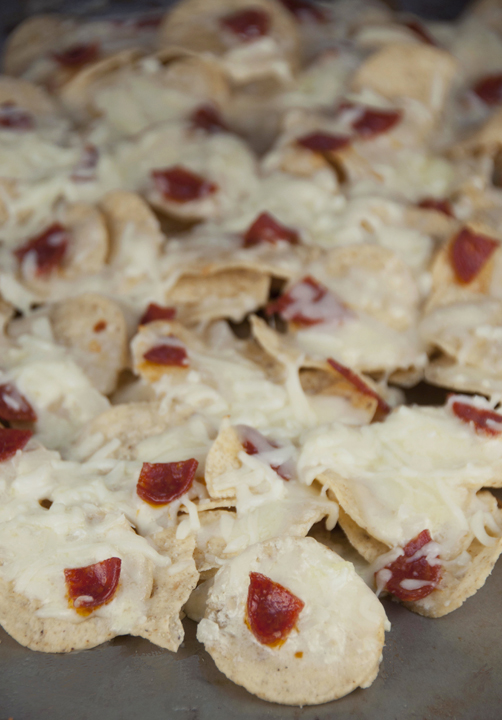 1 and ½ Tablespoon Unsalted Butter
½ Tablespoons Olive Oil
4 cloves Garlic, Minced
½ cups Heavy Cream
¼ cup of 2% Milk
1 pinch Salt
1 pinch Cracked Black Pepper
1 pinch Red Pepper Flakes
¼ cups Parmesan Cheese, Grated
Your Favorite Crispy Tortilla Chips ( I used approximately half a bag)
Garlic Cream Sauce (Recipe Included below)
¼ cup Onion, Diced
½ cup Pepperoni, Cut Into quarters (or use mini pepperoni)
1 and ¾ cups Cheddar Cheese, Shredded (white or yellow)
Optional: any other pizza toppings of your choice (½ cups Black Olives Sliced, ½ diced Green Bell Pepper)
Melt the butter, along with the olive oil on medium-low heat
Once melted, toss in the minced garlic, and give it a good stir
Raise the heat up to medium
Add in the cream and milk and give a good stir
Keep stirring until it comes to a boil.
Toss in the salt, pepper, and chili flakes, along with the parmesan cheese, and continue stirring (The sauce will thicken pretty quick, so continue to stir)
Once the sauce is thickened, remove from the burner, and set aside.
When you are ready to make your nachos, preheat your oven to 400ºF
Build your nachos on an oven-proof dish or baking sheet
First, add your chips.
Drizzle the garlic cream sauce all over the chips.
Top with the onions and pepperoni (and other pizza toppings of your choice).
Make sure each chip gets covered with the sauce and toppings.
Top with the cheddar cheese.
Place in the preheated oven, and cook until the cheese is nice and bubbly and the veggies are warmed through, roughly 7 minutes. Serve immediately.