Crock Pot Sausage Pierogi Casserole
Crock Pot Sausage Pierogi Casserole recipe is a delicious and comforting dish made with chicken sausage and a creamy cheese sauce. Great for potlucks or a weeknight dinner that cooks right in the slow cooker!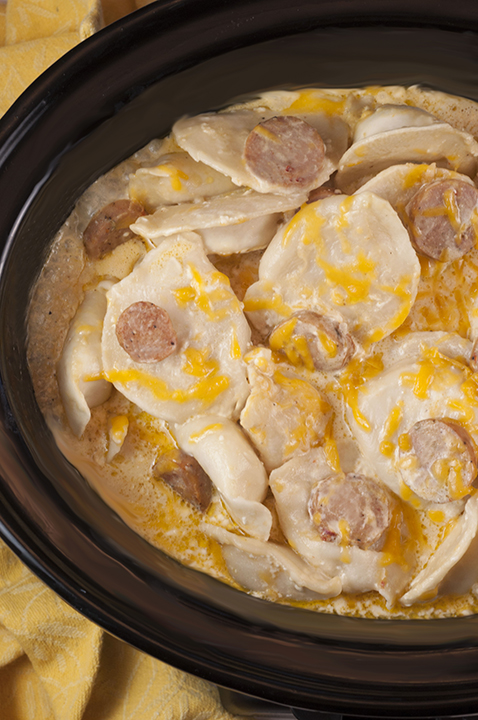 Oh man, do I have the best recipe for you today or what. This is the comfort food of all comfort foods right here! It seems very appropriate that I'm writing about a warm, rich, comforting dish on one of the snowiest days we have had all month. Yup, a "trace to a couple inches" of snow that was in the forecast turned into…..a lot more. Eating light just seems wrong on a day like today! Crock Pot Sausage Pierogi Casserole, however, seems so right.
I'm so glad you're here! Follow along on Pinterest for more inspiration!

I used Zweigle's chicken sausage in this delicious Crock Pot Sausage Pierogi Casserole. Gotta give love to my favorite brand of hot dogs, chicken sausage, and soo much more. Oh, and lucky for me that they are a local brand! Their all natural, gluten-free chicken sausage is the tastiest in the land and their quality is just SO great. Anytime I am trying out a recipe with any type of sausage, I swap Zweigle's chicken sausage in. It really is the perfect alternative to pork or beef sausage and much more health-conscious! They sell 5 different varieties: Spinach and Feta, Italian, Chorizo, Buffalo Style, Lime Chipotle. Really, ANY of those would work perfectly in this recipe. Feel free to get creative!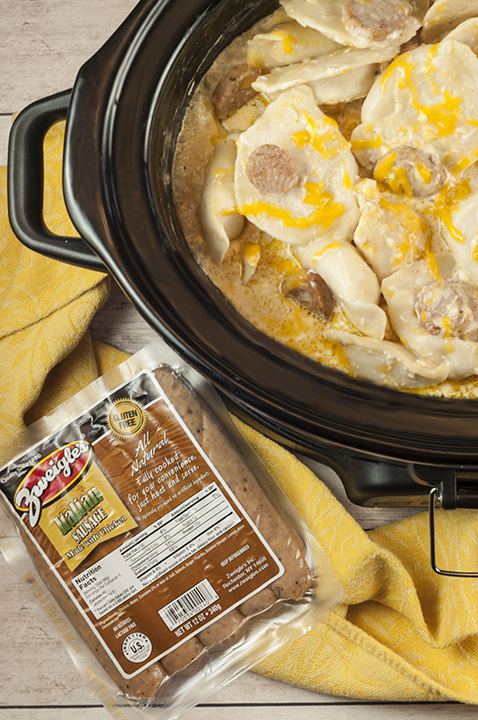 This dish is super easy to make but does take a little bit of prep. I promise you it's worth it! I like to brown the sausage in a pan before adding it to the crock pot so it kicks the flavor up a notch. Also melting the cream cheese and chicken stock together makes the cheesy sauce much creamier while it cooks. You can use any flavor of pierogies that your family prefers!
Check out all of my other recipes using chicken sausage!
Crock Pot Grape Jelly BBQ Cocktail Sausage
Crock Pot Spinach, Sausage & White Bean Soup
One Pan Sausage Pepper Fettuccine Skillet
Glazed Chicken Sausage Pineapple Bites
Hawaiian Chicken Sausage Kabobs
Sausage and Potato Summer Vegetable Skillet
Cheesy Chicken Sausage Pasta Skillet
One-Pot Creamy Green Orzo with Chicken Sausage
Buffalo Chicken Sausage Mac & Cheese
Crock Pot Cheesy Chicken Sausage Hash Brown Casserole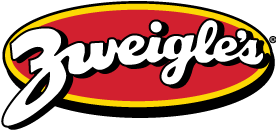 If you don't live near a store that sells Zweigle's, not to worry.  Simply head on over to their website where you can quickly and easily buy their products online. There you will also find plenty of unique, new recipe ideas to add some variety to your dinner routine!

I made step-by-step Facebook video to show you how to make this meal for you visual learners out there!
Crock Pot Sausage Pierogi Casserole
Prep time:
Cook time:
Total time:
Crock Pot Sausage Pierogi Casserole recipe is comfort food made with sausage & creamy cheese sauce. Great slow cooker meal for potlucks or weeknight dinner!
Ingredients
1 (64 oz.) bag frozen pierogies (any flavor)
4 cups chicken stock
1 (8-ounce) package cream cheese
1 cup sharp cheddar cheese, shredded
12 oz (4 links) Zweigle's chicken sausage, any flavor, sliced thin
2 Tbsp garlic, minced
Salt & pepper, to taste
Instructions
Heat a large skilletover medium-high heat with a couple tablespoons of olive oil.
Add the sausage slices and cook until sausage is slightly browned on both sides.
Add minced garlic and cook briefly - just until fragrant, being careful not to burn (this is a quick process).
Remove from heat.
In a saucepan on medium-high heat, warm the chicken stock and cream cheese together until the cream cheese has fully melted (may need to break it up as best you can with a spoon or whisk).
Combine all ingredients in your crock pot. Cook on high 3-4 hours or low for 6-7 hours or until most of the liquid is absorbed and has thickened. Stir once or twice throughout cooking. Enjoy!
Disclaimer:  Thank you, Zweigles, for sponsoring this conversation.  All opinions remain 100% my own, as always.
Recipe source: adapted from keyingredient.com