Panda Express Chicken Chow Mein
Panda Express copy cat recipe for chow mein noodles with chicken added is better than take-out and makes a super fast and delicious meal your whole family will enjoy.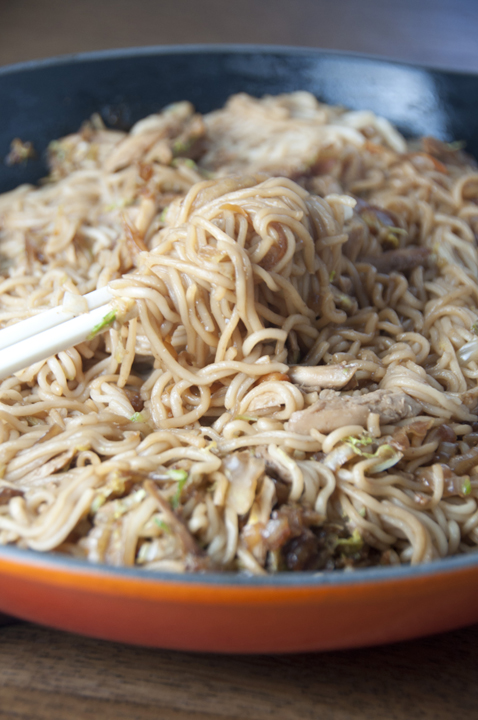 Friends, I wanted to fill you in on what's going on in my life and why I have been so absent from my blog lately.  This is the longest break I have ever taken.  My dad passed away last Wednesday.  He had numerous health problems over the years but always came out on top.  He occasionally joked that he had "nine lives".  Well, it was true.  Then in December he got diagnosed with lung cancer and it was a quick downward spiral as far as his health.  In the midst of it all, he kept his spirits up and said he was going to keep on fighting.  I strongly believe he was ready to "go" and didn't want to suffer through this grave lung cancer diagnosis.  Honestly, I'm glad I didn't have to see him in pain for a long time.  My friends and family have been so supportive of me in this last week and I am thankful for it.  I hope to get back to my regular schedule soon as far as Wishes and Dishes goes and keep bringing you guys the best of the best.  Thanks for being patient with me as I'm only going to do as much as I can and feel up to in the near future.  I sure am going to miss my dad and already do.  Today was the first day I was driving around, which is normally when I think to make my phone calls, and I went to call him and realized that I couldn't.  I'm sure there will be many moments like that where I miss him worse than ever but will try my best to get through it.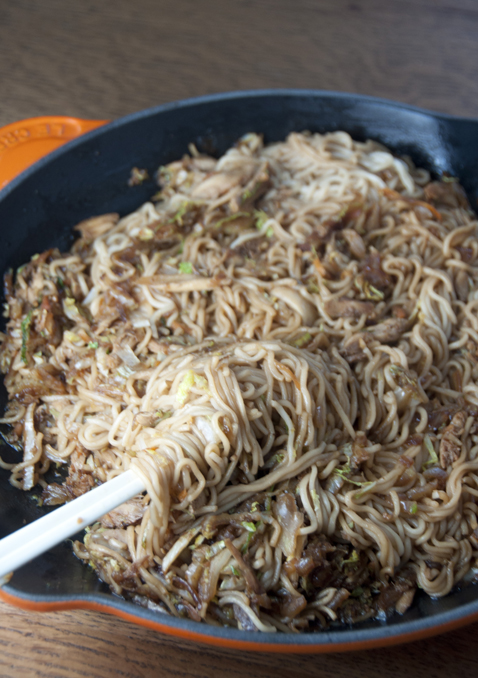 Before I start crying again, let's dive into the recipe.  Talking about food (especially eating food) always seems to help when I'm sad.  In case you needed a short little lesson in Chinese food, chow mein are stir-fried noodles and this is a popular noodle dish in the United States.  I love recreating restaurant dishes at home – it's one of those things that I put at the top of my list when I find something I really like or a popular dish I have heard about and want to see how good of a version of it I can make at home.
This meal was so delicious and it took only about 20 minutes to make. We live a long distance from any good Chinese food places – in fact, the best Chinese I have had was when we went to visit family in Toronto.  Other than that, there has not been any place that really stuck out to me here in Rochester or anywhere, really.  This is why I am more prompted to make Chinese food at home and I do this every so often.  This was one of the best meals I have made when you consider how small the cost is for the ingredients.  It tastes so fresh and the flavors are excellent.  It is definitely as good, if not better, than many Chinese restaurant dishes.  I will be making this chow mein often.
If these particular Yaki-Soba noodles used in this recipe aren't available at your local grocery store (I shop at the smallest store ever and I actually still found them there), Italian pastas such as fettucini or linguini make a handy substitute.  Also, Ramen noodles can work in a pinch (without the flavor packet).
Oh, and if you are fond of Chinese food, here are some more of my favorites: Chinese Fried Rice and Chinese Chicken Salad.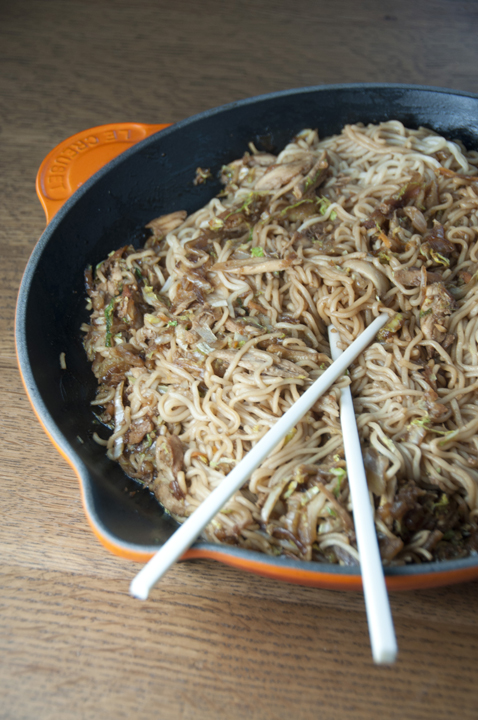 Panda Express Chicken Chow Mein
Prep time:
Cook time:
Total time:
Panda Express copy cat recipe for chicken chow mein noodles for easy Chinese food at home.
Ingredients
¼ cup soy sauce
3 cloves garlic, minced
1 tablespoon brown sugar
2 teaspoons freshly grated ginger
¼ teaspoon pepper (white or black)
2 (5.6-ounce) packages refrigerated Yaki-Soba, seasoning sauce packets discarded (found in the produce section of the grocery store)
8 ounces cooked boneless chicken breasts, sliced thin
3 tablespoons olive oil
1 medium yellow or white onion, sliced thin
3 stalks celery, chopped diagonally
2 cups shredded cabbage
Instructions
In a small bowl, whisk together soy sauce, garlic, brown sugar, ginger and pepper; set aside.
In a large pot of boiling water, add Yaki-Soba until loosened, about 1-2 minutes; drain well.
Heat olive oil in a large skillet or wok over medium-high heat. Add onion and celery, and saute, stirring often, until soft and transparent, about 3-4 minutes. Stir in cabbage and cooked chicken and saute until heated through, about 3 minutes.
Stir in Yaki-Soba and soy sauce mixture and toss until well combined and the noodles are heated through, about 2 minutes.
Serve immediately.
 Recipe source:  adapted from favfamilyrecipes.com