Best of Summer Grilling Recipes
Turn off the oven and check out these Best of Summer Grilling Recipes!  This post is jam packed with a variety of delicious grilled dinners, sides, drinks, and even dessert!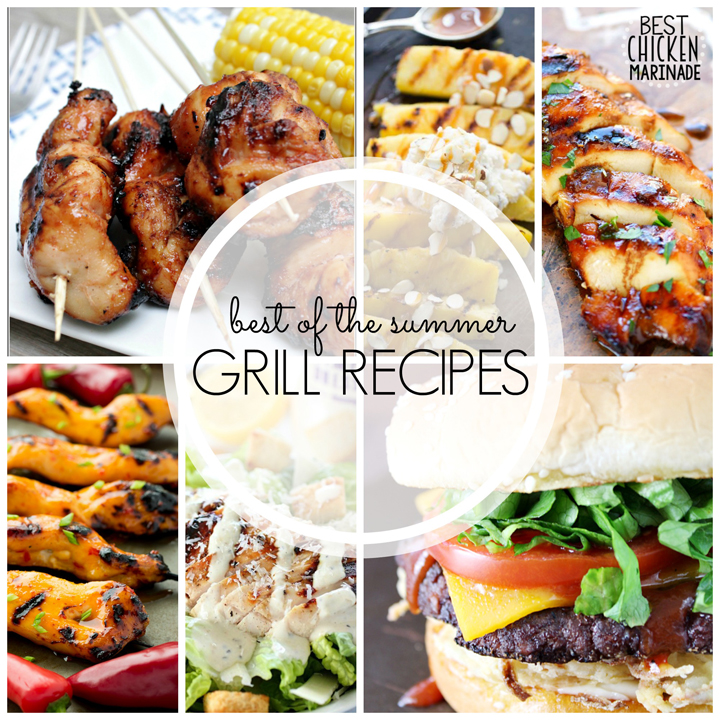 I loathe turning my oven on when it's smack dab in the middle of summer, but being a food blogger doesn't always give me the choice.  I have my oven AND stove top currently cooking stuff up as we speak – it's almost 90 degrees.  Oh, central air, how I love you for saving the day….even though I make you work 10 times harder than you should ever have to.
I'm so glad you're here! Follow along on Pinterest for more inspiration! 
As we approach the end of July I can't help but, 1. Cry because I see the end of summer in sight, and 2. Go into panic mode because I feel like I haven't done all that I wanted to do yet this summer.  One of those things I need to do more of in this last stretch of summer is GRILL.  I might just have to go down this list and make every. single. one. of these  Summer Grilling Recipes.  I hope after looking through these amazing ideas that you feel the same way.  Get out there and grill!
Copycat Red Robin Whiskey River BBQ Burger
Spicy Black Bean Hawaiian BBQ Burgers
Carolina Mustard Barbecue Sauce
Grilled Shrimp and Scallop Kabobs
Homemade Sweet Chili Grilled Chicken
Grilled Pesto Chicken and Tomato Kabobs
Grilled Pork Tenderloin with Avocado-Peach Salsa
Pin thses Summer Grilling Recipes for future reference when you need recipe ideas!