Banana Pudding Pancakes
Banana Pudding Pancakes are flavorful enough you don't even need the syrup! They are a quick and easy breakfast or brunch recipe you will love!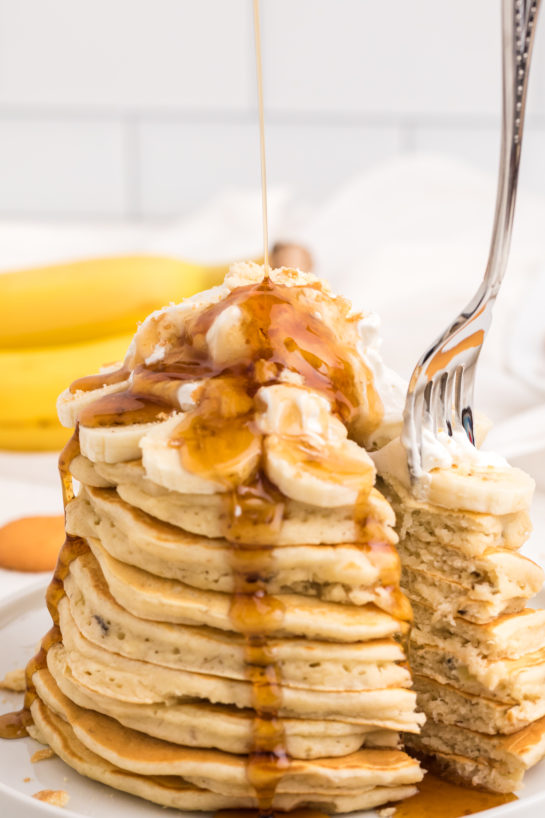 Totally serving you breakfast today. Oh, and happy belated New Year! Thank goodness 2021 is finally here! Whether you are still working from home or heading into the office, these banana pudding pancakes are an amazing breakfast you can make quickly. Woohoo!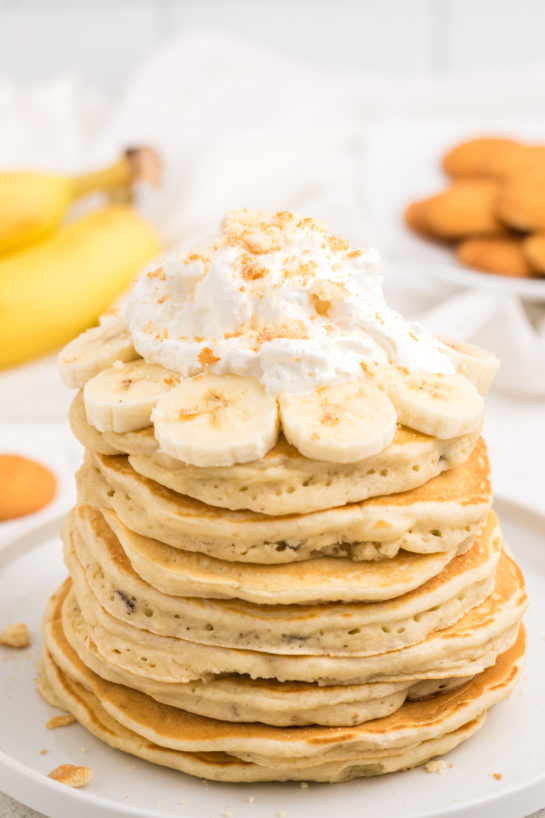 THESE PANCAKES. Oh my gosh. They are SO good. I love all of my pancake recipes, but this one is gold.
I am in love with these Banana Pudding Pancakes. In freaking love. It was totally unexpected and almost unsuccessful while experimenting with these pancakes as was with my Peanut Butter Pancakes, but I fell in love quickly. No better way to lead us into the new year, right?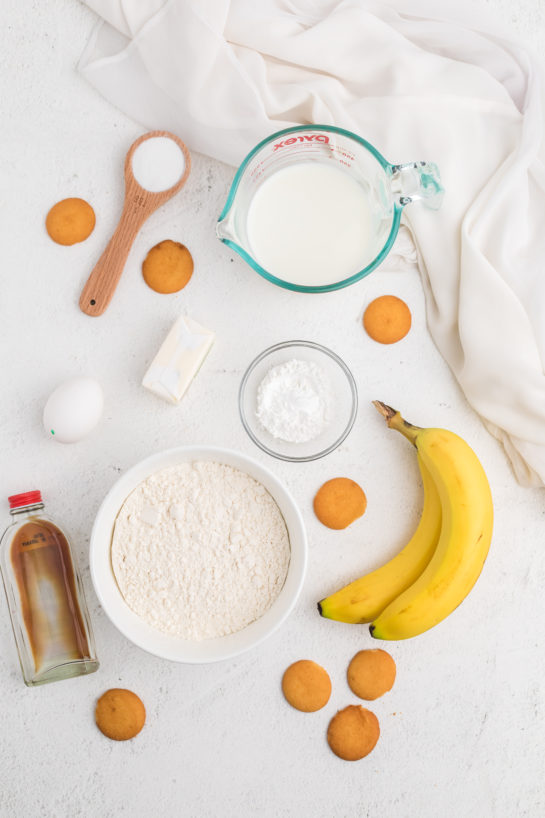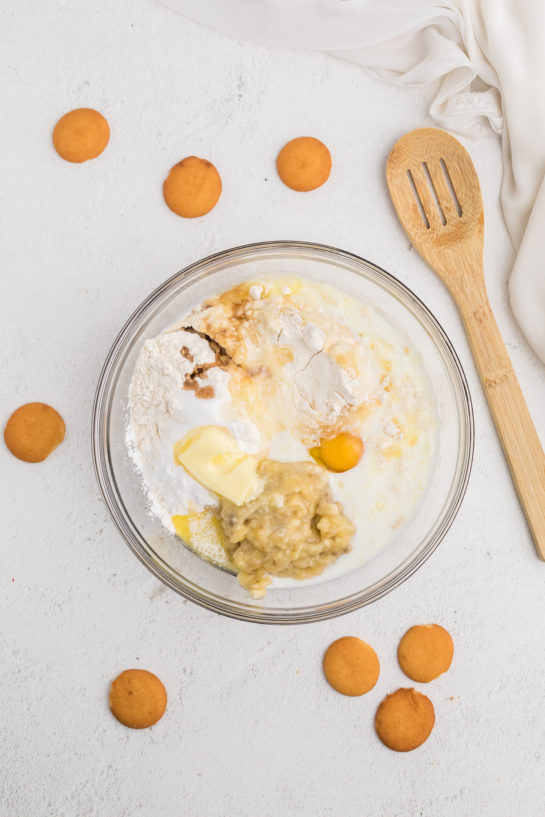 Pancakes are just one of those breakfast foods that put me straight up immediately into a major carb coma. I'm always making my like these Cinnamon Swirl Pumpkin Pancakes. It's hard to remember the good ol' days when I was actually young and I could eat a giant stack of pancakes loaded with syrup for breakfast without wanting to crawl back into bed an hour later and pass out for two hours.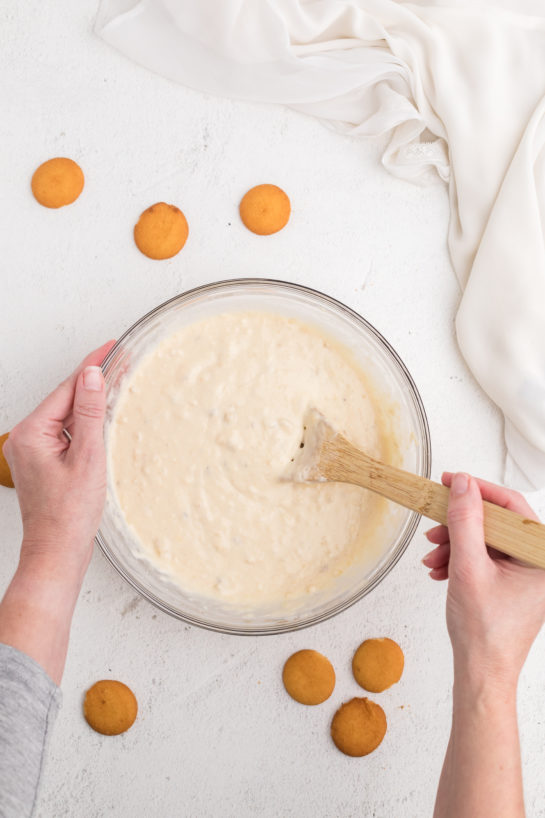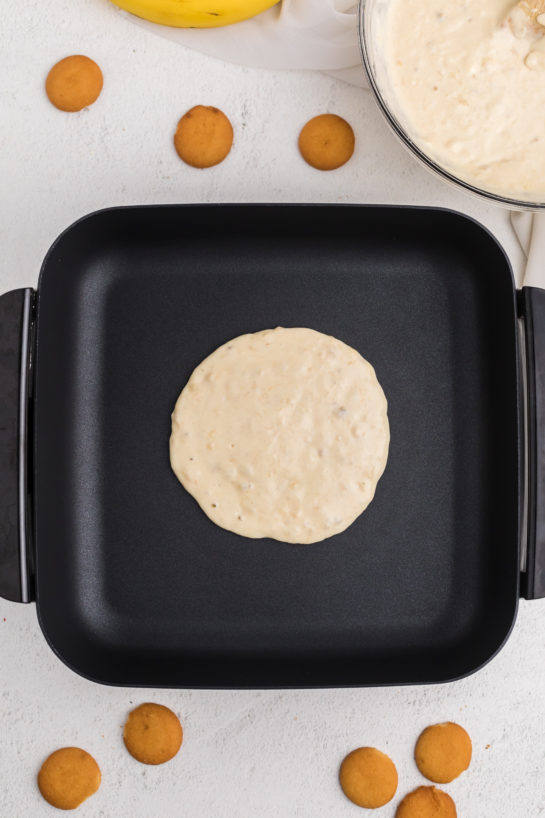 MY YOUTH…the glory days. Now that I'm old and "mature", I add a side of eggs to my sugar-loaded pancake breakfast.
Adding banana pudding to banana flavored pancakes is kind of awesome. Fantastic idea, if I do say so myself. It's like breakfast dessert.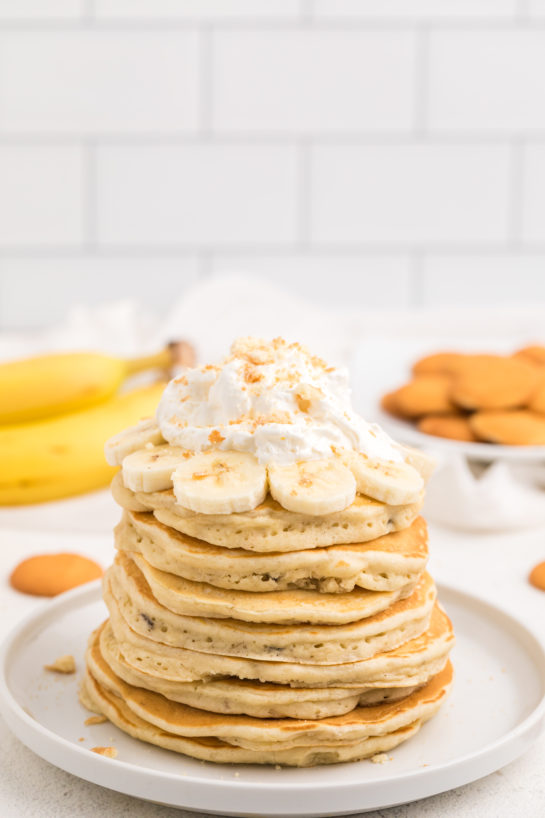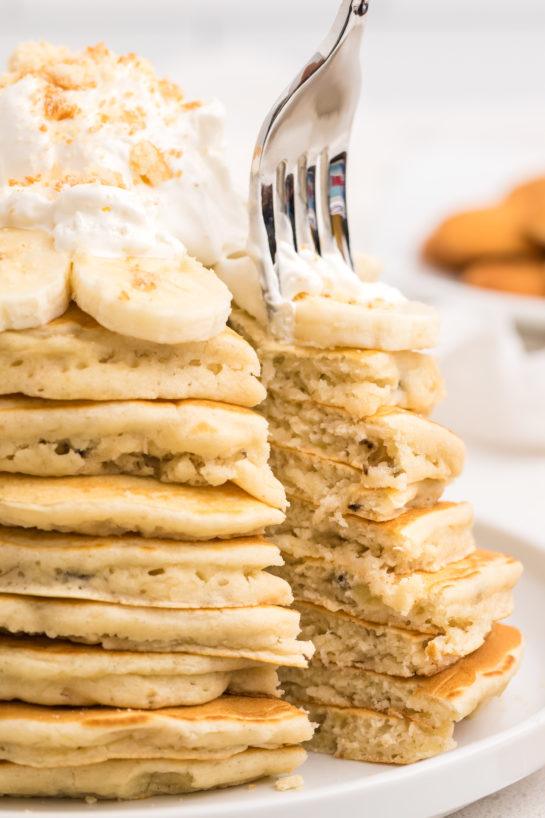 These banana pudding pancakes are such a total throwback recipe for me. My mom made pancakes for us ALL THE TIME! Ok, wait, not all the time. My adult brain remembers eating them all the time but it probably wasn't that often in actuality. But I loved them so much and was always just so giddy when she would make them.
Put these banana pudding pancakes on your agenda for this week or weekend's breakfast, brunch and brinner (I hate that word) immediately. You can take down an entire plate of these and go to the couch for the rest of the day and I'll see ya tomorrow!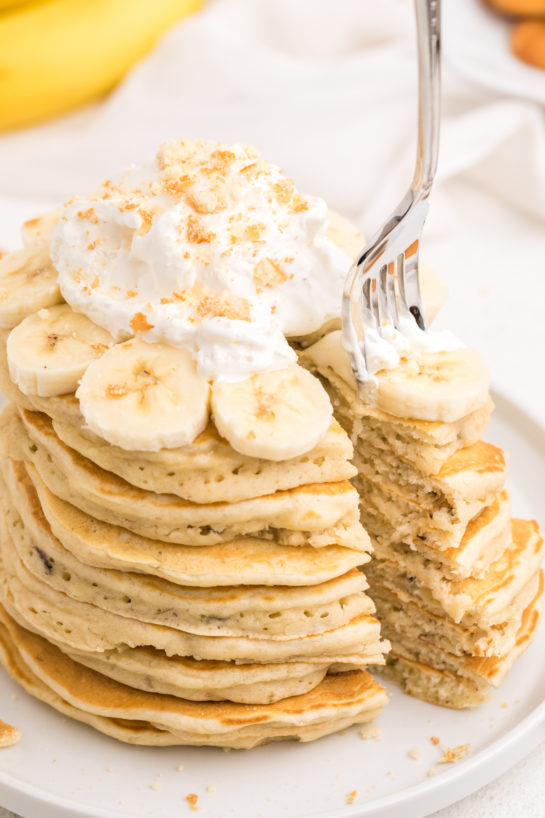 If you're looking for more sweet breakfast recipes for you to love these easy breakfast recipes:
Crock Pot Cinnamon Bun French Toast
Banana and Nutella Stuffed French Toast

Banana Pudding Pancakes
Prep time:
Cook time:
Total time:
Banana Pudding Pancakes are flavorful enough you don't even need the syrup! They are a quick and easy breakfast recipe you will love!
Ingredients
1⅓ cups all purpose flour
3½ tsp baking powder
1 tbsp white sugar
3 tbsp salted butter (melted)
1¼ cups milk
1 egg
1 tsp vanilla
2 ripe bananas (mashed)
Optional toppings: vanilla pudding OR syrup and crushed vanilla wafers
Instructions
Preheat a griddle to medium/high heat, or 375 degrees Fahrenheit.
Add all of the ingredients to a large mixing bowl and mix until combined.
Add ½ cup of pancake batter to the preheated griddle. Allow the batter to spread and cook, the edges will start to dry and that's the best time to check and then flip. Typically about 1-2 minutes.
Carefully flip the pancake and cook for an additional 2-3 minutes.
Stack the cooked pancakes on a plate. Add whipped cream topping, banana slices, and crumbled wafers.
Top with maple syrup or freshly cooked and heated vanilla pudding.