Cinnamon Swirl Pumpkin Pancakes
Cinnamon Swirl Pumpkin Pancakes
I hope everyone had a wonderful Christmas!
The snow elf decided to show up a few days late here in upstate NY, just robbing us of a white Christmas!  We did get a measly dusting on Christmas Eve that melted but ten minutes later when the sun came out.  There's always next year!
As I get older and older, I've become less of a snow fan, but I do love snow for Christmas.  I lovewhite Christmases. They are so traditional and so romantic.  As a child I remember mounds of snow and going outside to play in it or go sledding.  I couldn't wait to get outside in it.  I wonder what it would be like to spend Christmas in the Caribbean or Hawaii?  White sand might work. Something to think about…
Here is the perfect breakfast to make for your family on the weekend or a day off from school.  Mr. Wishes and I agreed on something (yes, you heard me right!) – we agreed that these were the best pancakes we ever had..and they don't even need maple syrup!  But of course, maple syrup makes everything better, right?  The cinnamon swirl addition is an easy way to fancy up even your favorite pancake recipe and tastes awesome.

MY LATEST VIDEOS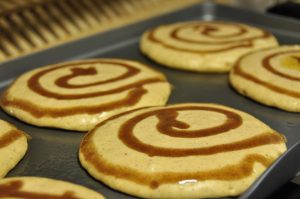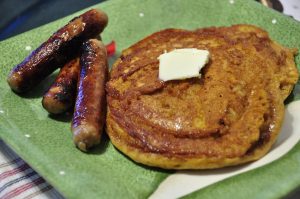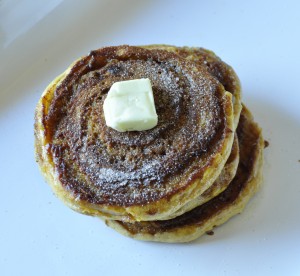 INGREDIENTS:  
2 cups flour
2 cups whole milk
3 tablespoon buttermilk powder* (read below)
2 tablespoon baking powder
1 tablespoon baking soda
1/2 teaspoon salt
3/4 cup of pumpkin puree
1/2 teaspoon cinnamon
1/2 teaspoon nutmeg
1/2 teaspoon ginger
1/4 teaspoon allspice
1/2 teaspoon vanilla
1/2 teaspoon apple cider vinegar
3 tablespoon dark brown sugar
*Buttermilk powder can be found in (most) grocery stores, either in the baking aisle with the powdered and canned milk products or in the organic section.  It can be  used as a buttermilk substitute when water is added. Here it gives the  pancake that nice buttermilk tang by just adding the powder.  It is optional in this recipe and they will turn out just fine without!
For the Swirl:
6 tablespoon butter
1/2 cup brown sugar
1 tablespoon cinnamon<
PREPARATION: 
To make the swirl, microwave butter, brown sugar and cinnamon for about 40-50 seconds until just melted.
Whisk and place into a zip lock bag… let it cool just enough so it's piping consistency.
In a medium mixing bowl whisk milk, pumpkin, vinegar, vanilla and brown sugar together.
In a separate bowl sift flour, baking soda, baking powder, and spices. Whisk into wet ingredients.
On a hot oiled griddle or non-stick frying  pan scoop batter (you pick your pancake size).
Snip the tip off your zip lock bag and pipe a swirl on top of your pancake as its cooking (picture shown above).
As the pancake bubbles around the edges its time to flip it.
When your pancake is done… remove it from the pan carefully so as not to lose your cinnamon swirl. You can always flip it out  to avoid scraping your swirl off…
Enjoy it topped with butter and maple syrup, if you'd like.  I did a cinnamon sugar dusting over buttered pancakes.
EXCELLENT!
Enjoy!