Old-Fashioned Peanut Butter Pancakes + BIG ANNOUNCEMENT!
This Old-Fashioned Peanut Butter Pancake recipe is surprisingly light and fluffy, and smothered in a warm, melted peanut butter sauce!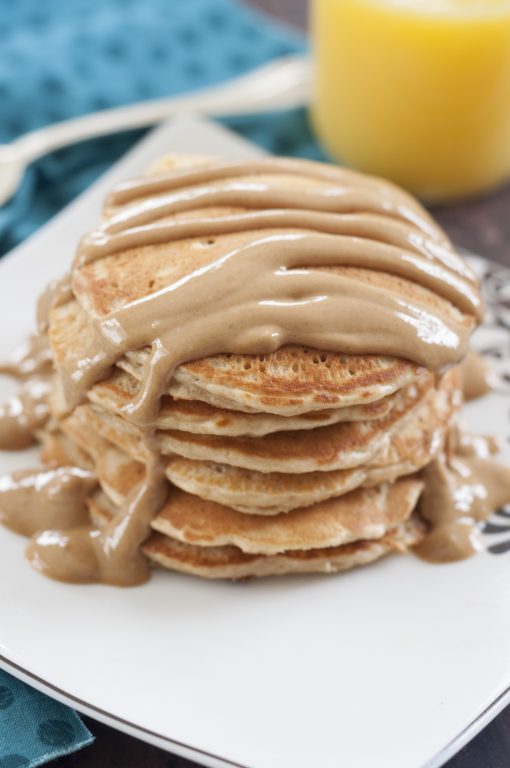 Happy 2018! Before we talk about these Old-Fashioned Peanut Butter Pancakes I have something else to talk about. So maybe…just MAYBE…I can keep a secret. I must say I'm SO glad this particular secret is out. We're having our first baby!
Waiting this long to tell you guys was excruciating. The most excruciating part was waiting 7 weeks to tell a single soul our good news. Mr. Wishes and I kept it to ourselves (and our doctors, of course) until I was almost 11 weeks along. I am now sitting pretty (pretty fat) at 17 weeks!
The pregnancy seemed to being going by at a snail's face for those first 7 weeks after I found out I was pregnant. I was super anxious, worried something would go wrong, and it was actually pretty exhausting hiding it from our family.
I guess the fear of the unknown gets the best of me at times since this is my first pregnancy. I can't even begin to tell you all of the white lies I had to tell family and friends to cover up for various things! Needless to say, our parents, siblings, and friends couldn't be more excited for us and telling them the good news was honestly one of my favorite days ever.
The memories of their reactions will stay with me for a lifetime! It's a good thing we have it all on video! I think after almost 9 years of marriage our parents had pretty much given up on the idea of getting any grandkids from us. Well, surprise!
We find out the gender of the baby in late January. I thought I would be more anxious to find out what we're having, but I'm actually just enjoying this time of not knowing. I'm trying not to rush this pregnancy and enjoy the different "steps" in the process. Miraculously, I haven't felt sick even a single day of this pregnancy and I am so grateful for that.
I have rarely even had any symptoms at all, which at times has been nerve-wrecking in itself. My doctor said just to count my blessing and it's normal for some women not to feel much different. She said my time will come to start to feel the baby and really feel pregnant. I'm enjoying this time of feeling great while I can!
My husband's favorite meal is breakfast. I wish I loved breakfast as much as he does because life would be a whole lot easier (and he would get his beloved breakfast made for him more often). The thought of food in the morning, let alone eggs and meat, honestly makes me a little nauseous. I can do a bagel and cream cheese or a bowl of cereal just fine, but that's about it. I can also do anything sweet, like these Cinnamon Swirl Pumpkin Pancakes.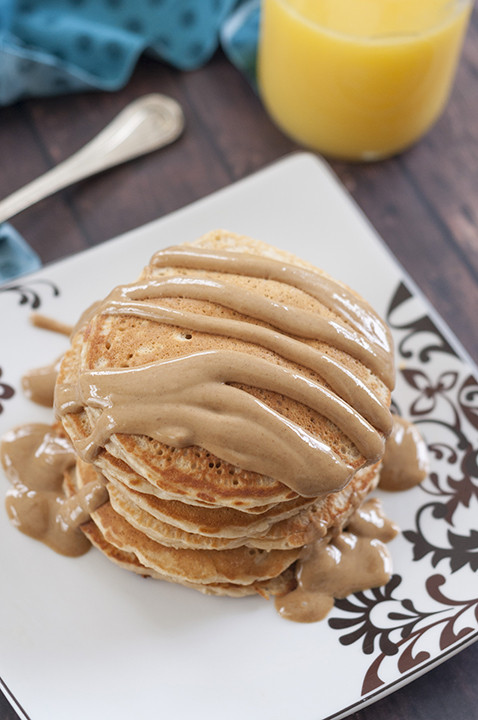 These Old-Fashioned Peanut Butter Pancakes are great for a quick weekend breakfast or even a weekday breakfast if you're an over-achiever who gets up early enough to make breakfast for your family. As for me, I am thoroughly enjoying my mornings of sleeping in while I still can! Happy New Year and enjoy these pancakes!
Crock Pot Cinnamon Bun French Toast
Banana and Nutella Stuffed French Toast
Be sure to watch my step-by-step video with tips on how to make these Old-Fashioned Peanut Butter Pancakes!
Old-Fashioned Peanut Butter Pancakes
Prep time:
Cook time:
Total time:
This Old-Fashioned Peanut Butter Pancake recipe is surprisingly light and fluffy, and smothered in a warm, melted peanut butter sauce!
Ingredients
1 cup pancake mix
2 tablespoons sugar
1 egg
⅓ cup creamy peanut butter
1 can (5 ounces) evaporated milk
⅓ cup water
Peanut Butter Sauce:
½ cup creamy peanut butter
Maple syrup, optional
Instructions
In a medium mixing bowl, combine pancake mix and sugar.
In a small mixing bowl, beat egg and peanut butter; add milk and water.
Stir this into dry ingredients just until moistened.
Pour batter by ¼ cupfuls onto a lightly greased medium-hot griddle. Turn when bubbles form on top of pancakes; cook until second side is golden brown.
Repeat with remaining batter.
Peanut Butter Sauce:
In a small bowl, microwave the ½ cup creamy peanut butter for 20 seconds, and stir until smooth and melted. Pour over warm pancakes. Pour maple syrup over all, if using.
Serve each pancake with a tablespoon of peanut butter on top, and maple syrup, if desired!