New Year's Eve Champagne Cupcakes
Celebration Champagne Cupcakes recipe is perfect for birthdays, Mother's Day brunch or a New Year's Eve dessert! They are jazzed up with gold sprinkles to add some glam!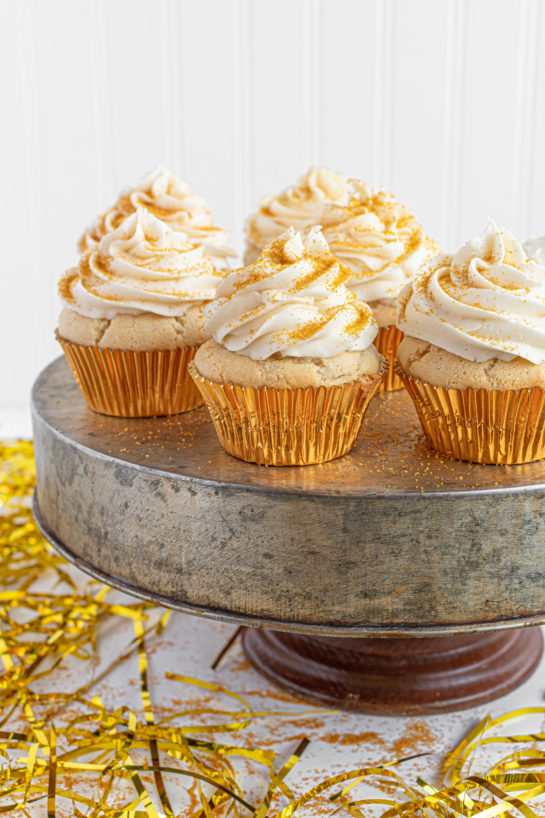 Look how pretty things are looking today on Wishes and Dishes with these Champagne Cupcakes! You seriously have no idea how many exclamation points I want to use right now.
I love to drink champagne for special occasions (hello, Champagne Party Punch and Holiday Mimosas), so I figured, why not bake with it? Champagne Cupcakes will be your new favorite dessert to celebrate with. Cheers to new cupcake recipes, my friends!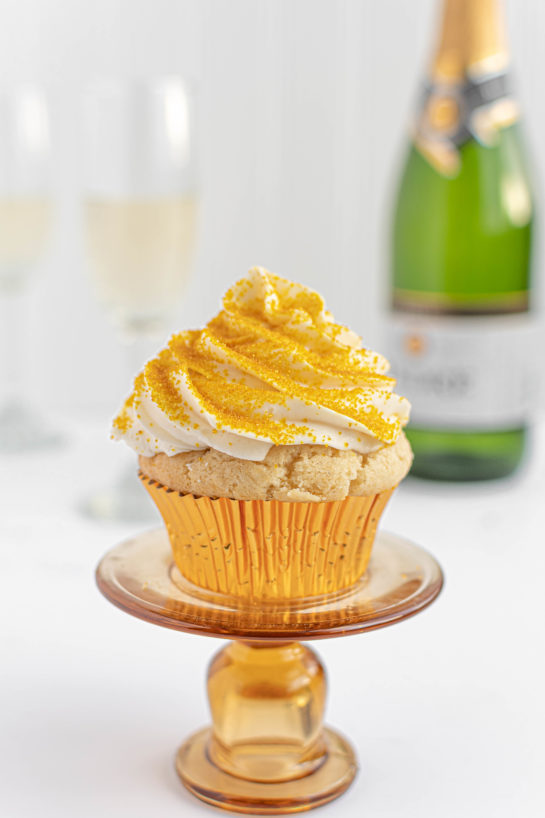 They are fresh and fun and delicious and absolutely beautiful. All the boxes are most definitely checked.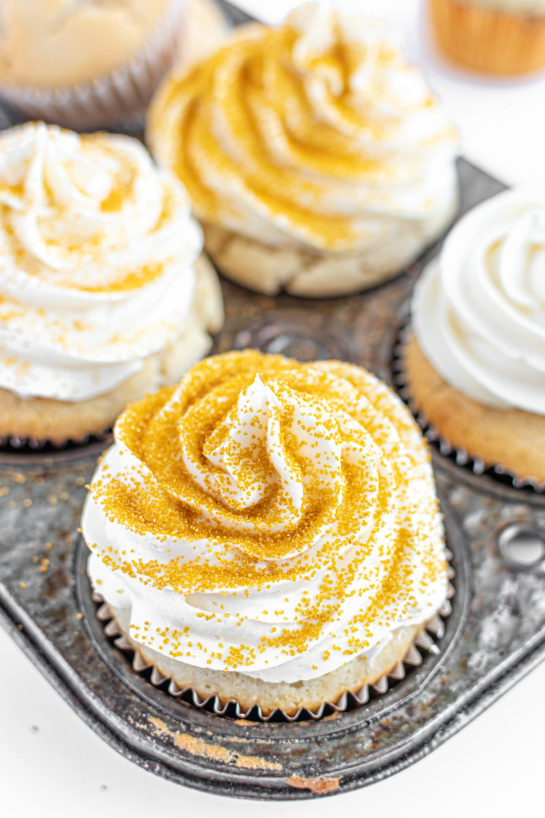 Congratulations on making it through one heck of a year that we've all had. Nothing helps us celebrate a new year quite like champagne does, right? Give me all. the. champagne.
I recommend you use your favorite Champagne for this recipe. You want to use something that you like to drink because the flavors will then be ideal.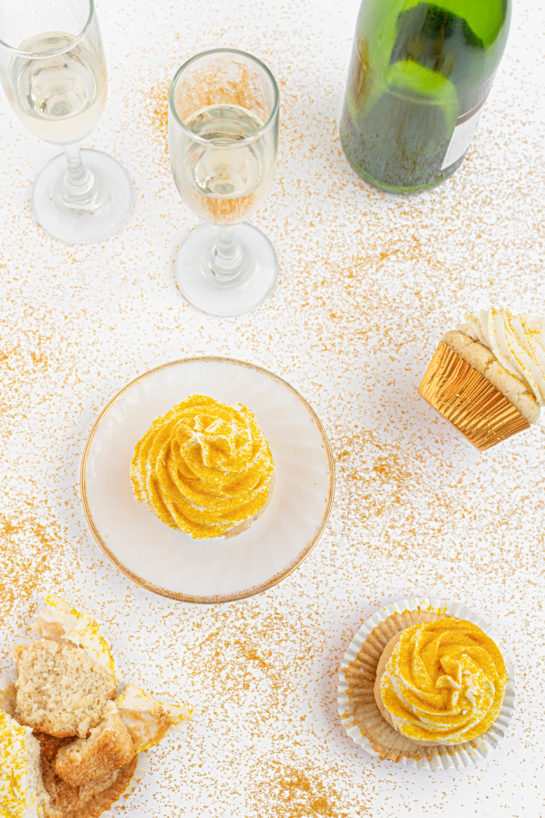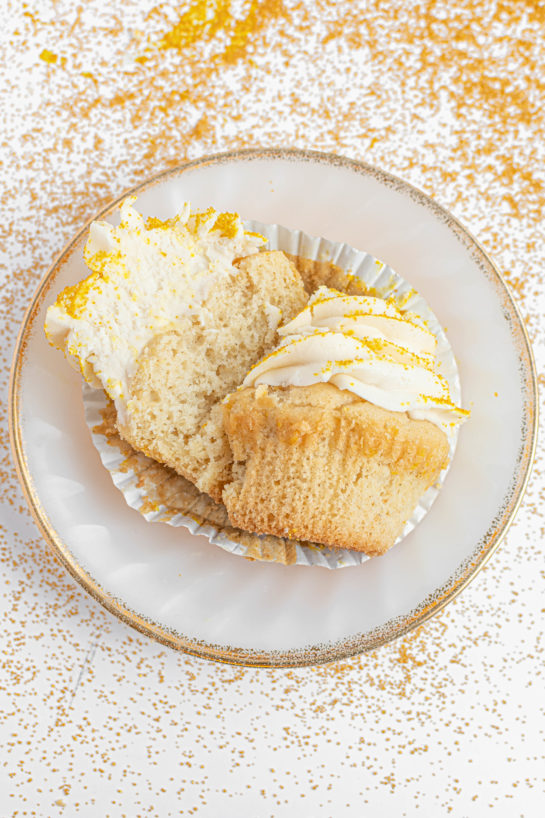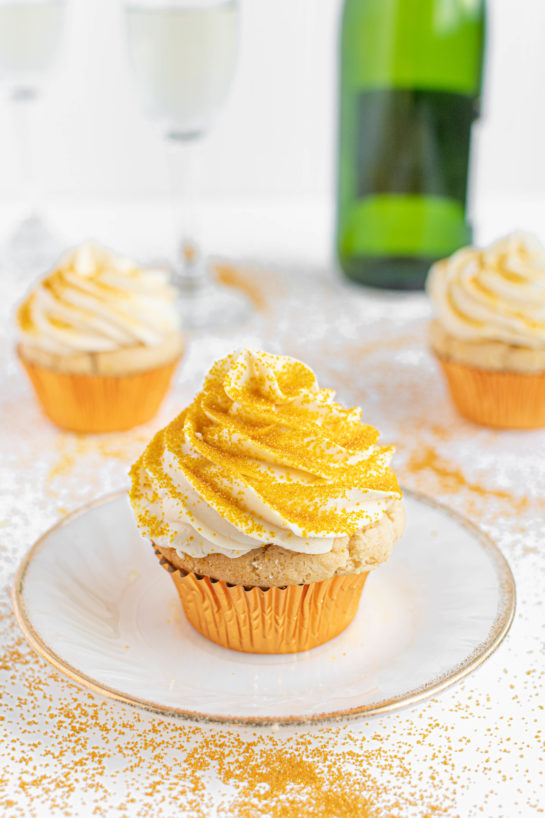 A little splash of the bubbly not only makes the flavor of these champagne cupcakes really pop, it also brightens the overall texture as well. You will be surprised how much difference the bubbly makes.
Some of the best advice I ever heard for baking with alcohol is to always cook or bake with a wine or champagne that you like to drink. This makes sense, right? It worked wonders in my Strawberry Lime Margarita Cupcakes recipe. Since these cupcakes have the Champagne reduction, it really amplifies the flavors of these champagne cupcakes.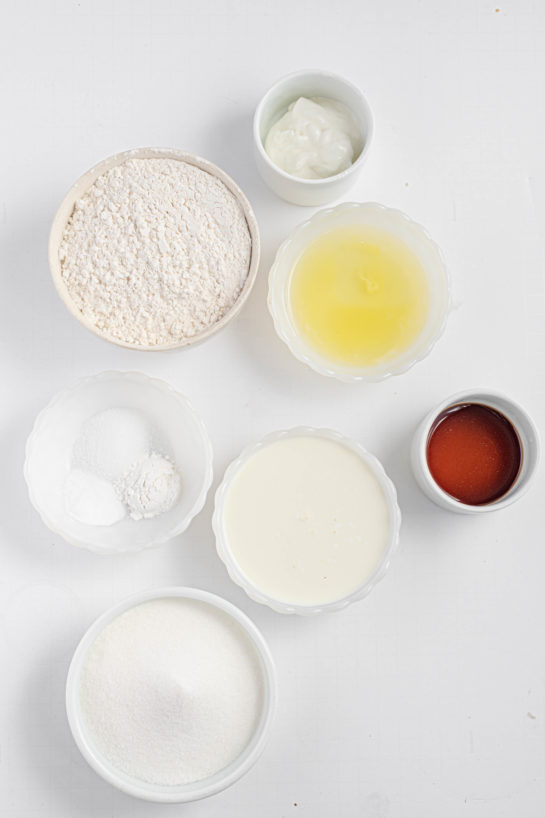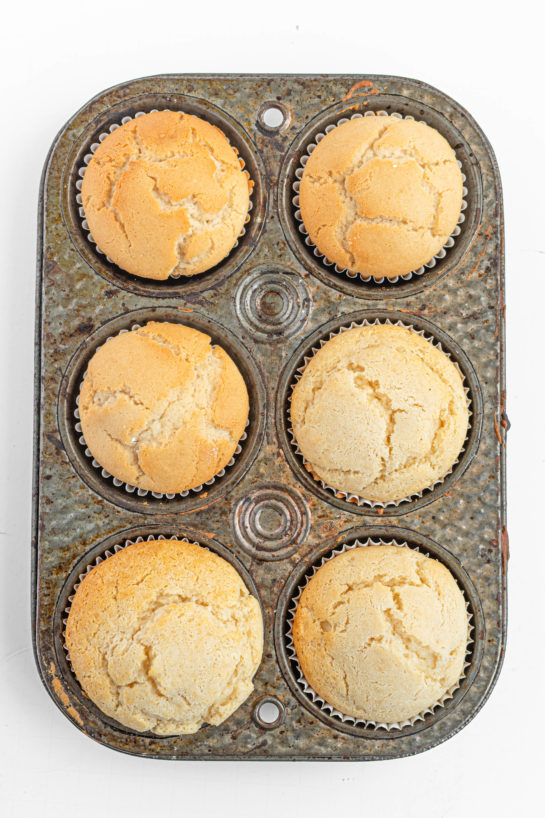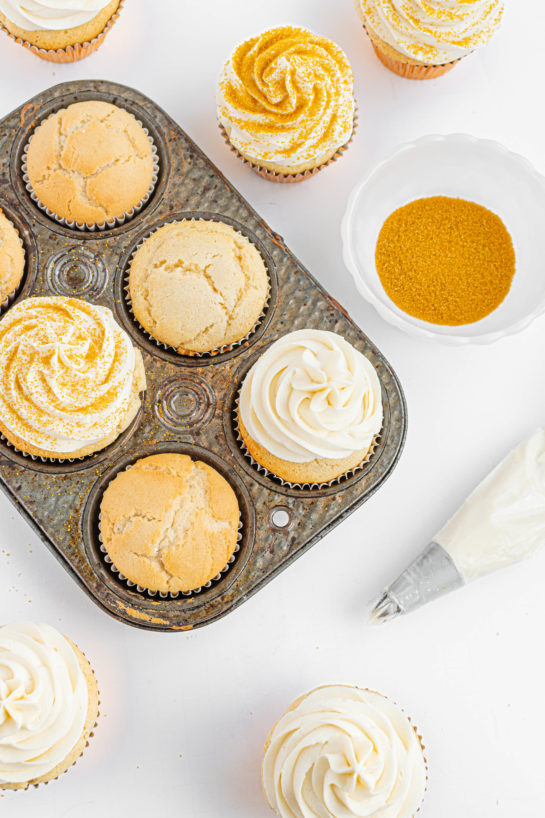 A sweeter champagne will result in sweeter cupcakes, etc. You can do whatever you want with these! If you want to make these completely non-alcoholic, you can even use sparkling cider. I definitely prefer a sweeter champagne for baking with, but a semi-dry or dry champagne for sipping. Either way, you won't be able to stop eating these cupcakes.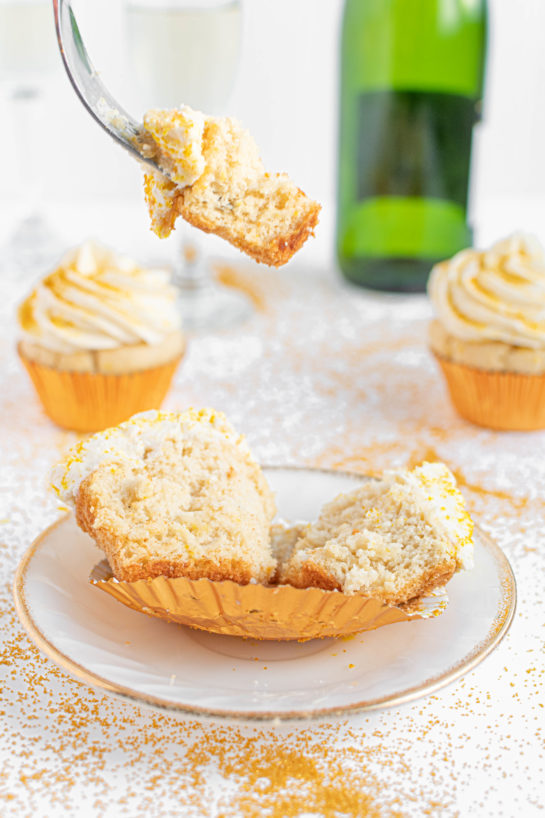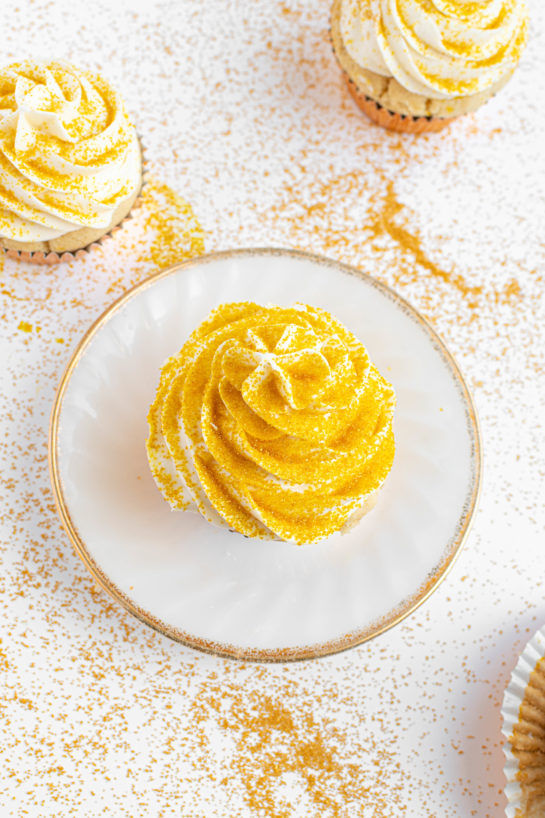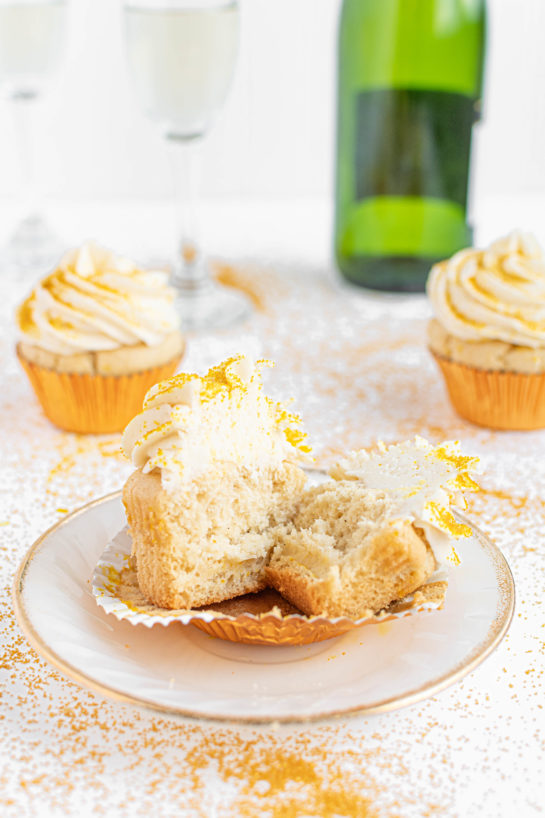 The buttercream frosting on these champagne cupcakes is light with an extremely subtle sweetness, similar to my Buttercream Frosting recipe. It gives these cupcakes a very elegant finish. They are topped with a creamy, delicious champagne buttercream, and some gold sprinkles to make them extra festive and special!
The buttercream frosting is so super rich and decadent that it complements the cupcakes in the best way possible.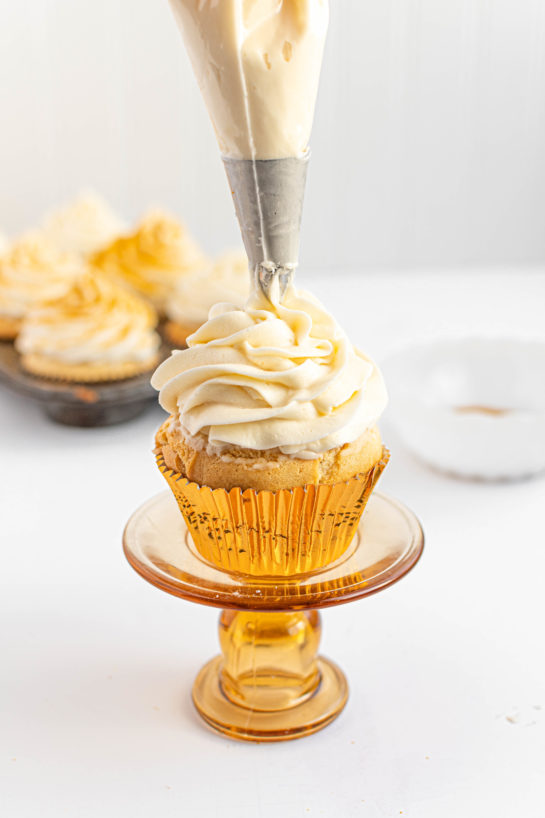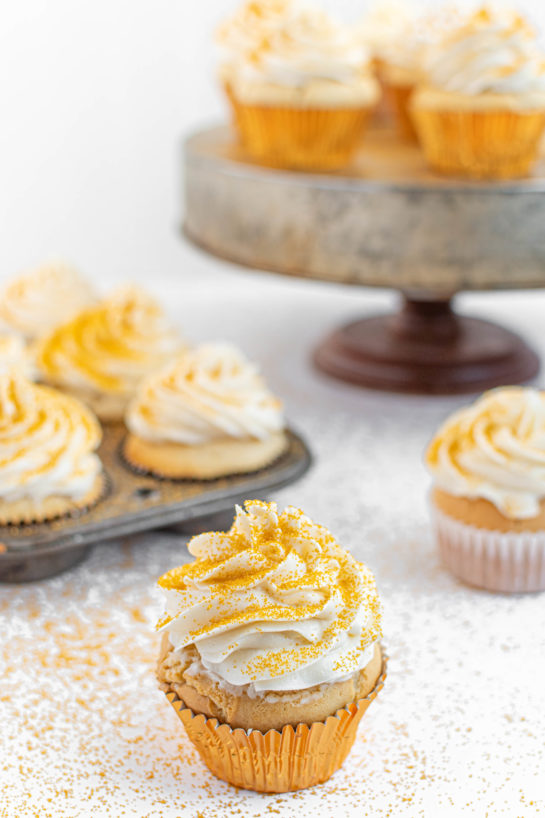 The sprinkles are a MUST on these cupcakes. You have to add some glam wherever you can in life, especially in this garbage dump of a year.
I can't say I'm sad to say goodbye to this year, but more like "good riddance". If you have some leftover champagne, feel free to pour yourself a glass to enjoy while you bake these up.
Let's hope for great things in 2021! Happy New Year!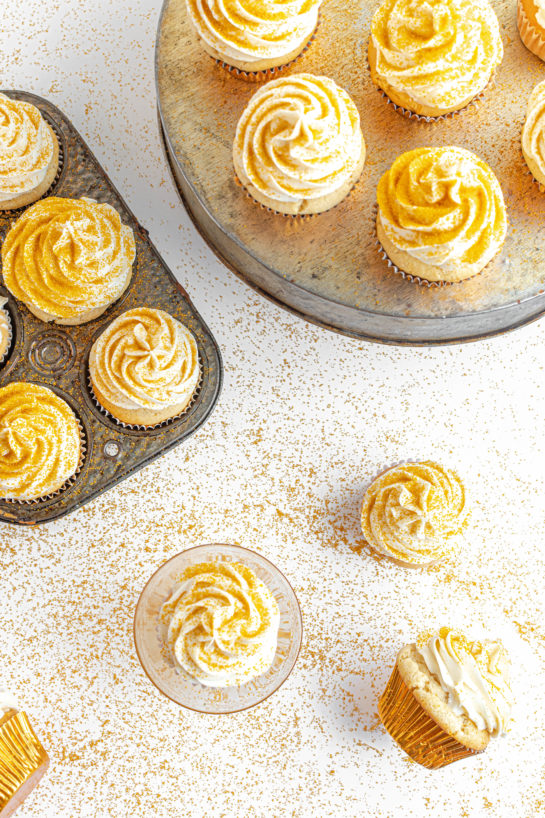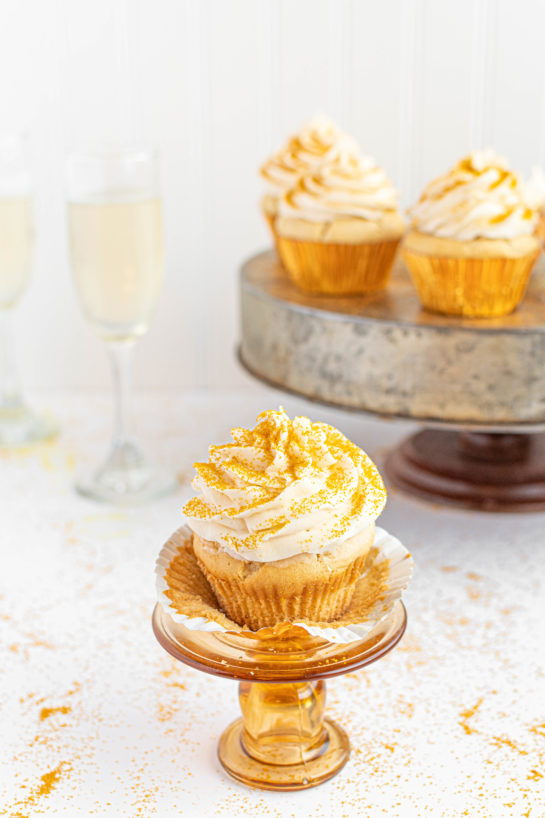 Champagne cupcakes are my new favorite way to welcome the New Year into this life.

Champagne Cupcakes
Prep time:
Cook time:
Total time:
Celebration Champagne Cupcakes recipe is perfect for birthdays, brunch or a New Year's Eve dessert!
Ingredients
2 c flour, spooned and leveled (can use gluten-free flour: Bob's Red Mill, Cup4Cup, King Arthur, etc.)
1 ½ tsp baking powder
½ tsp baking soda
1 tsp salt
2 egg whites
1 c sugar
1 c buttermilk
¼ c sour cream
2 tsp vanilla
¼ tsp almond extract
Frosting:
½ c salted butter (1 stick), softened to room temperature
3 c powdered sugar
⅓ c champagne of your choice
3-5 Tbsp heavy cream
1 tsp vanilla
sprinkles (optional)
Instructions
Cupcakes:
Preheat the oven to 350 F.
Place cupcake liners in a cupcake pan and set aside.
In a medium sized mixing bowl, combine the flour, baking powder, baking soda and salt.
In a large bowl, whisk together the egg whites, sugar, buttermilk, sour cream, vanilla and almond extract.
Combine the dry ingredients into the wet ingredients and whisk just until they are incorporated, do not overmix!
Fill cupcake liners about ¾ full. Place the pan into the oven and bake for 16-18 minutes or until a toothpick inserted comes out clean or with moist crumbs. Allow the cupcakes to cool.
Make the frosting.
Once the frosting is made, fill a piping bag fitted with the piping tip of your choice and pipe frosting on top of the cupcakes. Sprinkle with gold sprinkles. Serve and enjoy!
Frosting:
In the bowl of a stand mixer, using the whisk or paddle attachment, whip the butter, powdered sugar, champagne and 3 Tbs of heavy cream until smooth.
Add in the vanilla and whip again. If the frosting is too stiff or too thick, add in another 1-2 Tbs of heavy cream.
Enjoy!