Banana and Nutella Stuffed French Toast
I'm taking a little break from the hot Miami sun to tell you about a little something I made for "brinner" last week.  It's a little something I like to call Banana and Nutella Stuffed French Toast.
 "What the heck is brinner?", perhaps you may be wondering.  It is breakfast food for dinner and it's a fun thing to do once in a while.  Who doesn't love a good breakfast for dinner?  Nobody, that's who.  Why else would Denny's and IHOP still be in business if people merely wanted to eat dinner just at dinnertime?!
 You can also, of course, have this at normal breakfast time…or even lunch.  Whatever your little heart desires!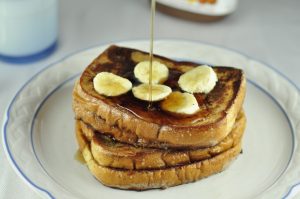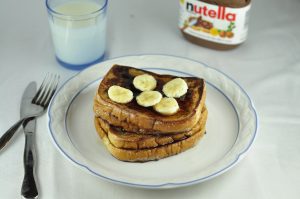 INGREDIENTS:
8 1-inch thick slices bread (I used 2 regular slices of white bread for each, this worked fine)
¼ cup Nutella spread
2 bananas, sliced, plus additional for serving
¾ cup heavy cream
4 eggs, lightly beaten
2 teaspoons cinnamon
1 Tablespoon sugar
Butter, for frying
Maple syrup, for serving
DIRECTIONS:
Using a sharp knife, cut a pocket inside each slice of bread, unless you are using 2 seperate slices.
Spread a portion of the Nutella inside each pocket and then layer in the sliced bananas.
Pre-heat a large skillet over medium heat and add enough butter to liberally coat the bottom of the pan.  Make sure the pan is hot, but not smoking.
Whisk together the heavy cream, eggs, cinnamon and sugar in a medium bowl, and then dip each filled bread pocket into the mixture ensuring the bread is fully soaked on all sides. Repeat with the remaining filled bread pockets.
In batches, fry the soaked slices of bread until the egg mixture is fully cooked, about 3 minutes per side.  Make sure to watch that they don't burn.
Top the French toast with additional banana slices and serve warm with a drizzle of maple syrup.
Recipe source: adapted from justataste.com