This is the easier and by far one of my FAVORITE dinners I've made so far this entire year.  Maybe I have the taste buds of a kid, but I promise there's no way you won't like this, children and adults alike :)  It came out fantastically delicious.
Quick (ready in about 20 minutes!), easy, and tastes a million times better that the box stuff.  What more could you ask for?  Homemade versions of hamburger helper are so much better than the boxed version. And really they do not take any longer to make.
The real beauty of this meal is that it is also quite inexpensive to make – it uses mostly ingredients that you probably already have on hand, with maybe the exception of the hamburger to "help" bring the meal together .  Also,  it's made in ONE skillet!  You know what that means – clean up is quick and painless!  Obviously you can see that I can't say enough good things about this meal.  Just go ahead and make it already…
By the way, I think it tasted even better (if that were possible) as a leftover the next day!  Enjoy your week!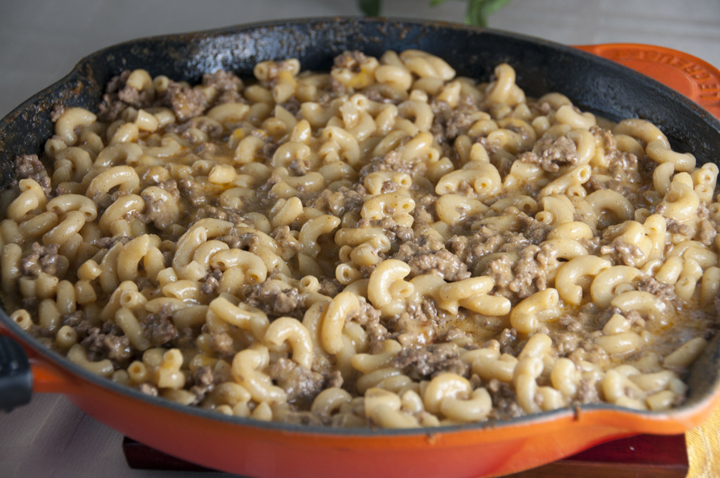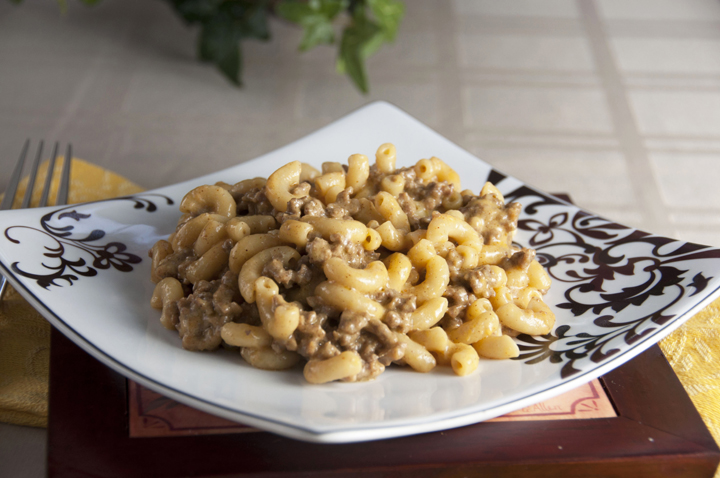 INGREDIENTS:
1 lb ground beef
cooking spray
2 1/2 cups milk
1 1/2 cups hot water
2 cups elbow macaroni
1 tablespoon cornstarch
1 tablespoon chili powder
2 teaspoons garlic powder
1 teaspoon sugar
1 teaspoon salt
3/4 teaspoon paprika
1/4 teaspoon cayenne pepper
pinch crushed red pepper flakes
2 cups shredded cheddar cheese
DIRECTIONS:
Heat a large skillet over medium-high heat. Spray with cooking spray and add the ground beef. Brown until cooked through and no longer pink. Discard any fat. Add the pasta, milk, water and spices and stir to combine. Bring to a boil and turn the heat down to simmer. Cover and cook for 10-12 minutes, or until the pasta is al dente. Add the cheese and stir to combine. Serve immediately!
Recipe source:  adapted from farmgirlgourmet.com
- Craving more?
Sign up for the Wishes & Dishes Newsletter
for a fresh serving of content delivered every week to your inbox! And stay in touch on
Facebook
,
Twitter
,
Pinterest
and
Instagram
for all of the latest updates!