My Favorite Chicken Pot Pie
My Favorite Chicken Pot Pie will soon become your favorite, as well.  Pure, delicious comfort food that is exactly what pot pie should taste like!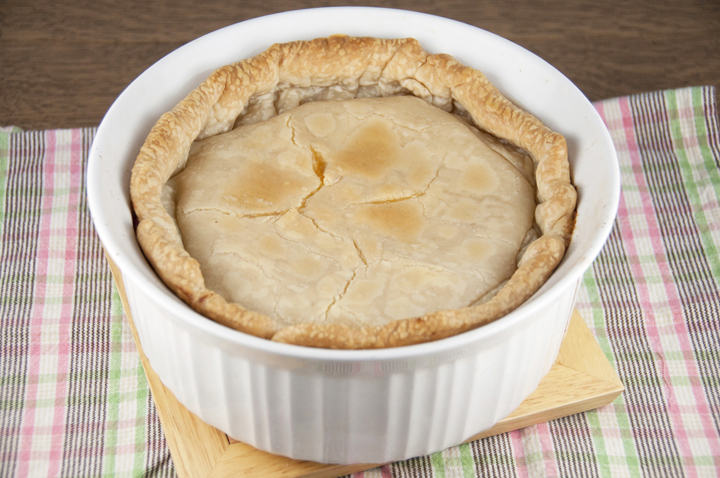 I can't even believe I have never shared this recipe with you all.  We love a good old-fashioned comfort meal during these brutally cold months and this definitely fits the bill.  This is one of our all-time favorite Sunday dinners and one that I love to make for guests or to bring to people who have had a new baby or are recovering from surgery.  It freezes well, so it's great for that!  In fact, there was a period of time where I made this so many times that my hubby actually had to ask for a breather from it for a while.  We like variety in our house and we rarely, sometimes much to Mr. Wishes' dismay, eat the same meal twice.  I have to REALLY love something to make it repeatedly.  Not that you care, but in case you do, I will tell you the five dinners I make the most at home (not all of them are on the blog yet – I'm holding out on you).  Oh, now my secret is out. This chicken pot pie is obviously on the list but here at the other four:
Pasta with Homemade Vodka Sauce
Chicken and Dumplings
Honey Lime Chicken Enchiladas (my hubby begs for these!)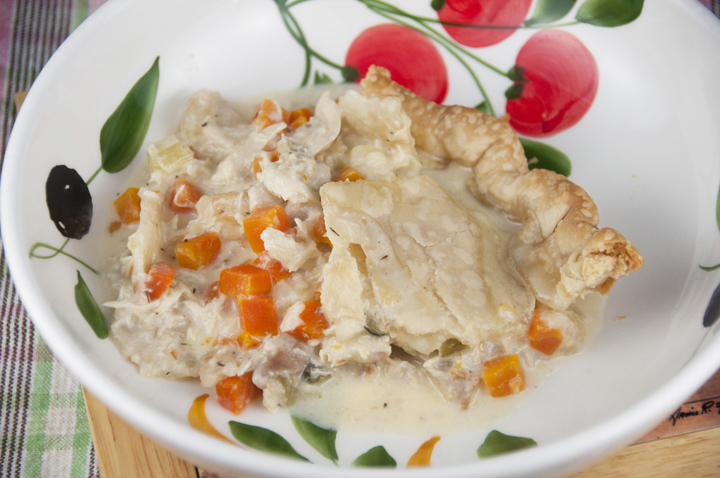 Other than the chicken pot pie and the remaining 4 on the list, 90% of the time I'm making brand new dishes each night.  If I didn't do that, I would never have anything new to share with you and that would just be sad.  I hope you try this chicken pot pie.  You will be thanking yourself…..and me…..and the Pioneer Woman for the wonderful recipe idea that I just changed up a little bit.  I like using extra thyme and a double pie crust as I feel it creates a better ratio of crust to filling.  You can even use leftover turkey in this.  Enjoy!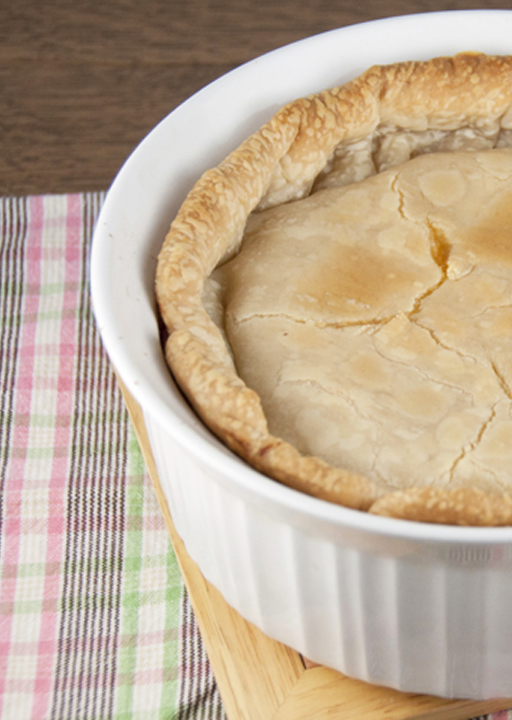 My Favorite Chicken Pot Pie
Prep time:
Cook time:
Total time:
My Favorite Chicken Pot Pie will soon become your favorite, as well. Pure, delicious comfort food that is exactly what pot pie should taste like!
Ingredients
2 whole Unbaked Pie Crusts (homemade or store bought)
½ stick butter
½ cup finely diced onion
½ cup finely diced carrot
½ cup finely diced celery
2 cups cooked chicken or turkey, diced or shredded
¼ cup all purpose flour
2 to 3 cup chicken stock (more if needed!)
splash of white wine (optional)
¾ cup heavy cream
Fresh or dried thyme, chopped (to taste - I use a good amount, about two tablespoons)
salt and pepper, to taste
Instructions
Preheat the oven to 400 F.
Melt butter in a skillet or dutch oven. Add onion, carrots, and celery, and cook until translucent (a couple of minutes.)
Add chicken or turkey and stir. Sprinkle flour over mixture and stir. Cook over medium heat for a couple of minutes, stirring constantly.
Pour in chicken stock, stirring constantly. Splash in wine (you can leave this out if you'd like.) Pour in heavy cream.
Bring to a slow boil and allow mixture to cook and thicken for a few minutes. Once it starts to thicken add the thyme, salt and pepper to taste (do not under season).
Do one final taste at the end and add anything it may need.
Roll out pie crusts (if making homemade) on a floured surface and press one pie crust into the bottom of the deep pie pan or baking dish.
Pour the filling on top of the pie crust. Lay the other pie crust over the top of the filling. Press against the sides of the casserole dish or pie pan.
Use a knife to cut little vents here and there in the surface of the dough.
Bake for 30-40 minutes or until crust is golden brown and the filling is bubbly. Check at 30 minutes to prevent burning of the crust. If the crust is getting too brown around the edges before it's done, cover loosely with foil.
Let cool 5-8 minutes before cutting into as this will help the filling to thicken.
Serve with a large spoon.
This freezes well.
Recipe source:  adapted from thepioneerwoman.com