Easy Pasta with Tomato Cream Sauce
Easy Pasta with Tomato Cream Sauce makes a great weeknight dinner when you have that Italian food craving.  This is a great recipe with easy instructions for beginners to cook up!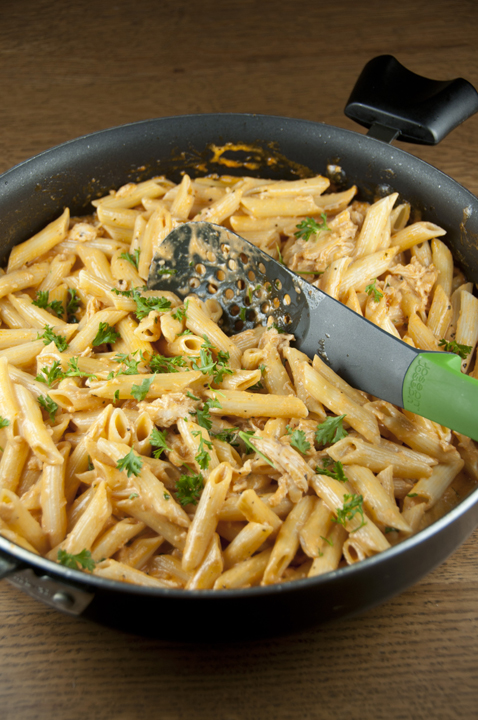 Hello from Iowa!  Yup, I'm traveling once again.  You are probably asking yourself, "Does this girl ever stay home?!"  No, the answer is "no".  My poor house is neglected, which is probably why it is infested with huge, black Halloween-ish spiders.  I wish I was kidding!  I can't even talk about it, so moving on…
OK, one more thing: I call them Halloween spiders because they look like those fake plastic spider rings you got for Halloween as a child.  You all know what I'm talking about.  They are creepy with thick, black legs.  Ugh!
So, I was lucky enough to be invited by the National Pork Board to visit their pig farm in Cedar Rapids, Iowa!  Yes – I'm on a real pig farm!  My life, I tell ya – never a dull moment.  I love me some pork, though!  I am having a great time with my fellow bloggers and will be heading home tonight to my wonderful Mr. Wishes and all of the not-so-wonderful spiders.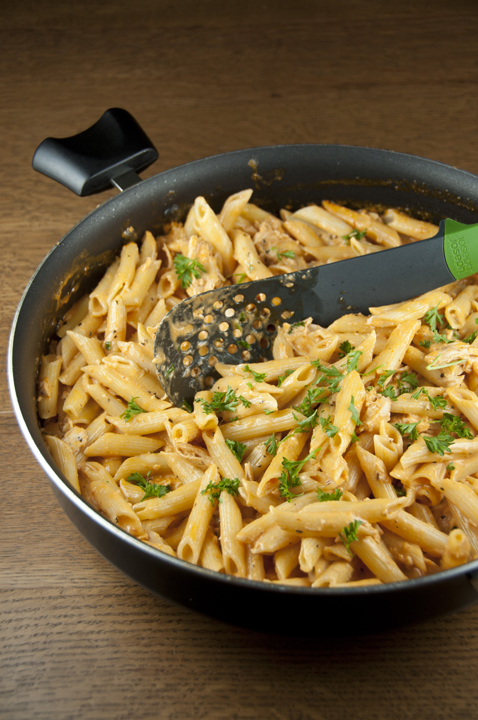 You know how sometimes you just need a meal that you can throw together in less than a half hour (like this Homemade Cheeseburger Helper)?  Sometimes that is all I am willing to dedicate to dinner when I have a bazillion other things going on in my life.  With that being said, I still like to eat well and have something that tastes like it could have taken all day.  This is where an Easy Pasta with Tomato Cream Sauce recipe comes in handy.  Just a little bit of chopping and the rest is just throwing things together in a skillet and warming it up.  Anyone can do this!
I added chicken to this dish because Mr. Wishes can't live a day without meat (no, seriously), but you can add shrimp, sausage, whatever you like!  It doesn't NEED the meat if you would like to keep it vegetarian.  Make this meal and impress everyone at your table…or just make it to impress yourself if you're eating alone.
Now, back to the pigs!  I can't wait to tell you all about this trip very soon!
Easy Pasta with Tomato Cream Sauce
Prep time:
Cook time:
Total time:
Easy Pasta with Tomato Cream Sauce makes a great weeknight dinner when you have that Italian food craving.
Ingredients
¾ pounds Penne Pasta (gluten free, if needed)
1 pound cooked chicken, diced or shredded, optional (can make vegetarian)
3 Tablespoons Butter
3 Tablespoons Olive Oil
1 whole Onion (small)
2 cloves Garlic
½ cup White Wine, or to taste
1 can Tomato Sauce (8 Oz)
1 cup Heavy Cream
Fresh Parsley, to taste
Fresh Basil, to taste
Salt, to taste
Pepper, to taste
Instructions
Cook the penne pasta until al dente.
Finely dice one small onion. Mince two cloves of garlic.
In a large skillet heat 2 tablespoons of butter and 2 tablespoons olive oil. Add the garlic and onion and sauté, stirring occasionally. After the garlic and onions have cooked a bit add your white wine. Let the wine evaporate for a few minutes, stirring occasionally. If you would rather not use wine, you can use chicken broth or stock instead (about ½ cup).
Now add an 8-ounce can of plain tomato sauce. Stir well until combined. Then add 1 cup of heavy cream. Continue stirring. Turn heat down to low and let simmer.
Now chop your herbs: about a tablespoon of chopped parsley and about a tablespoon of chopped basil.
Now add your cooked chicken (if adding) into the tomato cream sauce. Give it a stir and add salt and pepper to taste. Throw in your herbs and stir until combined. Finally add your cooked penne pasta and give it a good stir. Once the chicken has warmed, it's time to serve!
 Recipe source:  adapted from thepioneerwoman.com