Sloppy Joe Macaroni and Cheese
Sloppy Joe Macaroni and Cheese recipe is an easy family-friendly meal made in under 30 minutes for pure comfort food everyone will go crazy for!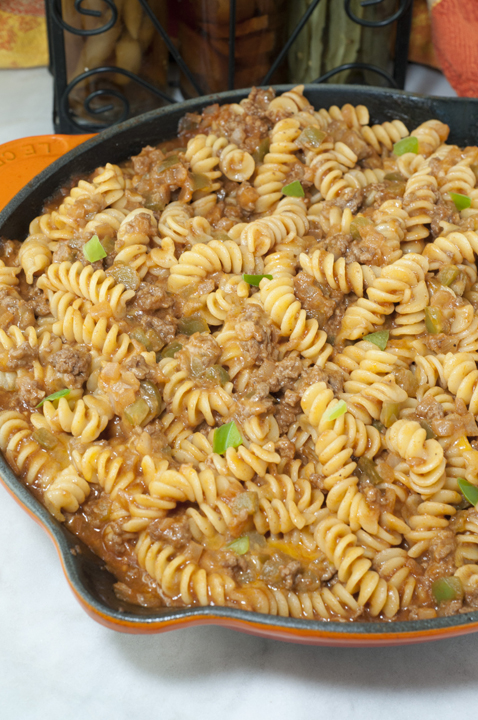 I love this Sloppy Joe Macaroni and Cheese and am so excited to share it with you today. It isn't just your typical beef, cheese, and macaroni meal. The flavors here are so complex and will leave everyone wondering what the secret ingredients are!
Each year, my mom has my Grandparents over for dinner on Father's day.  He is a picky eater and I'm always racking my brain when she asks me for ideas on what to cook for him.  When she asked me a couple of weeks ago, this was the first meal that came to my mind.  After I made it for dinner one night all I could think about was how nobody could NOT like this meal – kids, adults, and all the people in between.  I found the Sloppy Joe Macaroni and Cheese on the Taste of Home website originally and then saw a version on Taste and Tell's blog and knew right away (after seeing her amazing cheese-loaded photos) that I was going to love it!  I changed it up just a bit to my liking and increased the ingredients in order to make a larger dish of it (because who doesn't like leftovers?).  I also used Cabot yellow sharp cheddar cheese because I firmly believe that Cabot takes any cheese dish to the next level!  My favorite cheese of all time – hands down.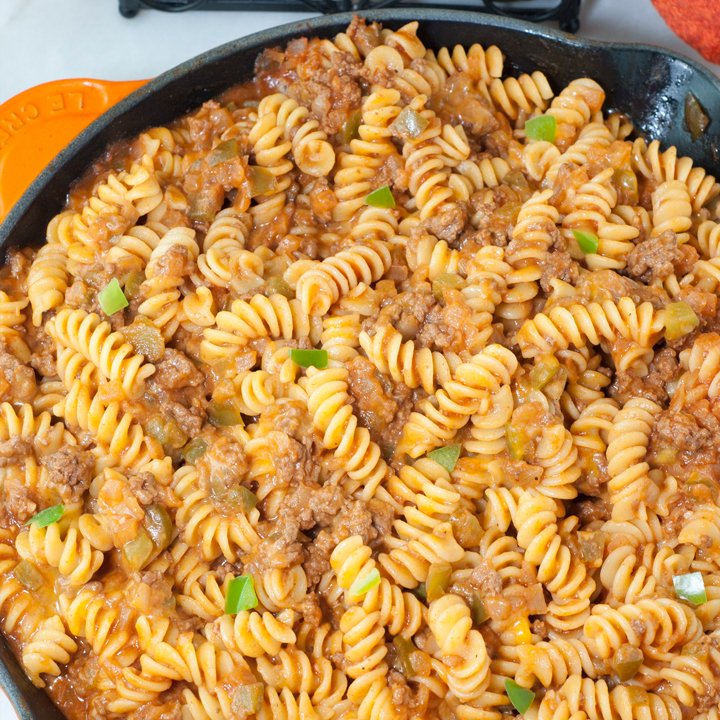 What are you doing for Father's day?  I have a bridal shower for my step-brother's fiance on Saturday and on Sunday I plan on not doing a whole lot besides visiting my dad's grave.  I can't believe this is my second Father's day without him!  I have a Father's day card I purchased WAY ahead of time before he passed away that I never got to give him.  It sits here in my desk drawer next to me but I keep it buried because it stings to even look at it. I told a story last year on my blog about my dad when he first told me the bad news about the lung cancer.  In the same conversation he asked me to make him a "special daddy dessert" and requested "vanilla custard pudding."  I never had the chance to make it for him as he passed away just a couple of weeks later, but I made it in his honor last year for Father's day.  You can check it out here!  I'm happy to say that even though I miss my dad more than ever, a lot of that guilt of what I "should have done" or "could have done" has subsided.
I can see my dad loving this Sloppy Joe Macaroni and Cheese meal and I think yours will, too.  Cheese, beef, pasta – now THAT'S a man's meal.  The sweetness in the sauce from the brown sugar is out of this world and unexpected.  If you need more Father's day inspiration, I have a collection of recipes here.
I'll end with this poem that I love so much, especially the last couple of sentences – I can't read it without crying!  Happy Father's day to all you dad's out there!
Death is nothing at all.
I have only slipped away to the next room.
I am I and you are you.
Whatever we were to each other,
That, we still are.
Call me by my old familiar name.
Speak to me in the easy way
which you always used.
Put no difference into your tone.
Wear no forced air of solemnity or sorrow.
Laugh as we always laughed
at the little jokes we enjoyed together.
Smile and think of me. Pray for me.
Let my name be ever the household word
that it always was.
Let it be spoken without effect.
Without the trace of a shadow on it.
Life means all that it ever meant.
It is the same that it ever was.
There is absolute unbroken continuity.
Why should I be out of mind
because I am out of sight?
I am but waiting for you.
For an interval.
Somewhere. Very near.
Just around the corner.
All is well.
Nothing is past; nothing is lost.
One brief moment and all will be as it was before, only better, infinitely happier…and forever we will all be one together with Christ.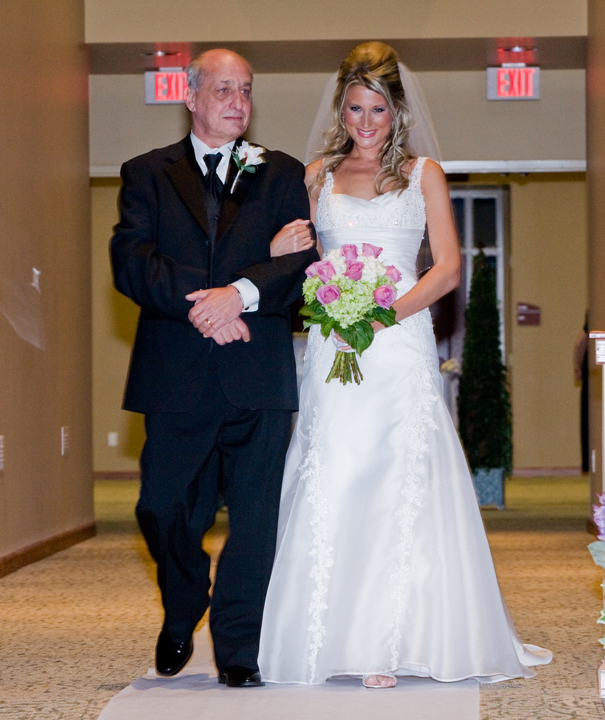 Be sure to watch my step-by-step video with tips on how to make this Sloppy Joe Macaroni and Cheese!
Sloppy Joe Macaroni and Cheese
Prep time:
Cook time:
Total time:
Sloppy Joe Macaroni and Cheese recipe is an easy family-friendly meal made in under 30 minutes for pure comfort food everyone will go crazy for!
Ingredients
Sauce:
1.5 cup tomato sauce
4 tablespoons brown sugar
2 tablespoon tomato paste
4 teaspoons Worcestershire sauce
1 teaspoon salt
½ teaspoon ground black pepper
Pasta & Remainder of Dish:
4 cups dry Rotini or other similar pasta
2 tablespoon olive oil
1.5 cup diced onion
1 green bell pepper, diced (about 1 cup)
5 cloves garlic, minced
1 teaspoon Paprika
1 teaspoon apple cider vinegar
½ teaspoon ground mustard
1 pound ground beef
2 cups shredded sharp cheddar cheese
Instructions
Sauce:
In a mixing bowl, thoroughly mix together all the ingredients for the sauce and set aside.
Pasta and the remainder of the dish:
Cook the pasta in a large pot of salted, boiling water according the directions on the package and then drain.
Heat the olive oil in a large skillet over medium-high heat. Add the diced onion, green pepper and garlic.
Sauté for about 5 minutes or until fragrant and veggies are soft.
Add the ground beef, apple cider vinegar, ground mustard, and paprika to the same skillet and break up the beef up with a wooden spoon as it cooks all the way through - about 6-8 minutes.
Add the sauce that you mixed up earlier to the skillet.
Add the drained pasta and the cheese on top.
Turn the heat down to medium-low, and stir the mixture until the cheese has thoroughly melted and the ingredients are evenly coated and distributed.
Serve immediately. Enjoy!