Spaghetti with Artichoke Hearts and Tomatoes
Creamy spaghetti dish with artichoke hearts and tomatoes that is super easy to make!  The sauce is a tomato cream based sauce and your whole family will go crazy for this recipe!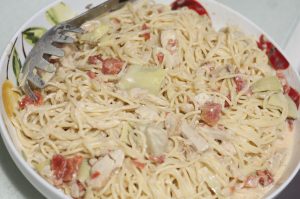 Welcome to another delicious dish . This creamy spaghetti with artichoke hearts and tomatoes recipe undeniably ranks in the top 5 for favorite dinners of mine, as well as Mr. Wishes. It's also doesn't hurt that it's so super easy to make! This is a meal you can serve to company and they will be astounded….I promise. The sauce is tomato-cream based sauce which is one of my personal faves as far as pasta sauces go.
 The only thing this recipe is missing is…. meat.  Since I learned over the past 2 years that Mr. Wishes can't possibly live if a dinner is lacking meat,  I always add a cooked chicken breast when making this. If you are serving more than 2 people you may want to cook up more than 1 chicken breast.
It's no secret to those who know me that The Pioneer Woman is one of my cooking heroes.  I considered purchasing cable TV just so I can watch her new show on Saturday mornings on the Food Network.  Her recipes have yet to disappoint and I think she's just simply amazing!  Part of me is also jealous of her farm life and living in the country.  I want to trade lives with her  just for one week, get it out of my system, and then come back home to the "big city" life I live :o)
Spaghetti with Artichoke Hearts and Tomatoes
Prep time:
Cook time:
Total time:
Creamy vegetarian dish has spaghetti with artichoke hearts and tomatoes that is a super easy recipe to make!
Ingredients
2 Tablespoons Olive Oil
2 Tablespoons Butter
3 cloves Garlic, Minced
½ whole Medium Onion, Finely Diced
1 can Artichoke Hearts (14.5 Oz. Quartered Or Whole), drained
1 can Diced Tomatoes With Juice (14.5 Oz.)
1 cup Heavy Cream
½ cup Chicken Broth
½ teaspoon Nutmeg
Salt And Pepper, to taste
1 pound Thin Spaghetti
1 cup Parmesan Cheese, Freshly Grated
2 Tablespoons Fresh Chives (or Other Herbs) Chopped (optional)
1-2 cooked chicken breast cut into slices (optional)
Instructions
Cook spaghetti till al dente (or fully cook, depending on your taste). Drain and set aside.
Melt olive oil and butter in a large skillet over medium heat.
Add onions and garlic and saute for 2 to 3 minutes.
Add artichoke hearts and tomatoes.
Stir and cook for 8 to 10 minutes. Reduce heat to low.
Stir in cream and chicken broth.
Add salt and pepper to taste (do not undersalt!)
Cook over low heat until heated through, then turn off heat.
Place drained pasta in a large bowl.
Sprinkle with 1 cup Parmesan.
Pour sauce over the top. Add chives, if adding.
Toss lightly to combine and coat; add a tiny bit of reserved pasta water if sauce seems too thick.
Recipe Source: adapted from thepioneerwoman.com